Today I will be reviewing a rather fancy mascara.
This particular fancy mascara was a Christmas present that I was actually given before Christmas, it was technically a present from my Mum, but she bought it via my sister who is a Younique rep at Kellys Make Up Box.
I'd heard quite a bit about the Younique Moodstruck 3D Fiber Lash Mascara as I'd seen people on my Facebook raving about it, so I was pretty excited to try it. I love the look of false eyelashes but I am WAY too lazy to put them on very often, so I thought this might be a handy alternative to keep in my make up bag and give me beautiful flirty lashes.
It certainly LOOKS fricking gorgeous, it's 2 tubes that come in their own little quilted presentation case, and the tubes themselves are also great quality, in that I equate quality with "not plastic" and they click when I tap them together.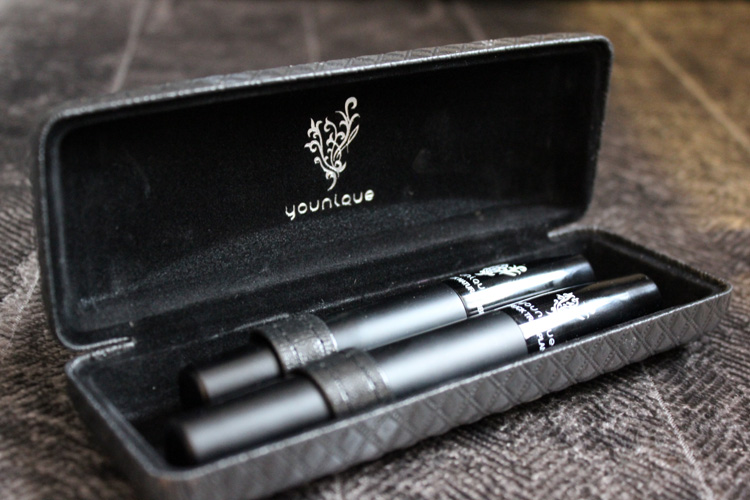 Now to start with I will confess that my first experiment with this mascara, on the day I received it, was not a great success. I followed the little instruction leaflet, but put far too much on and ended up with clumpy, icky lashes that felt really heavy.
Thankfully the stuff comes off with normal cleansers, despite being water-resistant, so I didn't have to scrub it off my eyelashes.
Since then I've experimented with it a lot more, and managed to get quite a glamorous, long lash look, with very little clumping, without even needing to use a lash comb to separate it, though it can be handy to fix mistakes.
The mascara uses 3 steps, first it asks you to apply a light coat of your regular mascara. So for comparison here is my huge eye both with no mascara at all and with a light coat of my regular Bourjois mascara.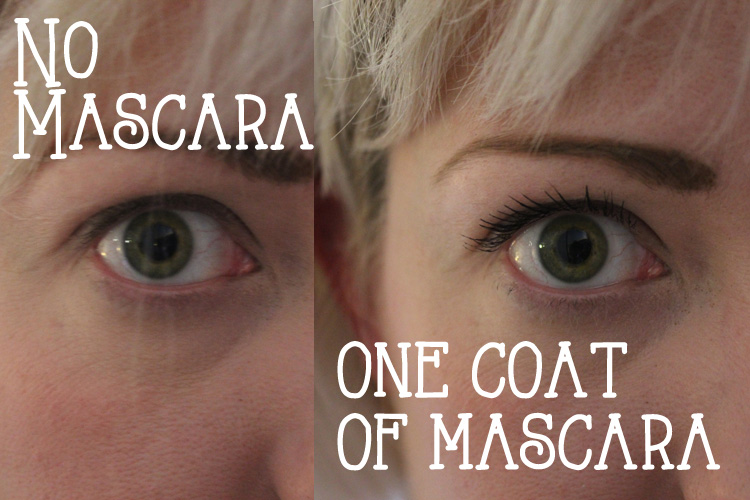 Next comes a 2 step process of layering the "transplanting gel" which is like a thick mascara, with the fibres. I was a little wary because, as a contact lens wearer, the last thing I want is an eye full of fibres, but actually I've had no problems with the fibres flaking in wear at all. A few times I've got them on my cheeks while applying and had to brush them away with a powder brush, but none of them have got in my eyes.
My top tip is to use a very light hand, and only start half way up your lashes, so you are only adding the fibres to the very tips. You can use the tip of the transplanting gel wand itself to lightly break up any clumps.
You can repeat the process as many times as you like. I tend to like just 1 coat for normal wear, maybe if I was going somewhere super glam I might keep going!
The end result, on my lashes, looks like this.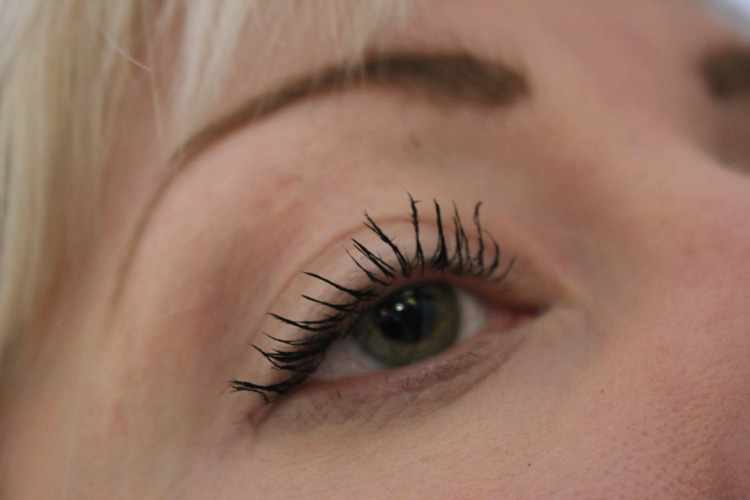 I also helpfully did the other eye just with a couple of coats of normal mascara, like I would for a normal night out so you can see the difference.
As you can see the Younique mascara makes my lashes look longer and fuller. I only used one coat, but you could build up the coats for an even more dramatic finish.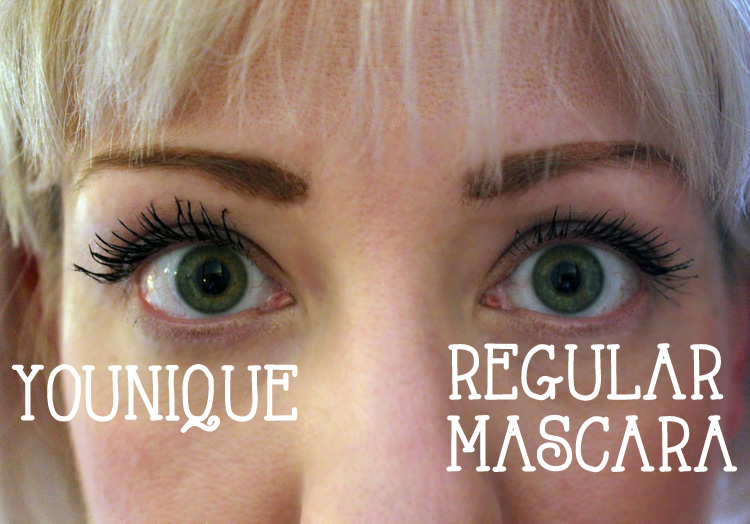 Personally I think it's a great alternative to false eyelashes for a night out when you want a bit more glamour without the risk of your eyelashes falling off into your cocktail. It's expensive, but when you think you could pay £10 for a set of false eyelashes it's not so bad as you get multiple uses out of it, and at least the packaging is damn sexy.
Had you heard of the Younique mascara before, or is it just me that has a timeline full of people raving about it?
You can buy Younique Fiber Lash at Kellys Make Up Box