Retro Chick focuses on the idea that glamour isn't just for special occasions, but is something that can be enjoyed every day. Expect to find outfit posts and fantasy shopping trips featuring High Street, Vintage and Independent designers,  hair and beauty, cocktails and places all with a glamorous, vintage or quirky edge. You can also expect to find the occasional rant, inspiration piece or update on my life.
You won't find elaborate DIY projects, or time consuming beauty tips, I strive for minimum effort, maximum glamour.
Retro Chick started in 2007 when I walked out on a job that was making me miserable and, suddenly unemployed, decided to share my love of glamour with the world. Over the years Retro Chick has grown into one of the UK's leading vintage inspired fashion and lifestyle blogs. It has appeared in the UKs top 20 Fashion Blogs by Cision Media every year since 2012 and won Best Fashion Blog at the Rarely Wears Lipstick Awards in 2013. The blog has also been nominated for awards by Cosmopolitan Magazine (2011) and Company Magazine (2012).
About Me…..
As the face behind Retro Chick my name is Gemma Seager. I live in Norwich, Norfolk in the UK, but I was born in Kent.
Mostly you'll find me rambling about what I've been up to, wearing frocks, getting angry about vanity sizing and body image and indulging in fantasy shopping trips.
In my increasingly rare spare time I like watching Poirot, drinking Manhattans and looking at pretty things I can't afford. I'm a big fan of full 50s frocks, picnics, crazy tights, Buffy the Vampire Slayer, platform shoes, Roller Derby, hair dye, sunny days, lipstick, pencil skirts, cocktails and cheese.
I don't like jeans, tomatoes, running shoes when I'm not running, ugg boots, TV Talent Shows, spare ribs or early mornings.
I started this blog in 2007 to promote a now defunct eBay shop, and soon discovered it was more fun than trekking to the post office. I am now a freelance writer, social media manager and events organiser with my fingers in many pies (take a look at my portfolio!). When I'm not writing blog posts in my pyjamas and passing Facebook off as work I also play Roller Derby with the Norfolk Brawds, as number #79 Gem Warfare.
Photo Courtesy of Ice Cold Photography
As a lifelong natural hoarder my house is always groaning at the seams with Boot Fair and Charity Shop vintage bargains of china, cocktail paraphernalia, 78 records and other assorted ephemera which I promise I will sort out one day. I have a particular passion for the styles of 1930s to the early 1960s and from childhood a mild obsession with the styles and every day life of World War II.
I have an honours degree in Media & Film Studies from Southampton University and write on many topics, both on the blog and for other people. I have written a lot about Vanity Sizing and have featured in several national newspapers on this topic and made radio appearances on Women's Hour and Moncrieff! .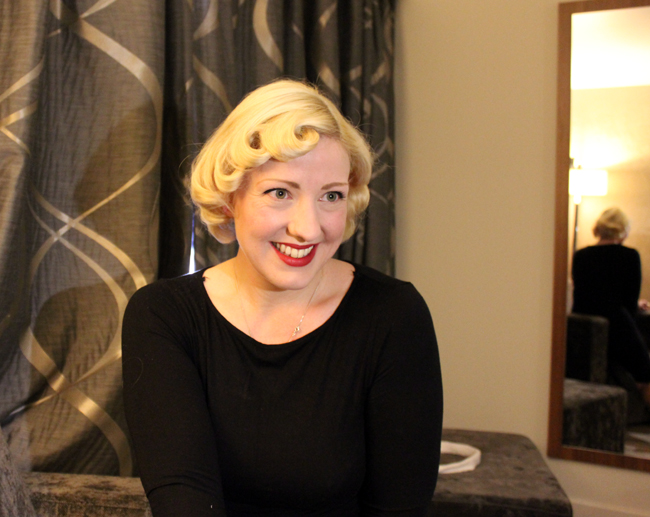 I'm available to hire as a copy-writer, or public speaker on vintage inspired fashion and lifestyle, vanity sizing and body image, blogging and social media and am happy to consult with hand-picked companies on social media collaborations. Please take a look at my portfolio site for more details!
As well as Retro Chick I run several other sites:
Which follows my sporting and health endeavors which would otherwise bore everyone here. I run and play Roller Derby and try and eat a bit healthier, mostly.
Simply a site for me to share dresses I love. Largely High Street and Designer, and with a vintage twist.
Find me on:
If you're interested in advertising or collaborating with Retro Chick then please visit my advertising page or drop me an email at [email protected]