Todays outfit started with the scarf.
In late Summer I got an email from Hotter saying they wanted to send me a "little something". I'm not one to turn down a little something, so I popped over my address and a few days later this beautiful blossom scarf arrived in the post. I admired the scarf, then couldn't figure out what on earth I was going to wear it with and hung it from the back of my bedroom door.
Then this blustery Autumn weather arrived, and while I was perusing the slightly warmer side of my wardrobe I spotted a dress I hadn't worn in a while, and an outfit was born.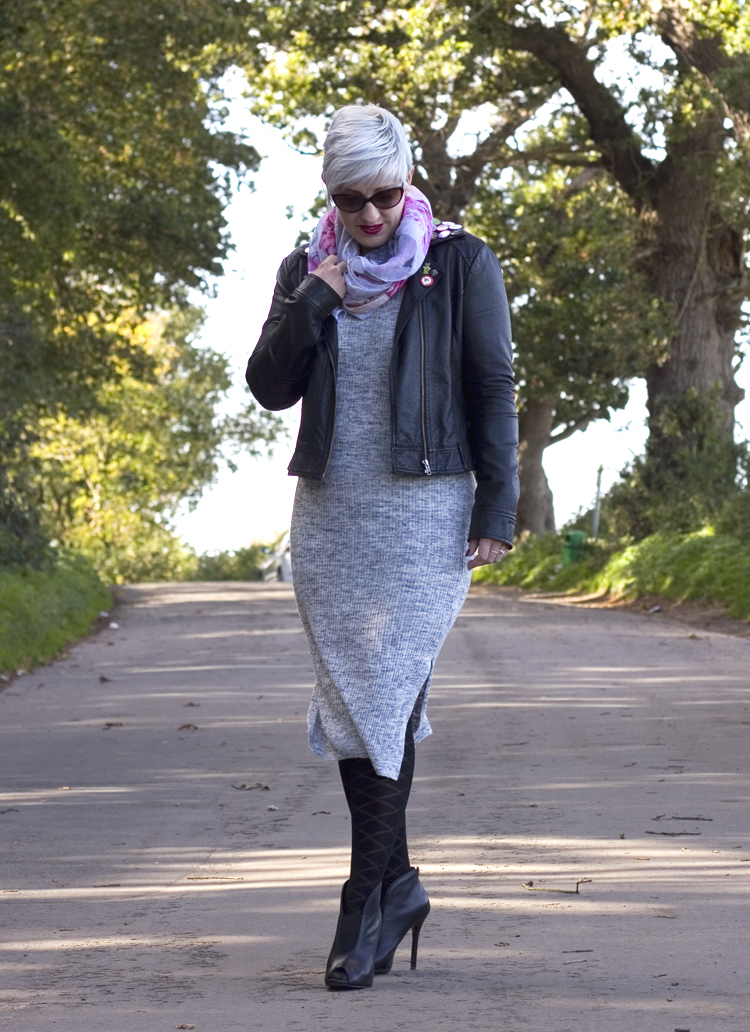 I've had this dress since 2015, back then it was considerably more body-con style than it is now.
Although MyFitnessPal tells me that I am precisely 2lb lighter than I was in March 2015, this dress is now a little on the baggy side (It's muscle folks, hit those weights!) and has mostly been in my comfy dress pile to be worn when travelling, popping to the shops or otherwise doing things where no one will see me and a dress that is basically a calf length jumper is the perfect choice.
The scarf has seen it promoted slightly.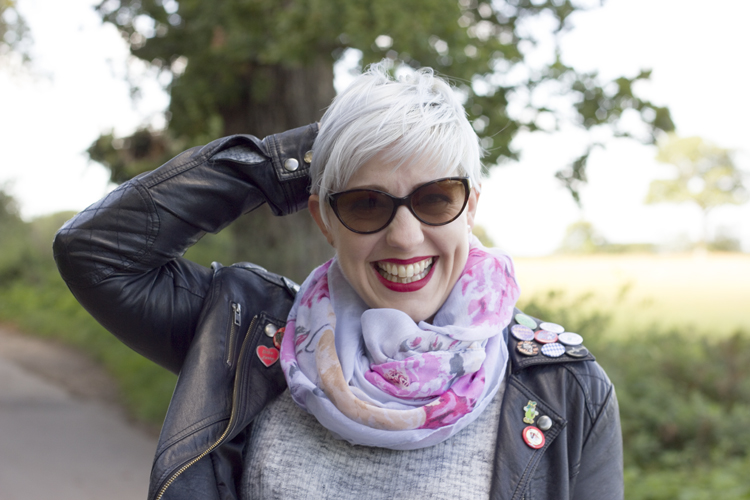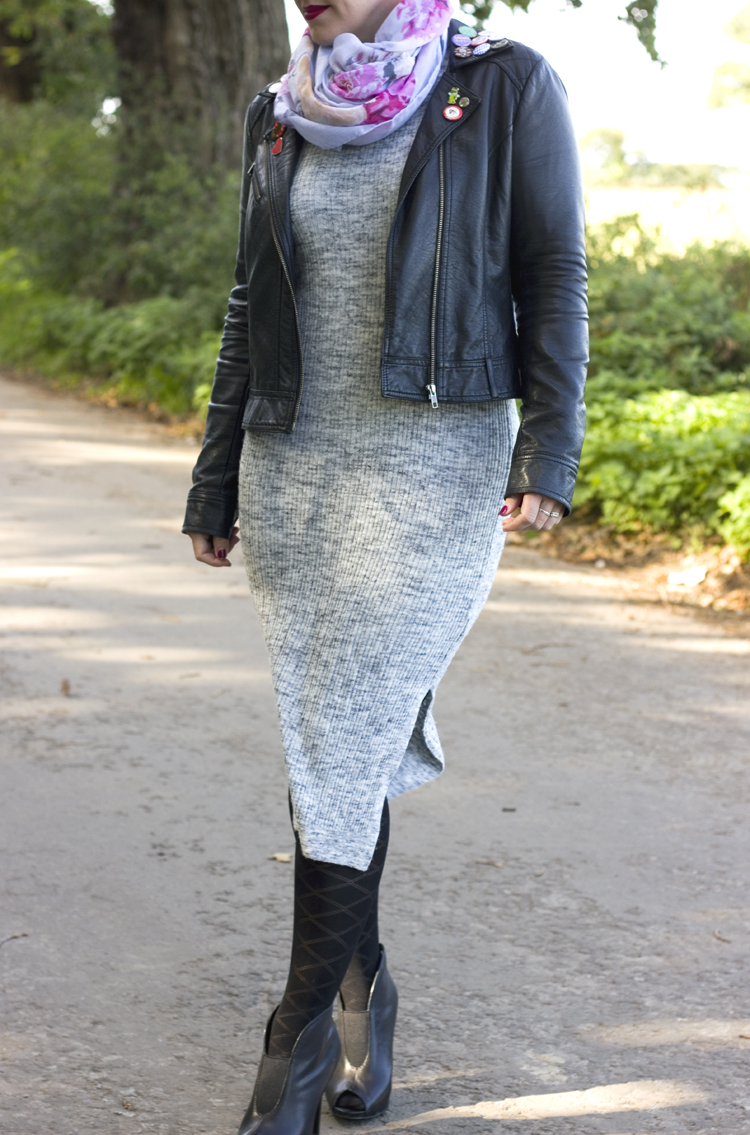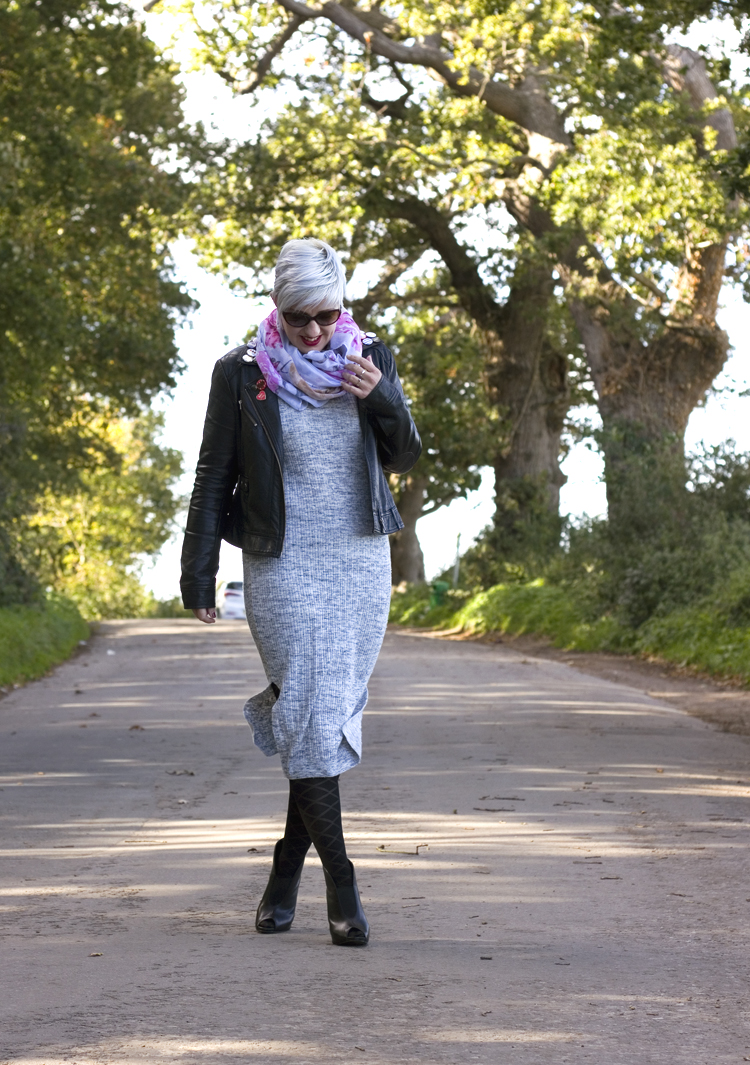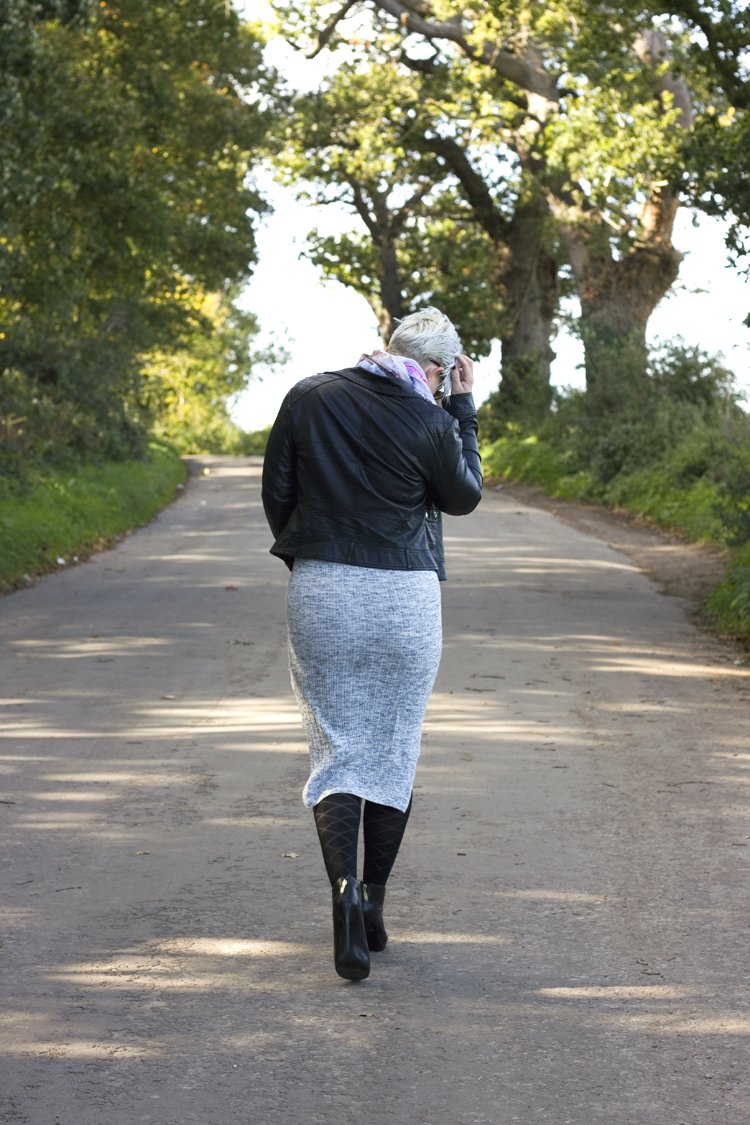 Wearing it with a biker jacket means it's perfect for autumn days and covers up where it's a bit baggy and unflattering around the middle.
Plus, still super comfy, what's not to like?
Initially I had plans to buy pale pinks shoes to match the pink in the scarf. Because how cool and co-ordinated would I be then? I love to co-ordinate.
Then I realised I own maybe ONE other thing with which I would ever wear pale pink shoes, and that I'm not even that big a fan of pale pink. I also realised that buying new shoes just because they would go with one outfit is the reason that I am always poor and never have anything to wear.
There is a pair of pale pink shoes on my ASOS wish list though (Ok, 2 pairs. Ok, ok, you got me, 3 pairs.). So, er, you never know.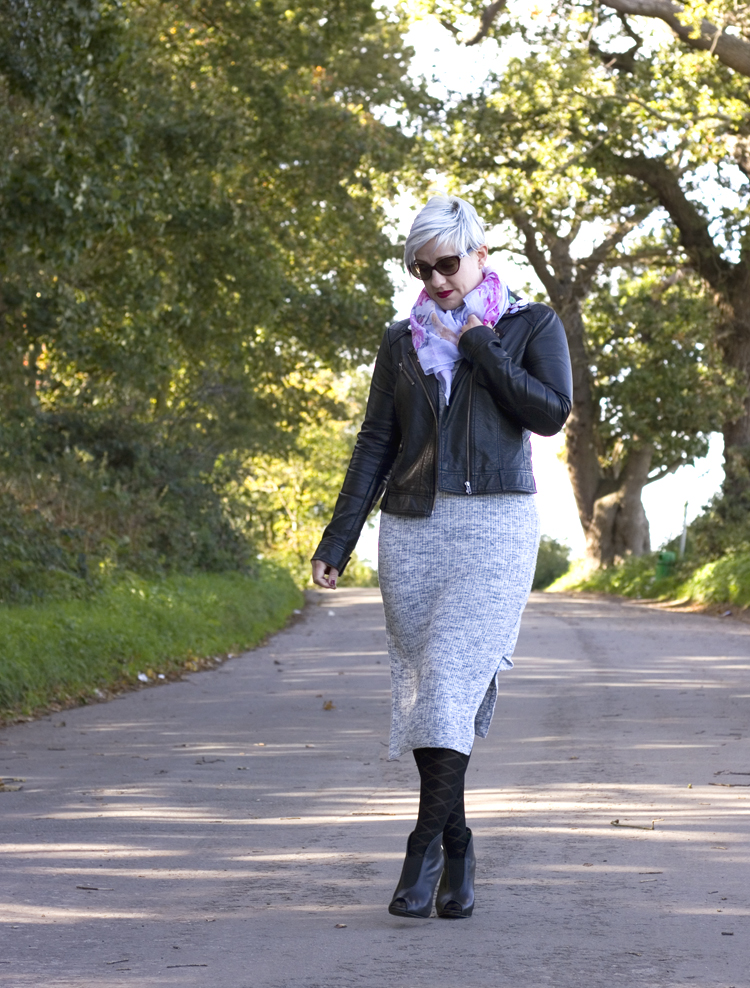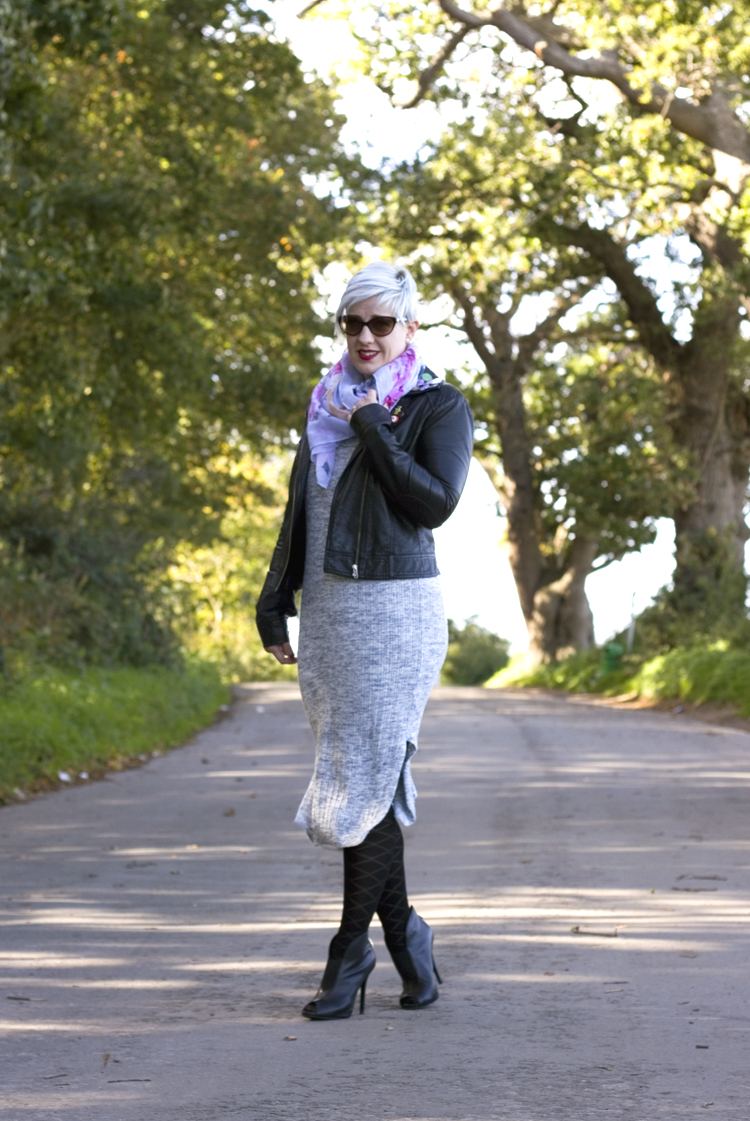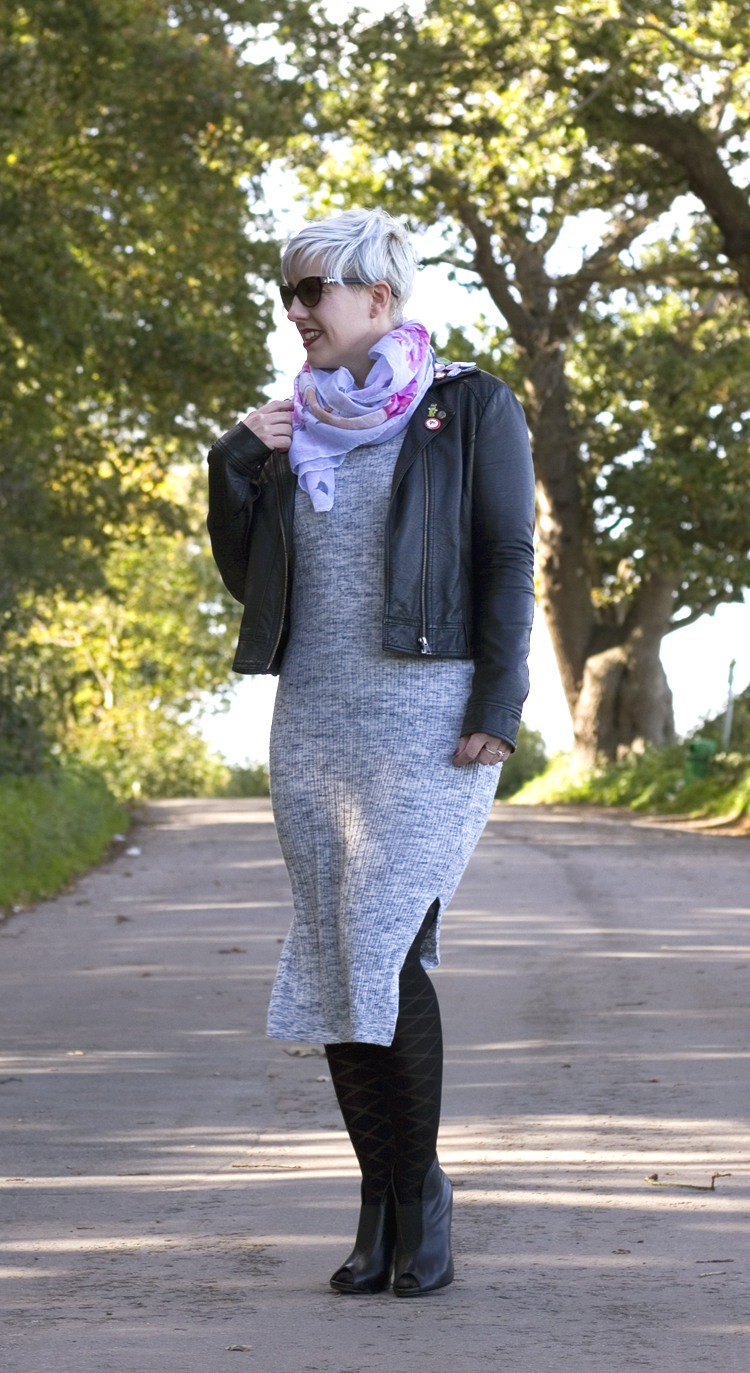 Anyway, it looks far more rock n roll with those black spiky boots and a black biker jacket.
I HAVE just found a pink biker jacket for just £30 on the George website though. For a person who isn't even a fan of pink it's all a bit much. I might have to go and have a lie down before my whole wardrobe becomes involuntarily full of pink things.
All because of a scarf.
♥ Knit Dress – F&F in 2015 (similar) ♥ Blossom Scarf c/o Hotter ♥
♥Faux Leather jacket – French Connection* (similar)♥
♥ Diamond tights – Wade & Belle* ♥ Shoe Boots – Guess @ TK Maxx (similar) ♥