We all know that rest is just as important as hours spent in the gym. But how many of us really spend much time and effort planning our rest and relaxation time? One of my goals for this year is to focus more on listening to my body, I'm a very stressy person, and have a tendency just to push myself through it and often that leaves me physically as well as mentally tense. So that means taking time to relax.
I've never been to a proper spa before, but at the end of last year I was offered an overnight stay to try out the facilities at the Malvern Hotel Spa in Worcestershire and it was booked in for January. I'd been looking forward to it for weeks, a very stressful December had been compounded by the starting the New Year with food poisoning and I've been feeling a little run down and tired. An overnight spa break seemed the perfect way to get some proper rest and recuperation.
Sadly, about half an hour after we'd started our journey, we received an email telling us that the pool, which is filled with Malvern Spring Water from one of the towns last remaining boreholes, was out of order due to a pump failure. It was suggested we reschedule our trip, but with the Pugs already booked into their overnight home and us already on our way, that wasn't really an option.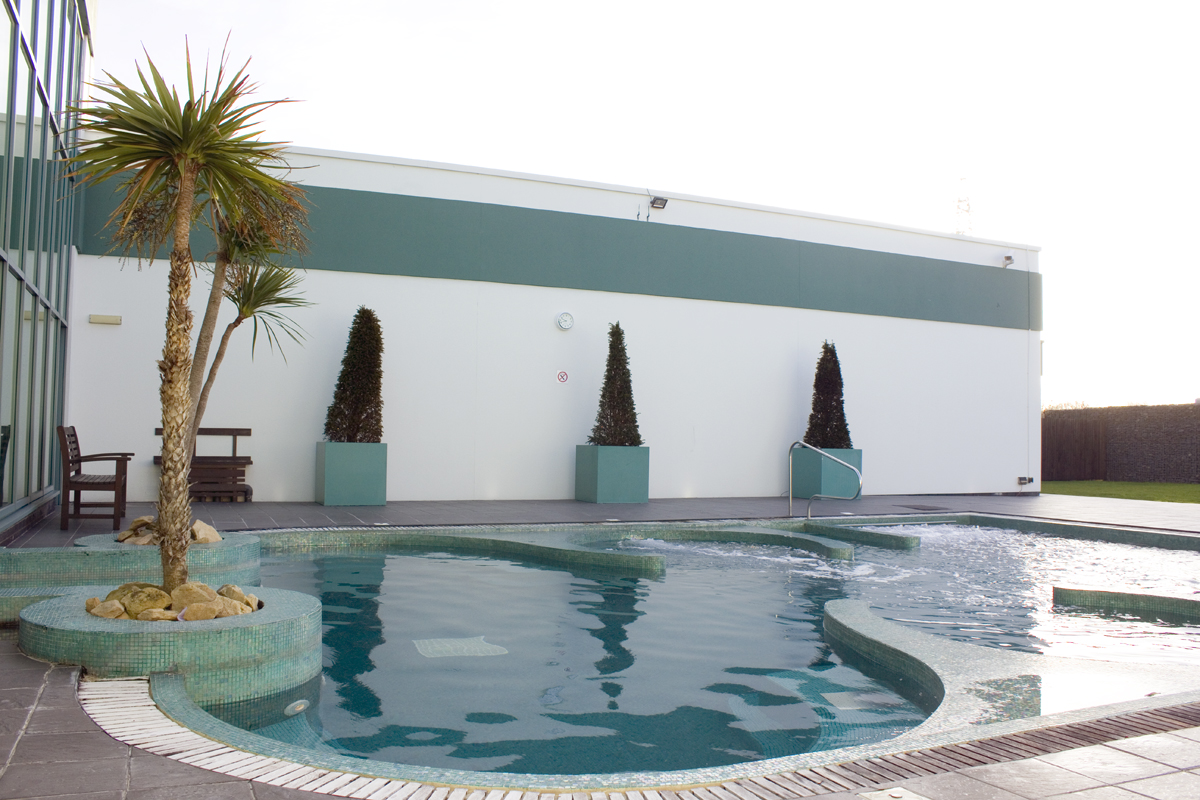 I was a little disappointed. The Indoor/Outdoor heated pool with special spa jets is a big draw, but there were plenty of other facilities to keep us entertained and we were offered a back massage to help us relax when we arrived to make up for missing the spa, so it didn't dampen my enthusiasm on the drive over!
The Malvern Hotel
The hotel is in a stunning location, with a backdrop of the dramatic Malvern Hills, yet it's also right on the edge of a shopping complex with a Morrisons and a Marks & Spencer.
This photo taken of the stunning view from our bedroom window is the perfect illustration. Those gorgeous hills, just ignore the Screwfix in the foreground!
I loved the building itself, which had a bit of an Art Deco vibe, and the rooms themselves were smart and comfortable with a gorgeous dark green colour scheme.
The bed was comfy and the rain shower head was a dream. I did note that the water bottles left in the room weren't Malvern spring water, which I kind of expected them to be, but we also had a cafetiere and fresh coffee and a jar of yummy biscuits.
Reception told us that bathrobes would be provided in our room to wear down for our massage, so we promptly changed into our swimwear and wrapped up in our robes, only to discover that no slippers or flip flops were provided. We'd noticed everyone else downstair was wearing flip flops, and we didn't want to be the barefoot weirdos and not having been for a spa before we weren't sure what to do!  I opted to walk downstairs in bare feet and ask for flip flops, while Mr LLL put his trainers on. It wasn't a big deal, but just made us feel a bit uncomfortable.
The Treatment Rooms
Down in the spa we were asked to fill in some forms before our therapists arrived and led us into the treatment area. The central lounge of the hotel is bright and airy with a white marble floor and glass ceiling, but step through the curtains into the corridor housing the treatment rooms and you are instantly in a different world.
The treatment corridor is lit by coloured lamps placed on the floor, and the treatment rooms themselves are warm and comfortable, with heated massage beds and a sofa.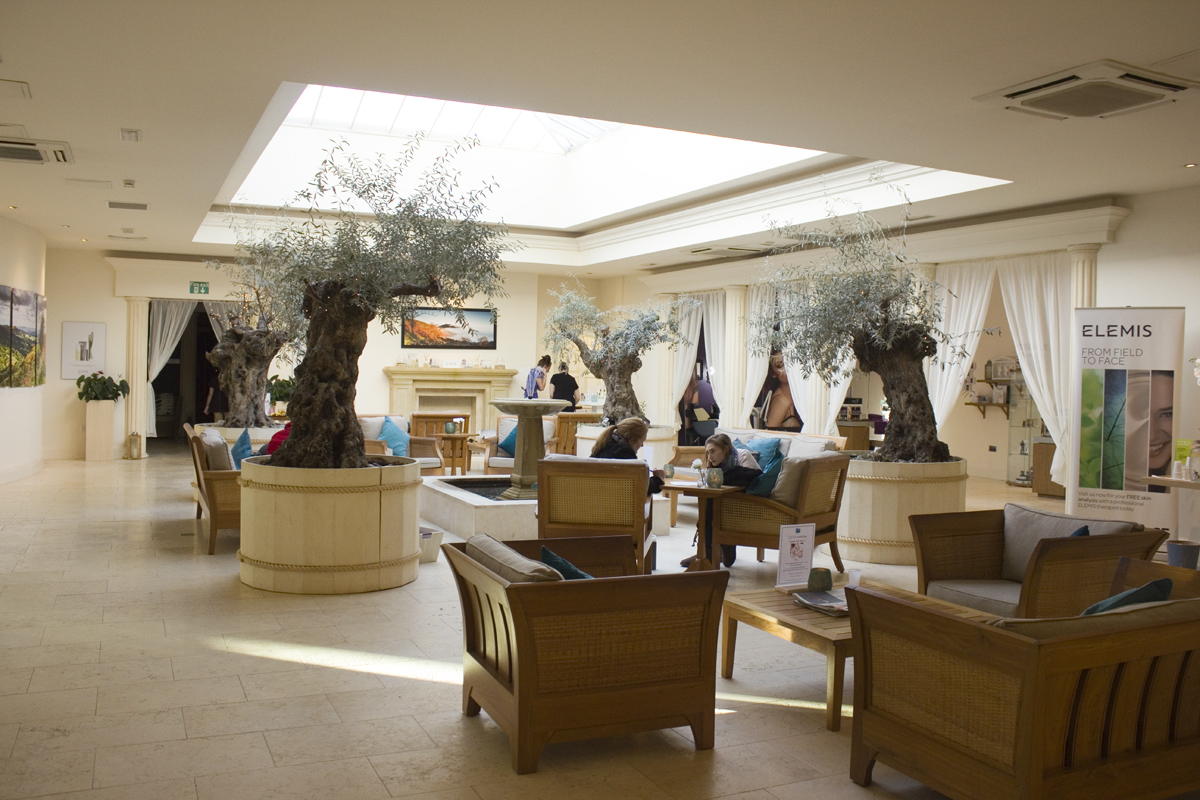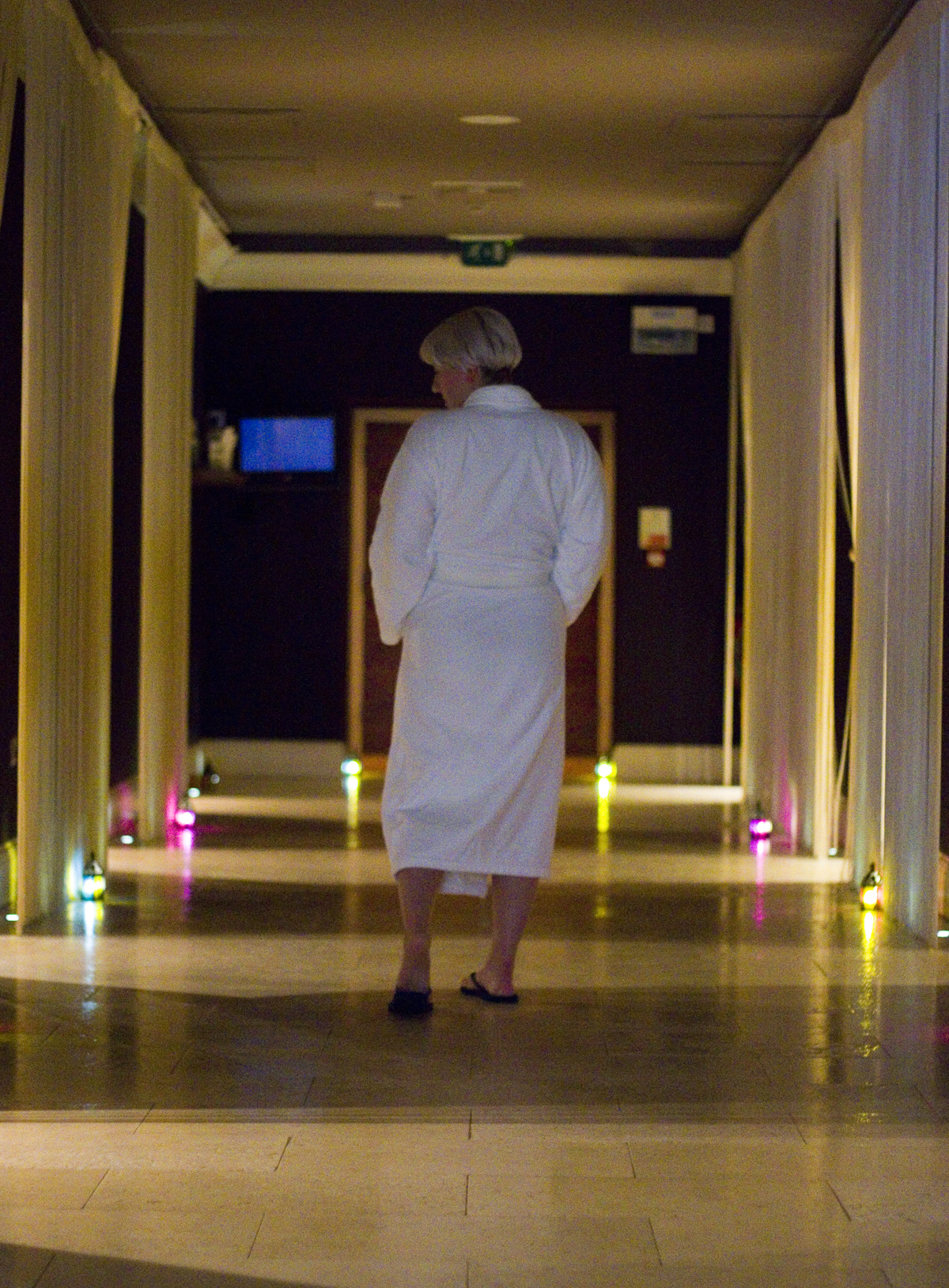 I was asked to choose a relaxing, or energising oil for my back massage. I selected a relaxing one, that was why I was there after all, and I was then given 2 choices from the Espa range to sniff and choose my favourite. I was also asked how much pressure I liked from a massage, and then left to make myself comfortable before the therapist returned for my treatment.
After the massage, now surrounded by a little fug of relaxation, I reluctantly dragged myself off of the heated massage table and led to the "relaxation room".
This is amazing, I wish I could have access to a relaxation room at all times. Basically it was a large darkened room, with lots of chilled water available, a central tinkly water feature, plinky plonky music, low beds and blankets. Ahhh.
You can have access to the relaxation room whenever you like during your spa visit, not just after treatments, so it's ideal for meditation, or just a quick nap!
The Thermal Suite
After a quick lie down I wanted to check out the other spa facilities.
The hydrotherapy pool might have been out of order, but the other facilities had been part of what excited me so much about the stay. I do love a good sauna and steam!
There are 4 rooms to chose from. A Salt Grotto with negative ions and a salt microns in the air that is supposed to have a restorative effect on the respiratory system and skin, a crystal steam room with a fibre optic ceiling and essential oil infused steam and 2 saunas; a herb sauna with seasonal herbs and essential oils, and a traditional Kelo sauna, one of only 10 in the UK, made from wood found only in the arctic circle.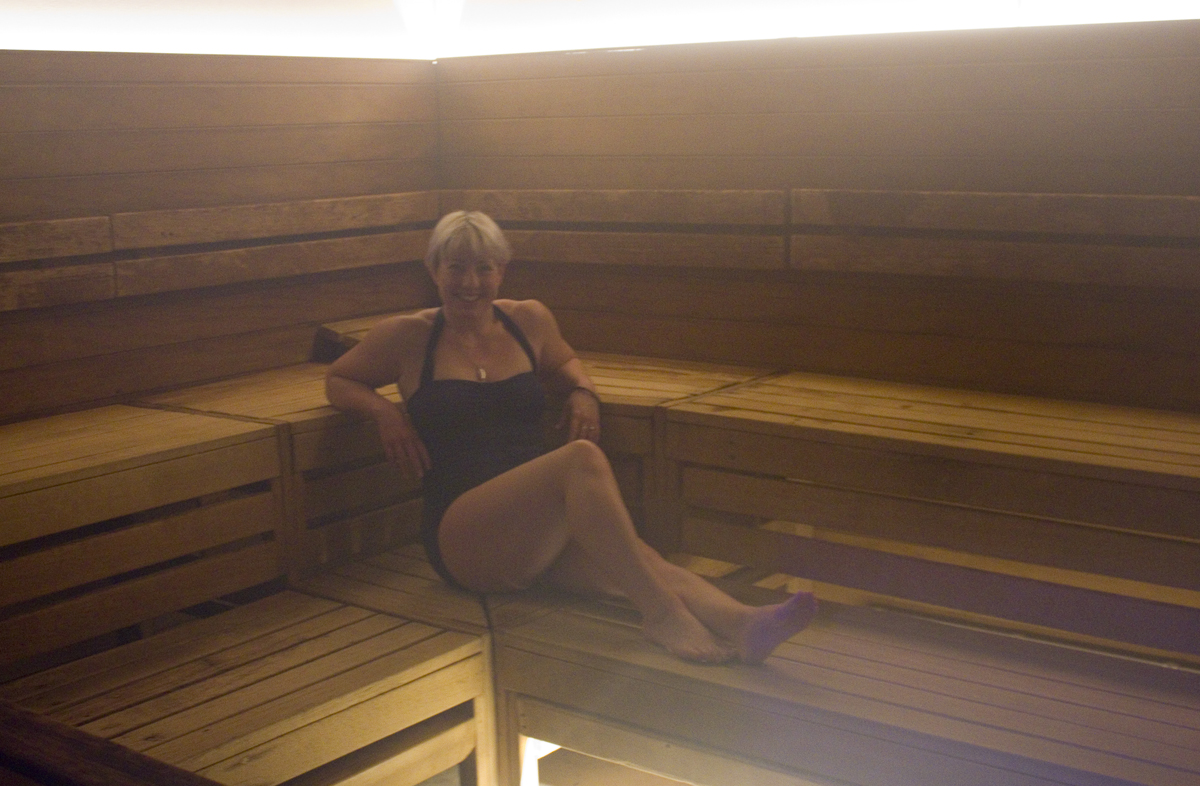 There was also a foot spa, which was basically a bench with basins and taps underneath, nice, but not hugely exciting, I expected bubbles!
I tried the Salt Grotto. As an asthmatic, I'd been keen to try it out, but it wasn't very warm. Despite claiming to have heated tiled seats, it actually felt a little cold, and the dripping water on the back wall made me feel a bit like I was sat in a shower cubicle with the water running. The other rooms, however, were wonderful. I moved between the 2 saunas and the steam room, taking advantage of the variety of ways to cool down in between.
You can opt for a traditional dousing in a bucket of cold water, or there's my preference, a tub of crushed ice in the centre of the space to rub on your skin to stimulate your circulation. If you like to cool down in a more hi-tech way there was also an "experience shower" where you could choose cold water with a minty fragrance, or a more comfortable "tropical rainshower" setting.
I genuinely had the most fabulous afternoon, moving between the rooms, drinking a ton of water and generally feeling more relaxed than I had in weeks.
As the sun went down I popped to the next door bar, grabbed a glass of wine and relaxed on one of the loungers by the pool. The spa is open till 10pm, and you are allowed drinks by the pool. The lighting and the blue water from the pool made a beautiful atmosphere as the sun went down. I'm getting a bit sad writing this! Take me back!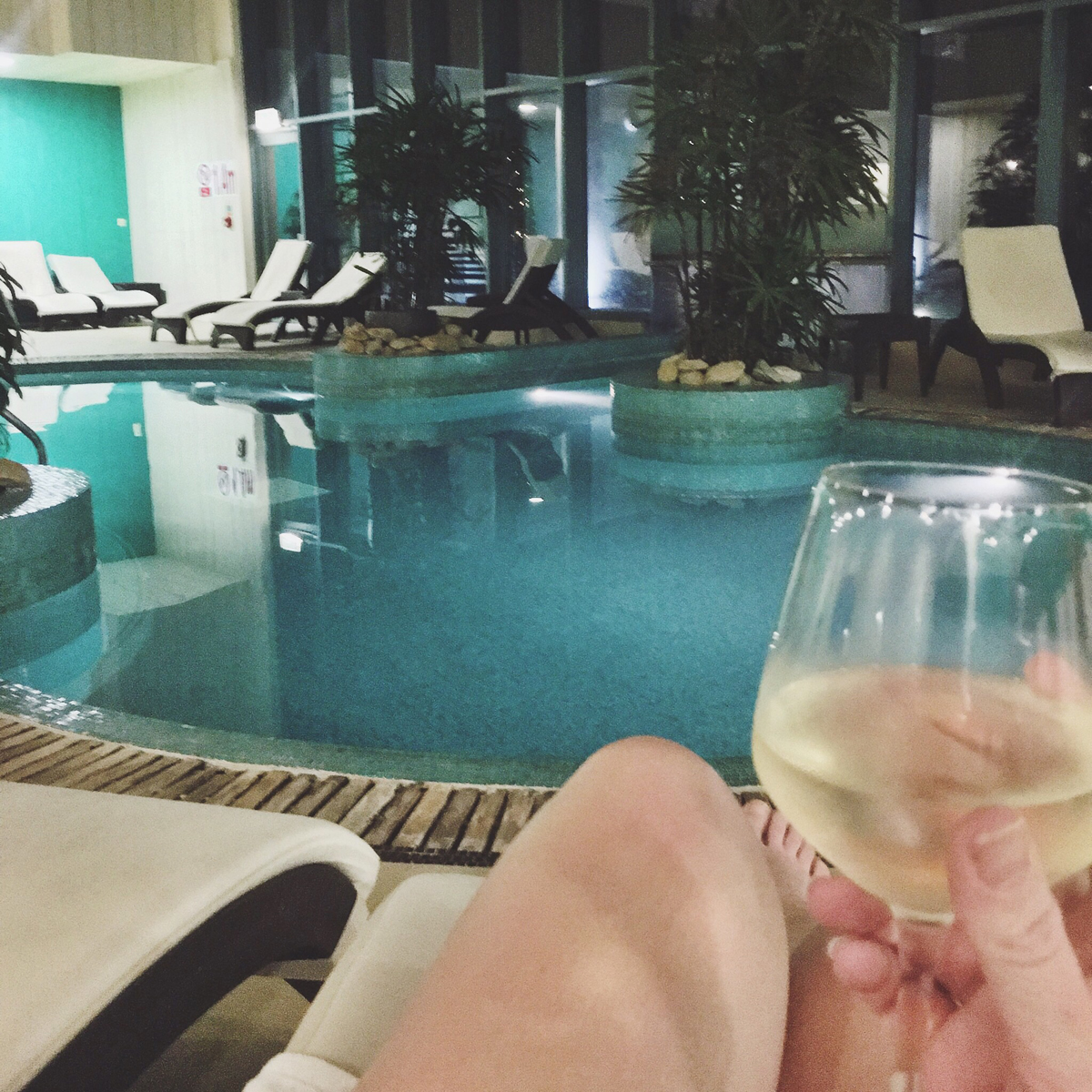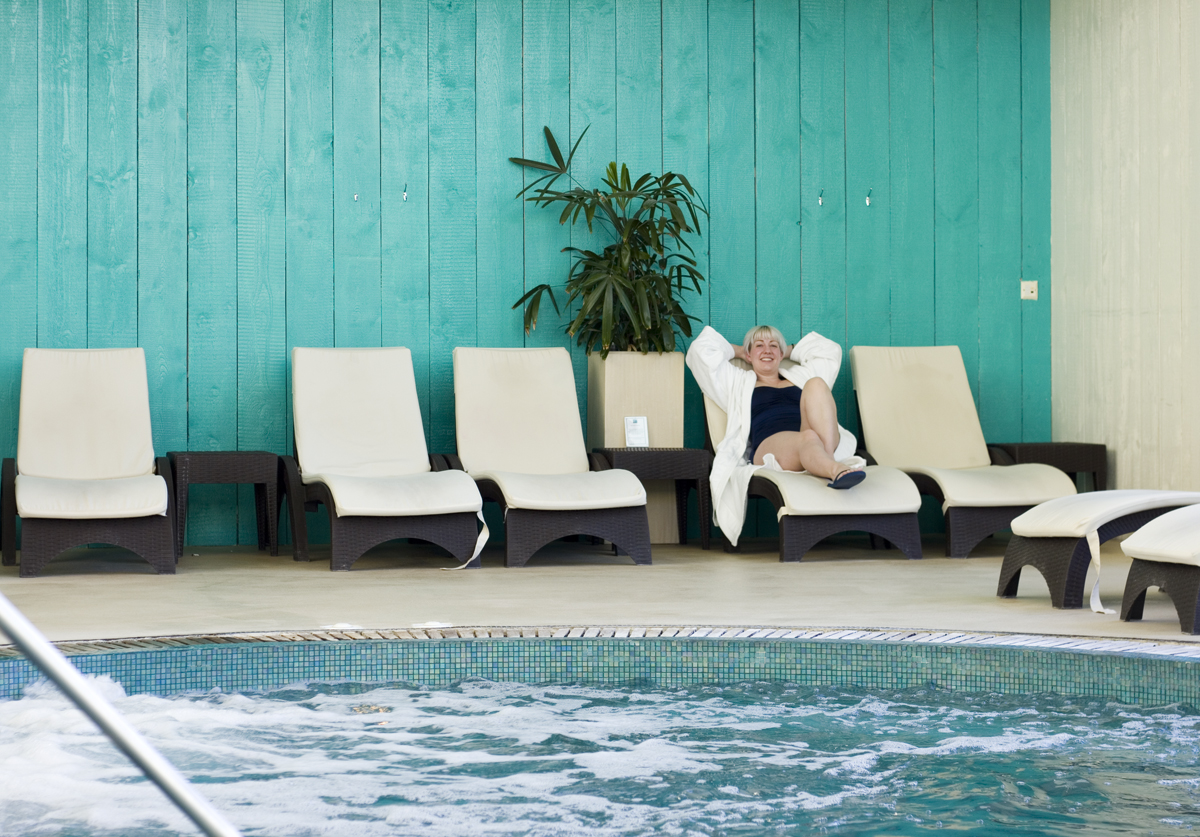 I could see the steam rising from the outdoor area of the pool as I sat and relaxed, and it must be lovely to be immersed in the warm water on a chilly January night!
The spa is over 18s only, so you know you won't be disturbed by playing children as you lounge by the pool.
The Restaurant
I returned to our room to make use of the rain shower and was very pleased to discover that the hairdryer was also excellent, and not one of the poor excuses for hairdryers they normally leave in hotels!
We dressed for dinner, and headed downstairs to the restaurant.
The restaurant decor is pretty standard hotel restaurant fare, such as I've sat in many a time on my travels.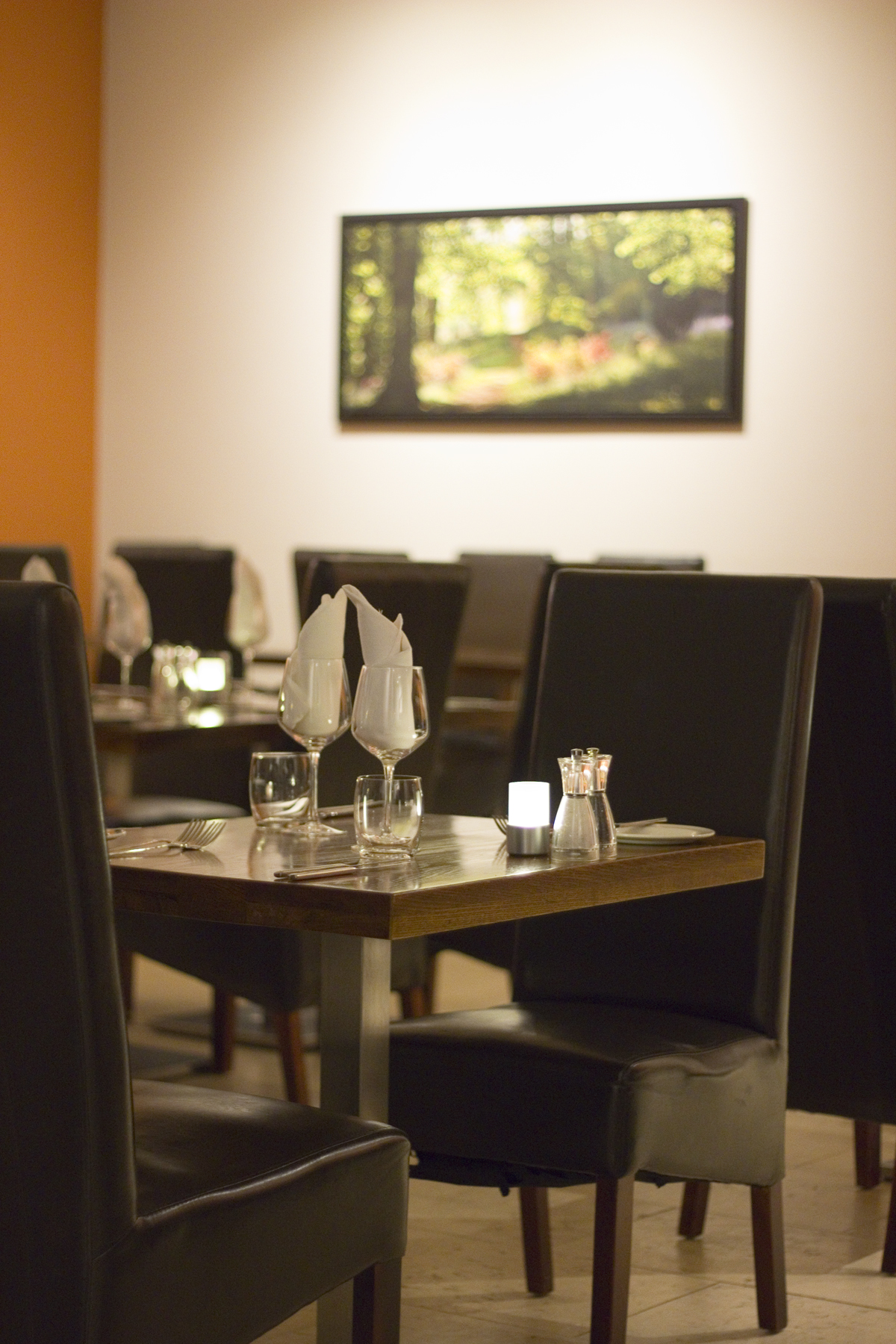 The staff were friendly, but seemed slightly inexperienced and although dinner was lovely, it wasn't my favourite part of the experience.
Don't get me wrong, the food was delicious, I had scallops and venison haunch, Mr LLL had fish (I've forgotten what, exactly!), I was just a little disappointed with the portion sizes for the price of the meals. On the menu my Venison haunch was nearly £19, so I expected something a little more hearty, plus, you know "haunch" that's a big chunky meal kind of a name!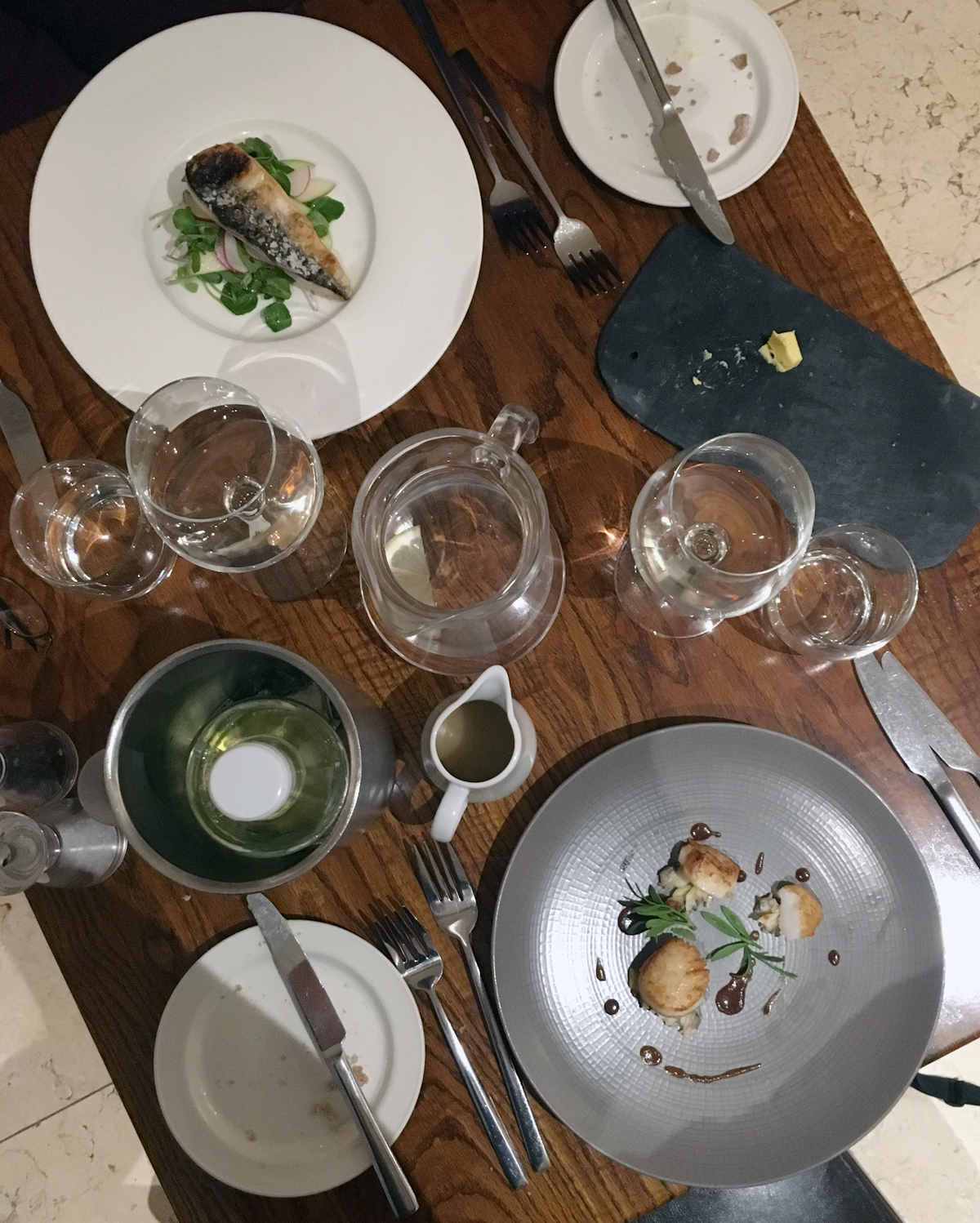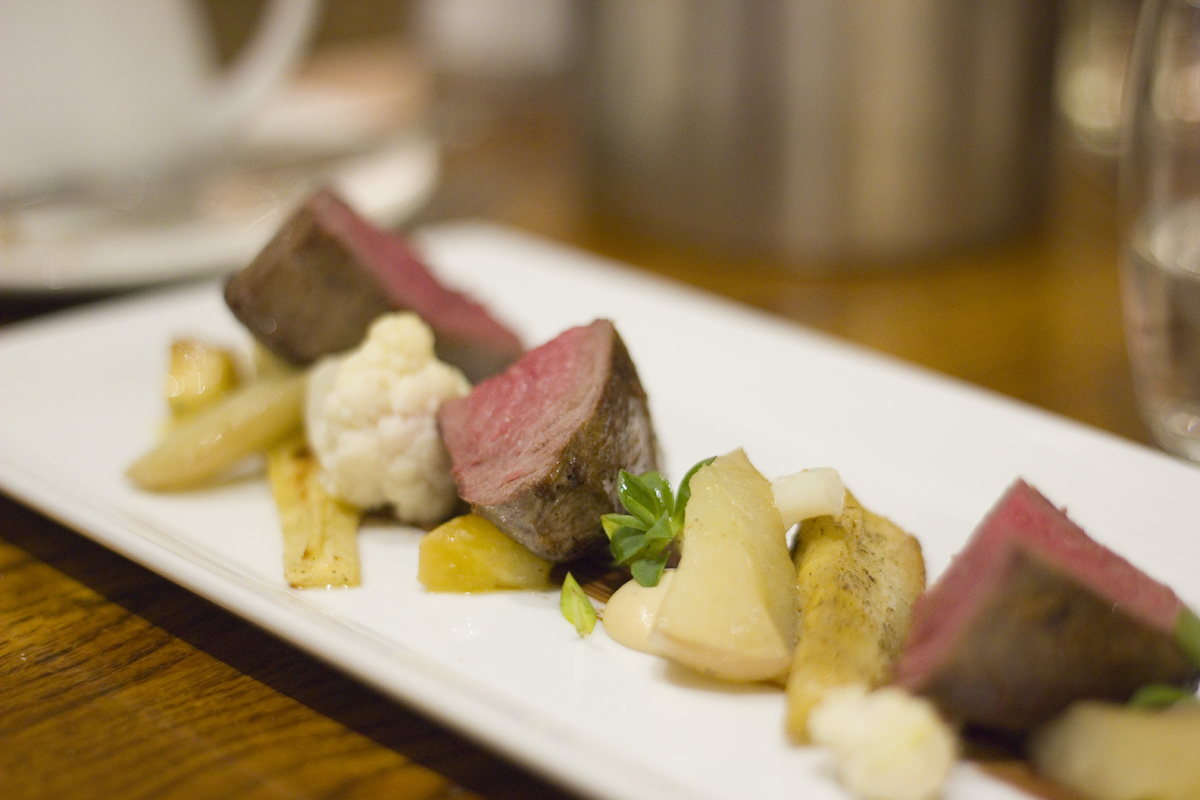 We did have afternoon tea when we arrived, and had a similar experience there. The sandwiches were vegetarian, I'm unsure why, as we didn't request vegetarian, but Mr LLL nearly broke a tooth as one of them had an olive in it, with the stone still in. I'm also fairly sure that the cream was canned squirty cream in a pot, it definitely wasn't clotted cream that I'd expect with a cream tea.
All in all the food was a little underwhelming, but to be honest I wasn't there for an amazing gastronomic experience. I was there for much rest and relaxation, and that I definitely got.
After dinner, Mr LLL decided to run over to Morrisons, the advantage of being on a shopping centre! He bought back cheese and biscuits, and we then retired to our room to scoff cheese and lounge on the big comfy bed and watch TV.
I then had an amazing nights sleep, and awoke to a fabulous view over the Malvern Hills, which felt pretty special.
Would I go back?
Yes, absolutely yes! I'm genuinely considering going back at some point in the future to try that pool. I've not seen a spa before with such a unique hydrotherapy pool, and selection of saunas and steam rooms and the whole experience was amazing.
Prices actually don't seem outrageous. The package we were booked on was the Dinner, Bed & Breakfast package, which allows £25pp for dinner. You get full use of the spa facilities and a mid-week break in February is just £179. Drinks are extra, and if you opt to book in for any treatments these will also be extra. You can book packages that include treatments as well, for instance, I see they have a "sweetheart spa" package in February which includes a glass of bubbly and a 30 minute treatment for £233.
Huge thanks to the Malvern Spa for having us, I'm just sorry I didn't get to try that pool!
Related