A Marvellous Cocktail Party is fast approaching and I've had lots of people looking for ideas for what to wear.
Of course, in a dream world we could all invest in an original 1930s evening dress in a beautiful bias cut satin. In reality the fact is that even given an unlimited budget these dresses often come in very small sizes, and they're very old and very fragile. You don't want to spend all evening to scared to move in case you bust a seam!
Therefore, in the spirit of being incredibly helpful I have decided to dedicate todays Friday Frock Love to some divine full length frocks that are widely available and can easily be made to fit a 30s look. The 1930s were a wonderful decade for evening wear. Think bias cuts, halter necks and draping, rather than too much structure.
A gorgeous full length dress is a real investment. The type of events to which you can wear such a glamorous thing and generally fairly few and far between, this means buying an expensive dress is an even better buy, as you can wear it over and over again without anyone noticing. New accessories, new hair and new shoes make it a whole new dress.
Just a quick note! If you were planning on coming along to our Marvellous Cocktail Party then there are currently under 20 tickets left, so make sure you get in quick!
Bargain Bucket
In the under £50 price bracket you'll likely be looking at something quite plain and basic. Go for something simple and make the accessories the centrepiece to give it that glamorous 1930s feel.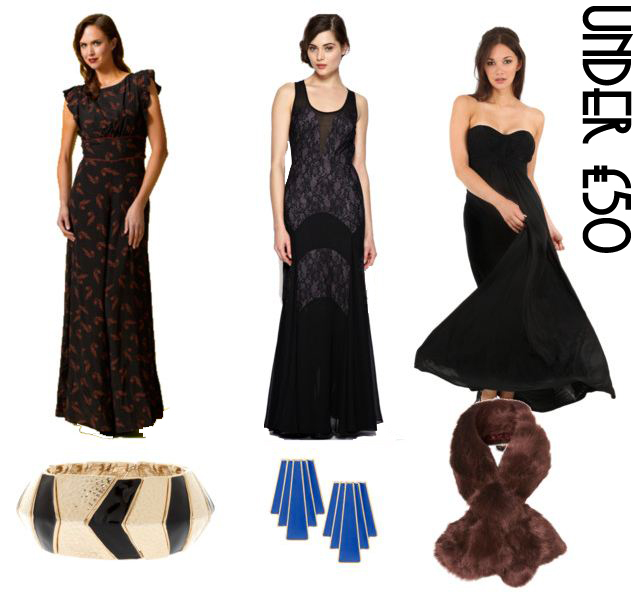 Left to Right
Peacocks by Design Jumpsuit – £40 – Currently only available in sizes 8-12. It might not be a dress, but it's perfect for that art deco feel.
ASOS Underground Maxi Dress – £27 – In the ASOS sale reduced from £85 this is a bargain. Only available in sizes 8-12, but worth snapping up!
Goddiva Maxi Dress – £48 – A basic black strapless dress. Wear it with a fur stole and art deco jewellery.
*French Connection Art Deco Bangle £12 ASOS.co.uk * Art Deco Stud Earrings £8 ASOS.co.uk * Faux Fur Stole £20 Topshop*
Cutting Back
If you don't mind spending a little more, maybe up to £100, you can get something with a bit more detailing. It might still need some imagination to make it perfect, but little details like a proper floor sweeper, ruffles and pleats can really make a dress stand out.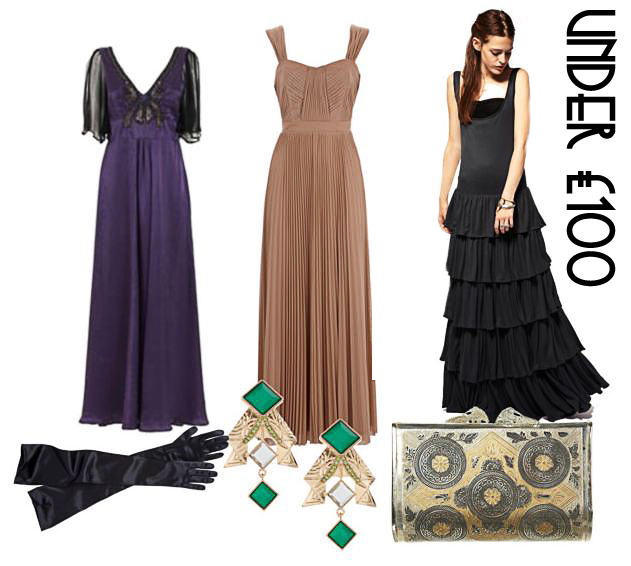 Left to Right
Biba Embellished Dress – £92 – Another sale dress, reduced from £165 and available in sizes 8-12. Biba is very 70s inspired, but we all know the 70s stole all it's best ideas from the 30s.
Oasis Knife Pleat Maxi – £75 – Lovely pleating detail on the bodice and a pretty neutral chiffon type fabric looks gorgeous teamed with striking deco jewellery.
Blackheart 'Eight' Tiered Deco Dress – £85 – If you ignore the fact that they appear to have hired a 12 year old to show off this very grown up dress this is actually very nice. On someone with a bit of shape this could look divine.
*Long Satin Gloves £17.50 WKD * Deco Clip on Earrings £15 ASOS * Metal Box Bag £45 Topshop*
Recession? What Recession?
This is the price range in which you start buying a stand out dress that makes its own statement, it's also the price range when you really need more than one wear out of a dress! Choose plain colours and shapes that can be worn with different hair and make up to different events.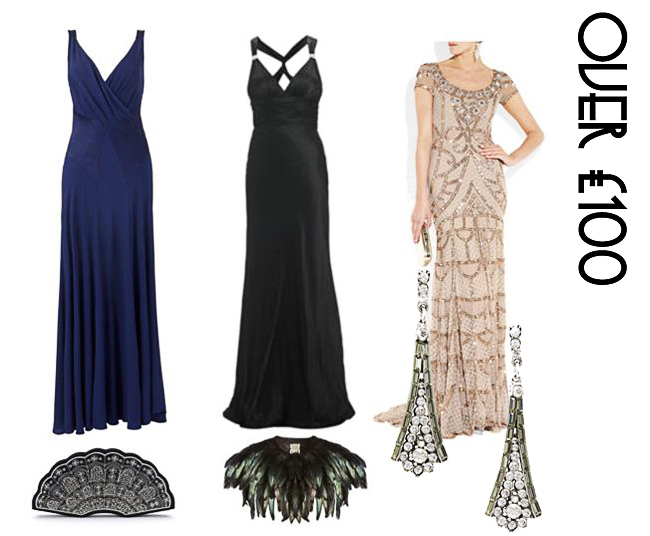 Left to Right
Ghost Drape Front Dress – £195 – This dress is way more gorgeous than the picture suggests. Go look at the website. It's got little covered buttons down the side and gorgeous shaped panelling at the waist. I'm in love.
Anoushka G Twist Back Dress – £180 – Another sale dress, reduced from a huge £380. It's also available all the way up to a size 18. Add a cigarette holder and a languid expression and you're there.
Temperley Embellished Tulle Gown – £2,800 – The other 2 dresses are still within the realm of possibility, so I thought I'd pop over to Net A Porter to see what I could get if money really was no object. Don't do it, it'll make you cry.
*Black Sophie Fan Clutch – £595 Lulu Guinness * Biba Feather Cape – £59 HOF * Art Deco Drop Earrings – £108 Liberty in Love *