I LOVE Red Lipstick.
Ever since I discovered that all reds were not created equal I have been on a mission to find my perfect red. A good red that suits your skin tone and lasts well can make you feel amazing. I really do love it and to date I've reviewed a whopping 14 different brands on Retro Chick. I'd say my current favourite is Besame Red Velvet, it's certainly the one I wear most often.
Red Lipstick has become a bit of a "vintage" short hand, and in a world of lip gloss, lip balm and flavoured tints learning to apply lipstick properly, and wearing it regularly IS a bit of a statement sometimes. I even make a job out of teaching people to apply it properly.
But, well, sometimes red lipstick just feels a bit like hard work.
It needs occasional maintenance, or at least for you to occasionally look in the mirror, no matter how carefully applied it is. You need to watch the greasy foods and excessive drinking, and sometimes it's a bit much to pop to the shops.
The good news is that red is not the only colour, and all those tips you learnt to make your red lipstick stay put work equally well with other shades, but with less obvious wearing off/bleeding/smearing all over your face problems.
Ever since there has been "proper" lipstick, it's come in many more shades than just red, as this picture borrowed from Caseys Elegant Musings shows.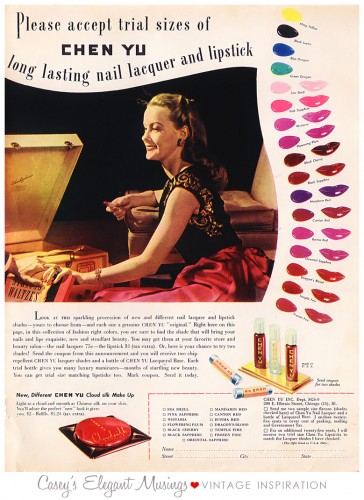 Not sure about blue, but the easiest way to add a touch of colour to your face on days you can't quite be doing with red is with a deep rose pink shade. I still like a quite matte finish, and it's still nice for a lipstick to last once you get past the front door, so just any old lipstick won't do.
I have reviewed 2 non red lipsticks on here in the past. A hot pink Illamasqua shade and the nicely neutral Soap & Glory.
Today I thought I'd introduce you to 2 more lipsticks that are a permanent make up bag staple for me, and perfect for adding a touch of deep rose colour to a tired face on days when red is just too much!
Boots No. 7 Classic Rose £10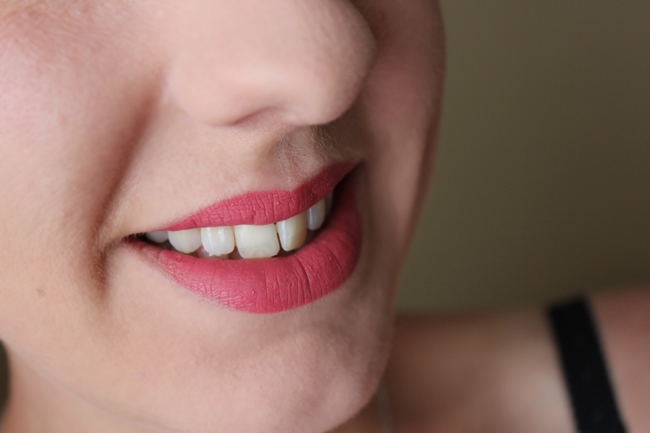 Slightly drying, but with a nice matte look. If you can avoid licking your lips it'll last for ages, but the colour isn't so bright that if you can't it will matter.
The shade is quite pink.
Besame Dusty Rose £22
Pricy, but Besame lipsticks really are my favourites for their lasting power, and not being too drying. This one has a little bit more a sheen before blotting than the No 7.
This shade is a rose with slight brown undertones that I really love. Antique rose would be another shade name that would come to mind!