It was another busy weekend here at Ms Chick Manor.
And a busy week ahead, so I just thought I'd share a few weekend photos.
Friday started off with The Historical Sauces taking our top to toe vintage retail stall to The Birdcage Vintage Friday's. We have setting lotion, bandanas, glue on "moonicure" nails, seamed stockings and Besame cosmetics. Basically everything you need to get a bit of vintage style going on.
The weather was gloomy, but the inside of The Birdcage brings a much needed touch of glamour to a rainy afternoon. I spent much of the afternoon with soggy ankles. Much as I love my Heyday! trousers I think wide legs trousers are always a bad move in the rain.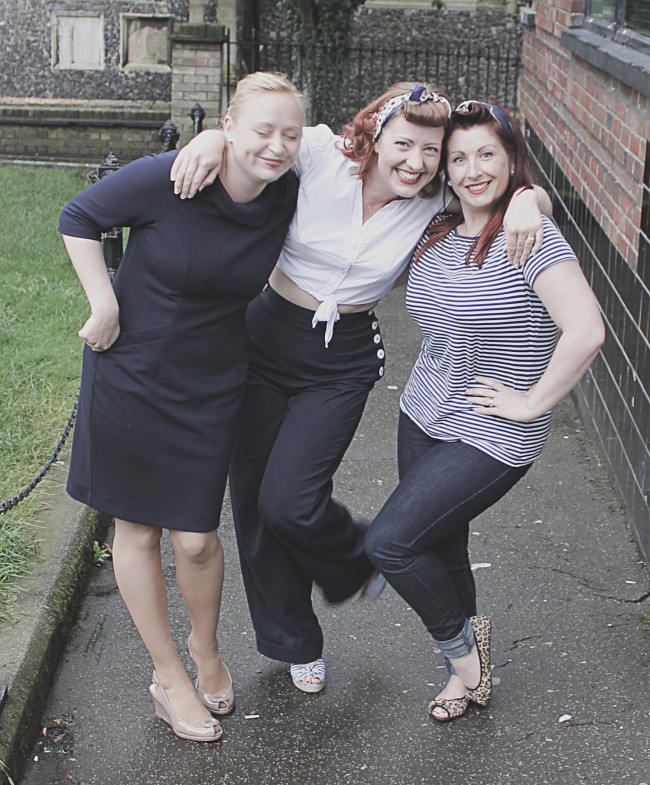 We also sold a few more tickets for our Vintage Hair Masterclass on the 29th July, which means there are now only 3 remaining. The point of the class is to teach a few techniques to create some vintage style do's in minutes, without spending hours in hot rollers or sleeping in wet sets. We call it "Cheat your way to Vintage style". The workshop will be promptly followed by our last Sip & Shop of the Summer (such as it is!).
On Saturday I was off to that London to help Reginald Spleen's Travelling Snuff Bar at a wedding at The Swan at The Globe Theatre. It's a lovely space, with a beautiful balcony overlooking the river and it was a relaxed and fun evening, so I can't claim it as an awful lot of hard work, though my poor feet were feeling the pain at the end of the night!
And that's how I look teaching a Bride how to take snuff!
Then on Sunday, it was personal work, as our new house needs a new kitchen and bathroom, and therefore the old kitchen and bathroom need to be removed. I'll confess, I largely left that sort of work to Mr Chick. But I was on hand to supervise and take photos of the discoveries under layers of old tiles and laminate.
Some fairly funky kitchen wallpaper has been going on in this kitchens life. Here's a selection!
How was your weekend?
Related