The weather in Norwich has been beautiful this last week.
I believe some of the rest of you have had thunderstorms and torrential rains, but here in Norwich it's been all blazing sunshine and balmy summer breezes.
I have therefore been engaging in a particularly British pass time of wearing as many of my Summer clothes as I can before the weather breaks and I'm back in jumpers and wellies.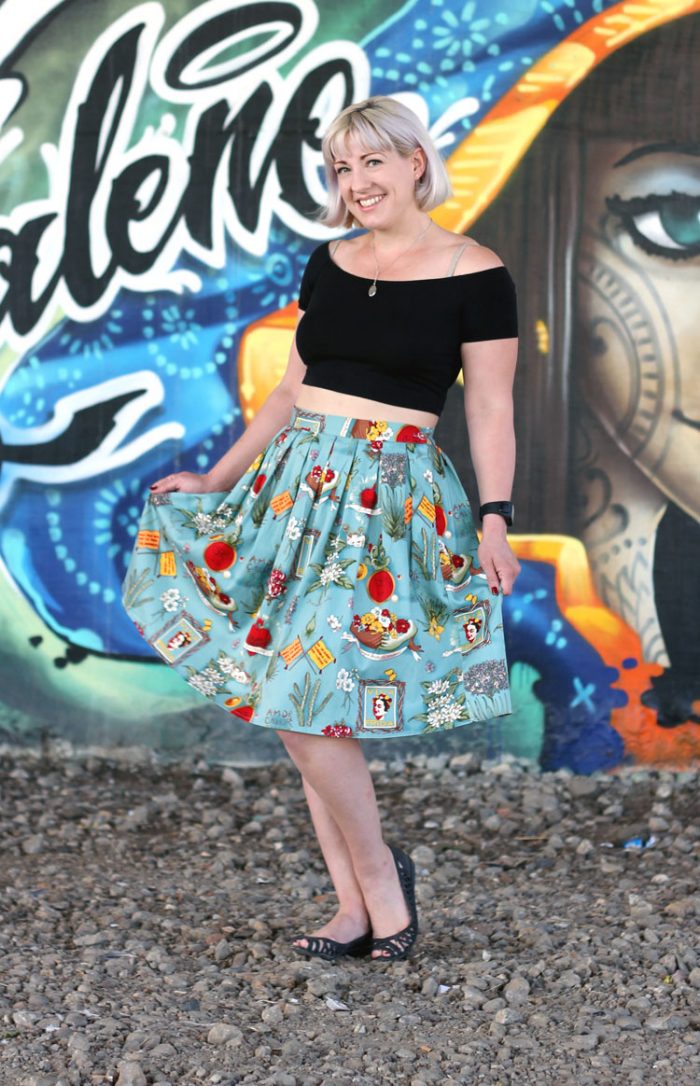 This particular beautiful Summer day I was heading into town for a cocktail and dinner with Mr Chick, before a game review with my Roller Derby team which involved being in a tiny room with a running projector for 2 hours, so cool clothing was a must!
And *gasp* look, I'm wearing a crop top at 37 again, will I never learn that is inappropriate?
I actually found getting the proportions right for this outfit a little difficult. I am short and curvy with short legs, originally I put platform sandals on with the summer skirt and crop top thinking it would make me look a bit taller, but it just didn't work. With the skirt being a little shorter than usual, and teamed with the crop top it made me feel a bit too exposed and I looked weirdly cut off. The Platform sandals highlighted all the knees and stomach on show and with a shorter skirt they made my legs look short and stumpy, the opposite of the effect I was going for!
When I swapped them out for flat jelly shoes it looked much cuter and more in proportion on my figure. There's a lesson in there somewhere, I'm not sure what it is, maybe it's about experimenting with your wardrobe and paying attention to proportions, or maybe it's about only wearing what you feel comfortable in, because if I'd worn those shoes out I can virtually guarantee I wouldn't be posting these photos as I'd have hated them!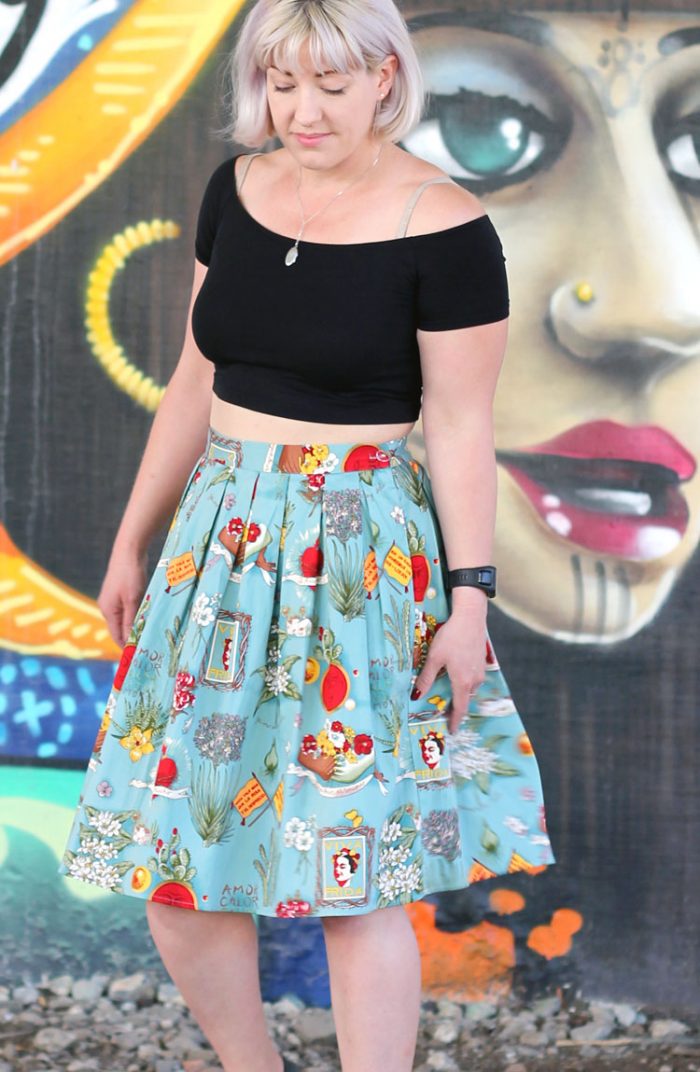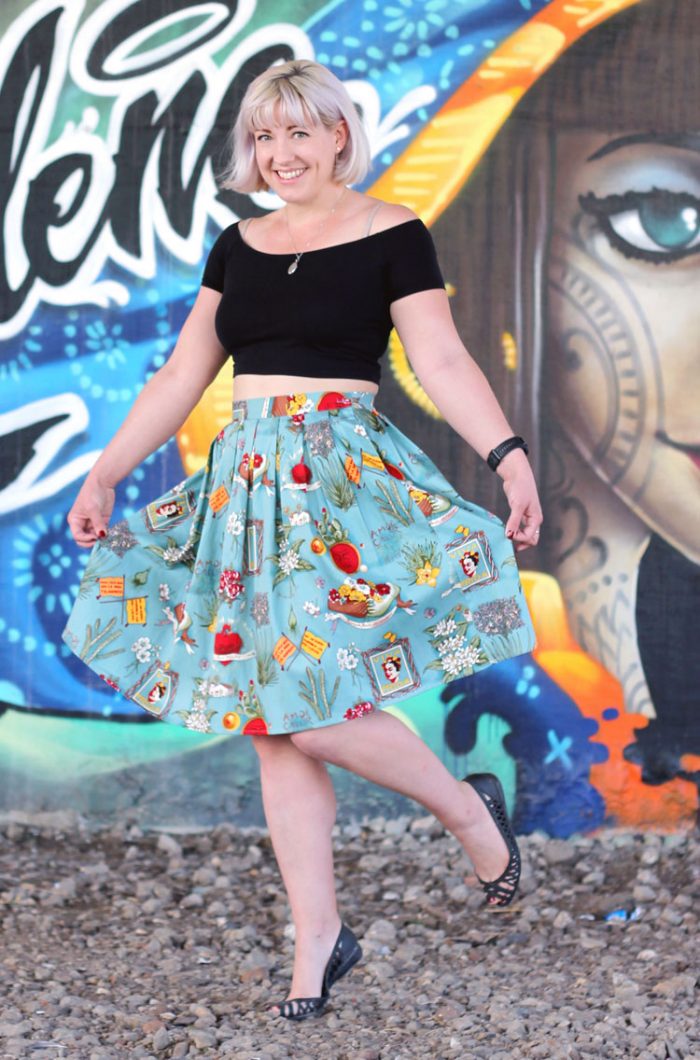 The summer skirt I bought in a shop in Hastings, in a little square next to the West Hill Railway. I couldn't really afford it, and it's a little shorter than I normally wear, you can almost see my KNEES. But that print, I just loved it! It's Mexican themed with pictures of Frida Kahlo and hearts and flowers on a pale teal colour background.
It also has pockets (win!), and 2 buttons on the waist so you can loosen it a little, if, for instance, you are about to go out and eat large amounts of food, like I'm about to here.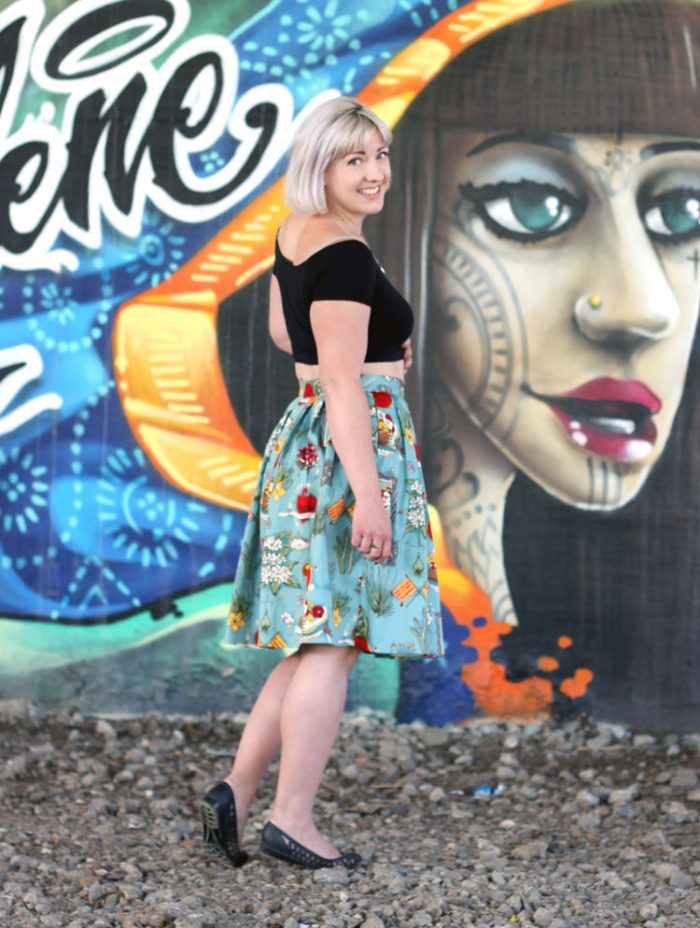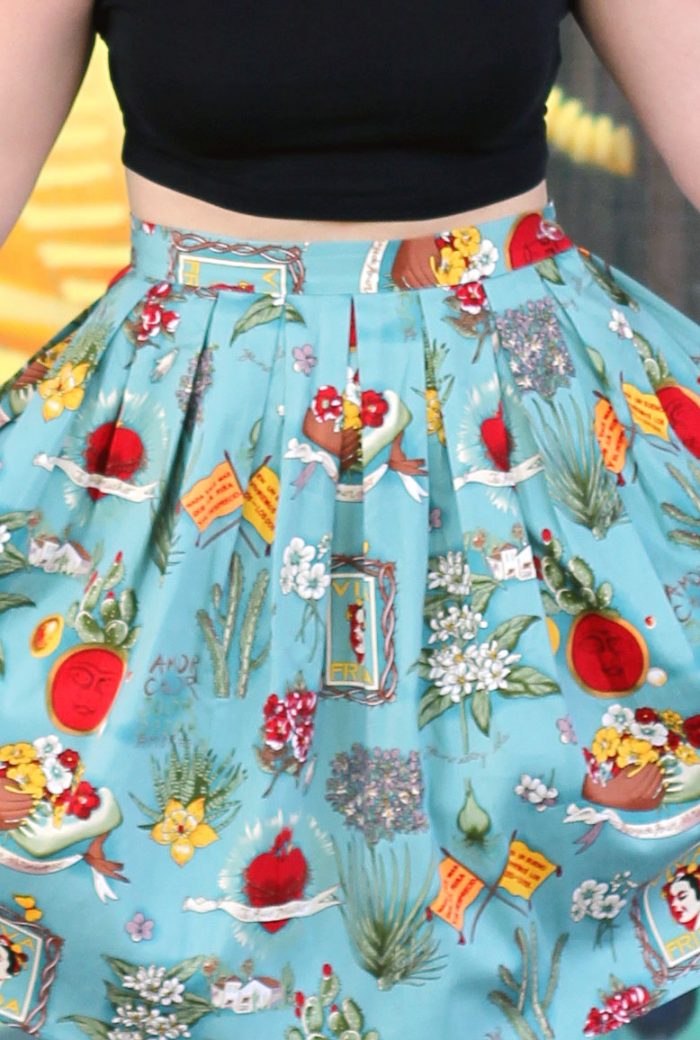 I actually managed to track down the skirt for sale on Amazon
(for less than I paid, but you win some you lose some!). Actually I am surprised at the quality considering the low price and am considering treating myself to a strawberry print one. There's a couple of great pin-up prints in there as well.
I mentioned the other day that actually I'm becoming increasingly sold on skirts, rather than dresses. I still love dresses for their totally easy "fling it on and everyone thinks you made an effort" quality, but the versatility of separates has become quite appealing, the mix and match possibilities with different tops seems particularly appropriate to dressing for the British weather.
This skirt, however, is an example of exactly the sort of skirt I probably shouldn't buy. I am in need of some good multi-season skirts, and I think this one is most definitely a Summer skirt. I can't really picture myself wearing it with a polo neck and boots, though I have no doubt that some people would pull it off with aplomb, I would look like I was wearing my Summer skirt with a polo neck and boots.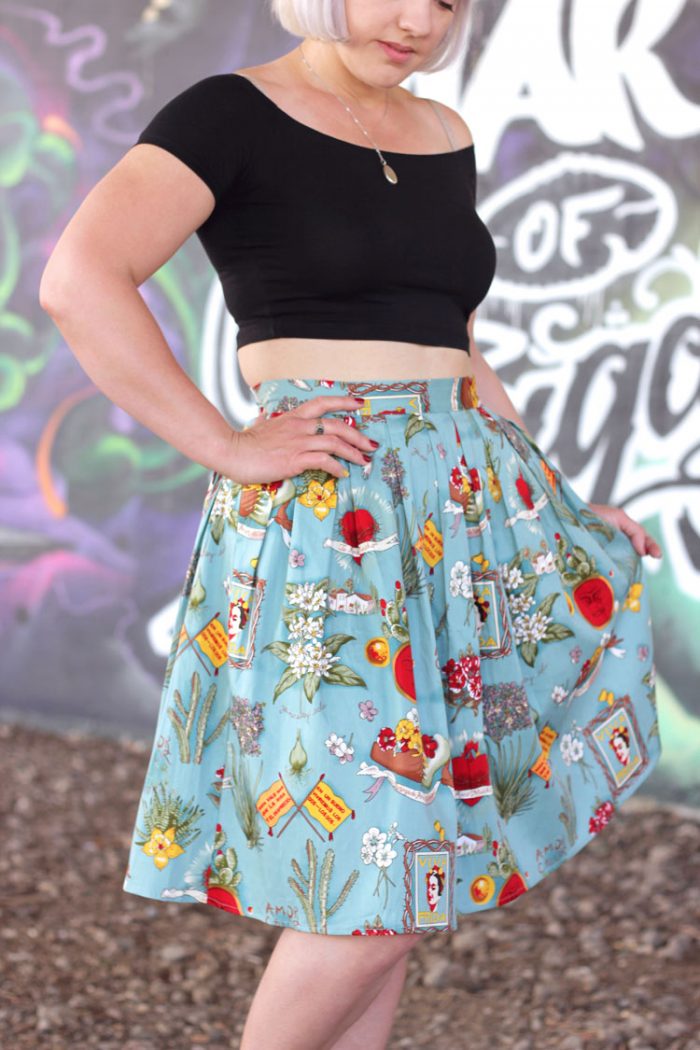 Still, that gives me an excellent excuse to shop for more skirts, I'd say.
♥ Skirt – Grace Karin
 ♥ Bardot Crop Top – ASOS (Similar) ♥ Shoes – From a Clothes Swap ♥
Related