Did you drink ice cream floats when you were little?
I remember going to restaurants with my Parents, probably whatever the equivalent of a Harvester or Beefeater was in the 80s, maybe it actually was a Harvester or Beefeater, and ordering a Coke Float was a huge treat. We also used to get non alcoholic cocktails that came with small plastic monkeys hanging off the sides and umbrellas. My drinks were so much more exciting when I was 8.
Anyway, back to ice-cream floats. Anyone who doesn't know what an ice-cream float is, it's basically a fizzy drink of your choice with a scoop of ice cream on the top. It creates a creamy fizzy top to the drink that you can slurp through with a straw, then scoop out the remains with a spoon or your fingers.
A couple of weeks ago Haagen Dazs sent me some vouchers to try out their new Summer flavour, Raspberry & Mango, and, because I am me, I thought it was the perfect opportunity to turn it into a Cocktail. I considered blending it up with spirits to create some kind of milkshake. But in the end I thought a Champagne float cocktail sounded delicious for Summer. It's also considerably less calorific, requiring a lot less of what is a super rich and creamy ice-cream.
This is a luxurious grown-up version of those ice-cream floats I had when I was little.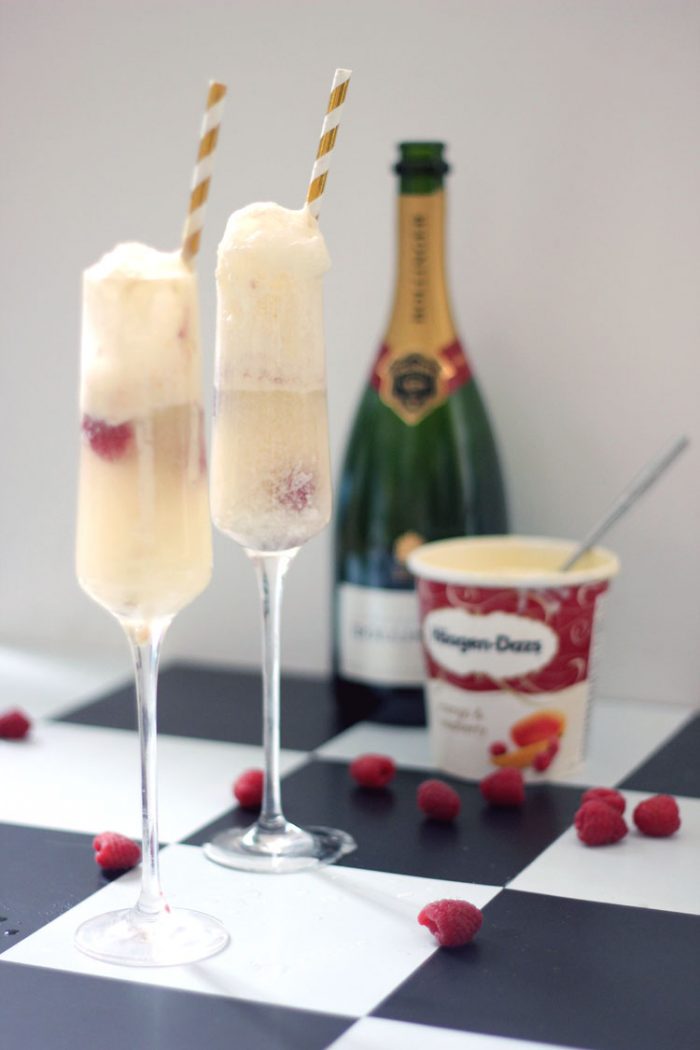 They're refreshing and creamy and look fantastic for a summer party. Or you could just drink them in front of the TV on a Saturday night, which is what I did with mine, because I'm super posh, obviously.
I made mine in flutes, but you could make them in tumblers so they look more like the real thing. If you do that you will need a bigger spoonful of ice cream and a lot more Champagne to top it up, not that that's a bad thing…..
Raspberry & Mango Champagne Float Cocktail
You Will Need:
Haagen Dazs Mango & Raspberry Ice-Cream
Fresh Raspberries
A bottle of Champagne (or Prosecco or Cava!)
Champagne Flutes, straws and a tea-spoon
Add a few raspberries to the bottom of each champagne flute and top with Champagne to within about 2 inches of the top of the glass. Pop the straw in then add a large teaspoon of ice-cream to each glass.
If there is still space left in the glass you can then add a little more Champagne. Be careful as pouring the Champagne over the ice-cream causes it to foam up a little. It looks pretty, but can make a right mess if you're not careful!
Et voila! A super posh Champagne float cocktail, suitable for parties, weddings, or watching TV on a Saturday night!