On Monday I shared my Roller Derby Varsity Jacket.
When people think of vintage style they think of nipped waist suits and tea dresses and seamed stockings. But it is perfectly possible to create a vintage inspired look suitable for more casual occasions!
My varsity or letter jacket is the perfect example of that. Worn with cuffed jeans and loafers it can be super casual, but still has a bit of a 50s vibe (bonus points for putting your hair up in a big swingy 50s pony tail and chewing gum), or you can wear it to dress down a pencil skirt, like I did on Monday.
My jacket came from Roller Derby City. You can order one in a whole range of colours, customised with a name and number on the front. I wear a small, and I think many of the custom ones below, like the Harry Potter and Monsters University ones are probably the same jacket. A small seems to fit around a size 12.
If you're less bothered about customisation there's a whole load of other places you can get yourself a vintage style Varsity jacket and swan around like you're a starting centre forward on the Football team. (I think that's a good thing, I also think there is a Centre Forward. I might be making it up.)
You could go the genuine vintage route. There are lots of vintage varsity jackets on Etsy ranging from the 60s up to the 90s. Alternatively there are some great options on the High Street.
On a Budget
If you're looking to spend under £50, there's actually some really good options out there!
By far the cheapest is this jacket on sale at River Island. It was £60, now reduced to £15 and still the majority of sizes available.
Next up in the under £50 bracket is from Etsy. Because if you don't have a sports teams colours to wear then next best thing is your Hogwarts house.
I'm a Ravenclaw, Pottermore told me so, but they also do all the other houses as well.
Also on sale, this is half price and has PU sleeves, which is a cute vintagey feature.
Mid Range
If you've got some more to spend there's some cool and quirky designs to grab.
If you're a little more Goth than College Jock then this might be the jacket for you!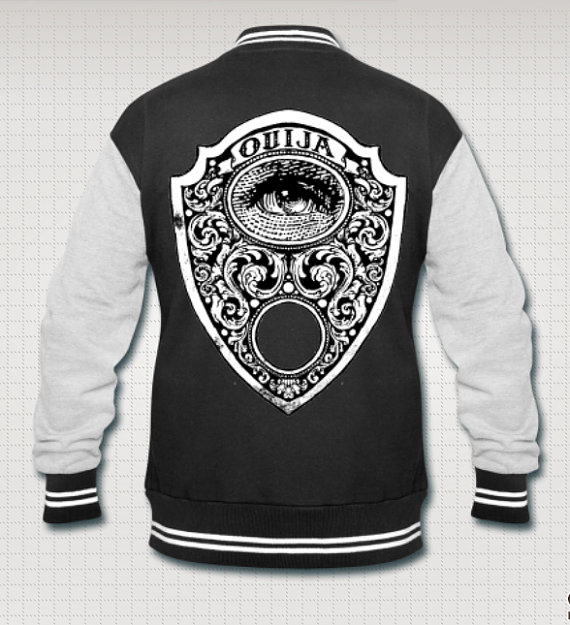 Another one for the kids that were more likely to hang around smoking behind the bike sheds than play any kind of organised sport.
Lorna Jane is a high-end sports wear brand so in theory this varsity jacket is suitable for doing actual exercise in. It also has a funky animal print, so it's perfect suitable for just hanging around looking cool.
Blow the Budget
If you're absolutely made of money then there's plenty of top end brands selling gorgeous Varsity jackets. In fact, these were way easier to find than the first 2 categories!
This one is super cute because it's bomber jacket style with all the varsity trims, but then has a sailor style back piece (there's a name for it, I can't remember it and frankly I'm too lazy to go and look it up). It's £150, so pricy, but not outside the realm of reason!
If you're willing to splash a bit more cash you can get your varsity jacket in actual leather rather than PU trims.
Lastly, if you're REALLY willing to splash out over £1000 on a jacket then this one from R13 is made from leather and wool-blend, with a super cool skull patch to show how hard you are.