I'm actually writing this before Sunday morning, and it feels like cheating.
The reason I'm writing this early is that by the time this gets published I will be in a car on the way to Gatwick as I am off to Switzerland on a press trip to the fasnacht carnival in Basel. I am both excited and anxious, as any travel makes me, and slightly less enthusiastic about the 3am start on Monday morning. 3am, REALLY?
The fact that I am going away tomorrow means that this week mostly involved me being glued to my desk trying to catch up with work that all needed to be done before I went away. But, in the brief moments that I wasn't doing that, this week I…..
Climbed over trees
Yeah, so I went for a lovely countryside run, and then, there, in the middle of the path was this.
I climbed over it. I didn't enjoy it. Then at just over 3 miles I saw another tree down, and that seemed like a good place to choose to turn around and go back to the car.
I still had to climb over this tree twice, but at least I didn't have to climb over 2 trees twice. That's like, FOUR trees in total. Stoopid Doris.
Saw someone walking a horse
I'm sorry internet. I couldn't get a photo as I was in a car going in the wrong direction, but you have to believe me that I totally saw someone with a Shetland pony on a lead walking through a town, along pavement. It wouldn't have seemed that weird on a country lane, but it's not the sort of thing you expect to see walking past an Esso garage.
Watched Rugby in a pub
I've never watched Rugby in a pub before. It was fun, there was beer. I might do it again. That's probably all there is to say on that really.
Made some kick ass pancakes
I expected, based on prior experience, that I would attempt to make pancakes on pancake day and they would glue themselves to the pan and transform themselves into a foul doughy mess which I would then throw in the bin after 2 mouthfuls and eat some ice cream instead.
So I read some actual instructions, made my own batter (wow, I mixed flour, eggs and milk, call me Nigella.) and produced some bloomin' awesome pancakes that did not stick to the pan.
Then I smothered them in peanut butter, banana and maple syrup and ate them all. Yum.
Visited Mr Chicks Shelf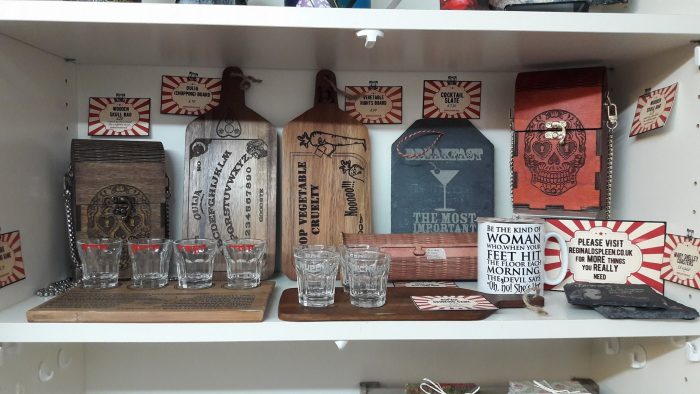 Yes, that's right folks, Mr Chick is now the proud owner of a shelf.
This isn't just any old shelf though. This is a shelf in Norwich Gift Emporium where his fantastic handmade goodies are now available to be checked out and purchased in real life, as well as through his Etsy shop.
Norwich Gift Emporium is a great place to buy really unique gifts, not just from Mr Chick, but from lots of other amazing artists, so if you happen to be in the Norwich Lanes, I suggest you check it out. Mr Chicks shelf is facing the cash desk at the bottom of the stairs!
Bought some face wipes
And some dry shampoo, oh, and a Greggs cheese and bacon wrap because I'd just got out of practice and hadn't eaten and was starting to get hangry.
Seriously, this is how exciting my life is this week.
I had to buy face wipes because I use an awful lot of stuff that comes in bottles bigger than 100mls, and I'll be travelling tomorrow with hand luggage only. I used to use facewipes all the time and my skin was terrible until I started using a cream cleanser and hot cloth. I am intrigued to see if my face falls off by Tuesday night.
And that was a TOTALLY exciting week in my life.
How was your week?