Happy Sunday!
How are you all?
I am low level stressed today as I have my Personal Trainer exam tomorrow, which means a Sunday spent revising 50 billion(ok, 50) different muscles and what bones they attach to and what they, y'know, actually DO when you move them.
I can think of ways I'd rather spend my Sunday, but there ya go. Maybe I'll have Sunday when I get home tomorrow night.
But before I revise 50 gajillion muscles, I thought I'd pop in first to tell you that this week I…..
Nearly Got the Wrong Train
I did mention this last week in the post I wrote on the train on the way home, but it was basically how my week started, so it's worth another mention.
I really hit the ground running again this year with a 5am start on Sunday to catch a train for my practical Personal Trainer workshop.
It's kind of confusing because for my L2 I had a workshop in Stevenage, then an exam in Baldock, then I went for a one-to-one L3 practical in Baldock, booked my exam in Letchworth, then had to change the date and rebooked it for Baldock. So you may have some understanding about how I somehow got confused and thought that my L3 workshop was in Baldock, and booked my train ticket accordingly.
Or maybe you don't.
Anyway, at 3:30am I woke up and thought. Hmmm, I wonder why they moved the workshops to Baldock, I suppose I haven't got the wrong place have I? I'll just check.
So I overrode they screentime restrictions I placed on my phone so that people pester me at 3am with PR messages to check my emails. And, sure enough, I had booked the wrong ticket.
So I cancelled it, which cost me TEN POUNDS, rebooked a ticket to Stevenage and then spent the next hour and half lying awake terrified about all the other things I'd probably messed up.
As it turns out Stevenage is just another 2 stops down the same line and I could have bought an add on ticket for about £7, thus saving me £3. But I did not know that at 3am, and it still wouldn't have been much help if I'd got off the train in Baldock and then been an hour late for my workshop, so there we go.
Anyway, I made it, it was very useful but I was very, very tired.
Here I am on a rowing machine being studious.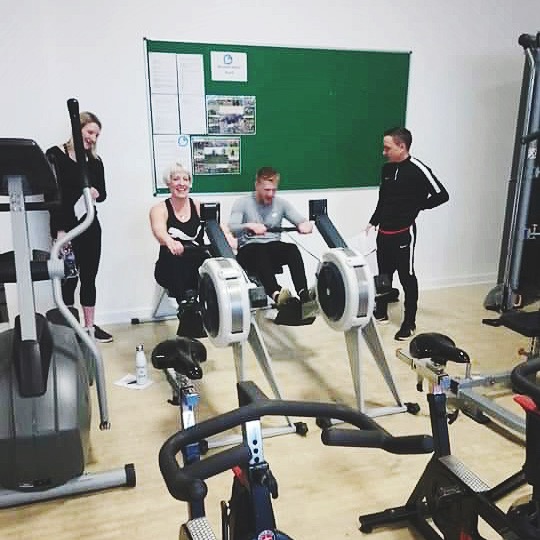 Met a Very Big Dog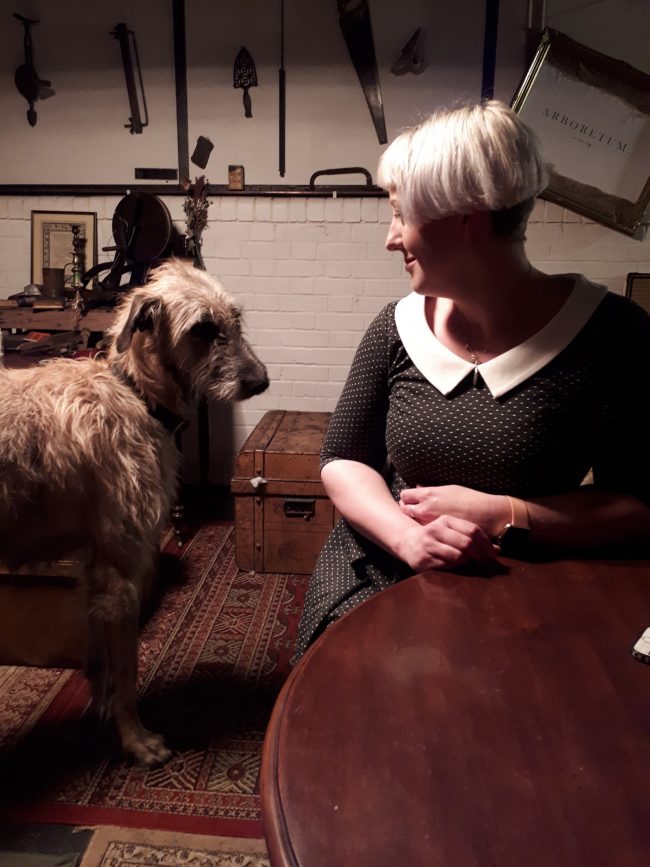 By Wednesday night I had almost caught up on my sleep, which was a good job as I had plans to meet up with a friend to get belatedly festive and see the Aladdin panto at the Theatre Royal.
First, we went for a drink at Arboretum, Norwich's most low key Cocktail bar/antique shop. They have a very big dog. A very big dog that very quickly cottoned on that I had dog treats in my pockets and became my very best friend in the world.
He was super cute, but when you have tiny dogs like Pugs, sometimes it's a little unnerving to meet a dog that's taller than you if it jumps up and puts it's paws on your shoulders.
Enoyed some Panto Drama
So we left the dog, and went to the theatre to see Panto, which was unexpectedly busy for over a week into January.
It's been years since I've been to see a Pantomime and I got very excited by the shouting out and singing along.
A little bit of unexpected drama occured when Aladdin entered the cave, rubbed the magic lamp, and the Genie appeared in a puff of smoke, shouted "Oh my foot!" and then promptly disappeared back down a hole again assisted by a crew member.
The curtains dropped and everyone murmured concernedly. Some people started heading off to get interval ice cream and then an announcement told everyone to stay in their seats.
So we sat politely for 5 minutes. The curtains came back up and the voice of the cave helpfully filled Aladdin in on the fact that he was actually the Panda king, then there was big gold and glittery dance number, with no Genie, then the interval.
After the interval everyone came back, and when Aladdin rubbed the lamp again we all collectively held our breath, and then there was a massive cheer as an only slightly limpy Genie appeared on stage to grant wishes.
Phew!
I don't know what happened, but I hope her foot is ok!
Passed an MOT
Back in 2017 our car failed it's MOT. Not because of some minor fault. Oh, no. Because it needed a whole new engine costing more than the car.
So we spent an irritating 2 months with no car, before buying a "new" second hand one just after Christmas. I know second hand cars often have issues, and so far this year ours has needed new springs, a new exhaust, a new clutch and new brake pads. So as the MOT approached in January I felt a little apprehensive.
How much was it going to cost in repairs? Would this one suddenly need a whole new engine as well, because this time we can't really afford another new car?
As you may have guessed from the title of this section. The car passed. It needed no work at all, much to my relief, and just an advisory about a light over the numberplate.
So here's to another year before we need to worry about THAT again.
And that was how another week in my life panned out in 2019.
Now, if you'll excuse me I need to go and learn about the rotator cuff.