This outfit has been a long time in the making.
One of the things about being permanently on a budget of zero is you have to be patient. If there's something you really want you can't just pop to the shops and buy a £50 jumper, you need to hunt it down as cheap as possible, investigate unlikely sources and be prepared to compromise.
All the way back at the end of August, when Autumn was only just threatening to rear it's chilly head, I wrote about Lena Hoschek and her vintage inspired Autumn Winter collection. The collection was full of Tweeds, Tartans, Fair Isle knits and flat caps. Menswear translated into the most feminine outfits.
Like this.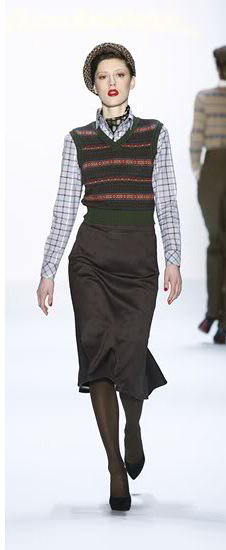 I almost instantly started trawling eBay and Charity Shops for Fair Isle Knits and turned up nothing in my price range. Seriously, jumpers are going for £50 on eBay. I don't spend that much on a jumper unless it's made of gold.
Then on Saturday I popped into a Charity Shop in Cambridge, and there it was for just £4. It's not fair isle, but it gives the right overall look. So 2 months in the making here it is. My Lena Hoschek inspired outfit for chilly winter days.
I might even wear it with a cravat next time, it was only because I'm in Birmingham and Mr Chicks cravats are all in Norwich that I'm not in these pictures.
❤ Beret - eBay ❤ Blouse - Gap ❤ Jumper - Calvin Klein Jeans via a Charity Shop ❤
❤ Skirt - Lady K Loves ❤ Tights - New Look ❤ Shoes - Bertie via eBay ❤
❤ Coat - Principles via eBay ❤ Bag - Vintage ❤
You should probably get used to seeing berets too as I have just discovered that I can tuck all my hair inside it, do a quick fringe roll and every one thinks I've made some kind of massive effort. They are the little black dress of head wear and I intend to track down more in more colours, I won't need to brush my hair until April, Wooo hoo!
As I am in Birmingham I shall leave you today with a picture I took on my wanders. It's not of some of the amazing statuary that's dotted around the city, it's of a shopping centre. What's so interesting about a shopping centre I hear you ask?
Well, this one has pink lights. I liked it anyway.