Seeing as "they" are predicting Snow this weekend it's time for an emergency reassessment of the footwear situation.
You have a nice smart coat, a hat or two and a selection of gloves to complete your vintage winter ensemble. But what about your poor chilly tootsies? Your sensible Autumn footwear will see you through a lot of the winter, especially if you have room for a pair of toasty fleece insoles, but for REALLY cold days it's nice to have some boots in reserve.
If you prefer a lady like or vintage look then choosing winter boots can be a tricky balance of budget and style. Depending on how authentic you want to be your best bet is probably just to look for less clunky "delicate" boot with a low heel or wedge and a rounded or almond toe that won't look out of place with a skirt or smart coat.
These pictures (found on the Fedora Lounge) are 40s and 50s catalogue or advert scans. As you can see original 40s and 50s winter footwear seems to be generally along these lines, lace up or zipped ankle boots, possibly with a fur lining.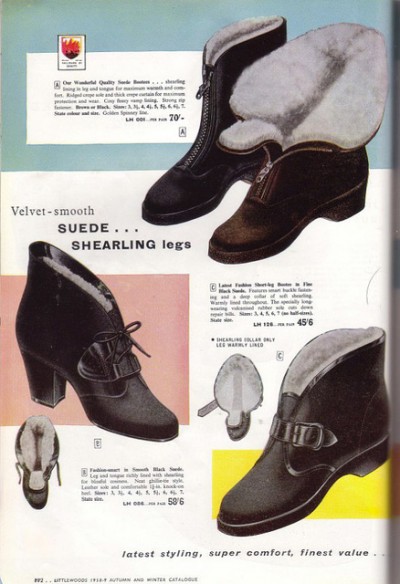 Boots are one of those things it's tricky to get on a low budget (I know, I spent a day last September nearly in tears as I couldn't find anything on the High Street), but I've done my best to find you some boots to suit all budgets and styles that won't look out of place with a vintage ensemble.
Fur Lined Fancies
Gorgeous little leather boots with a fur collar and practical stacked heel. These look so cosy!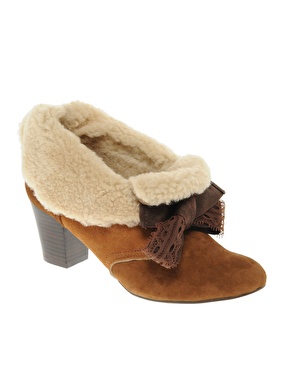 KOALA LACE UP BROWN LEATHER

– £98 Office

Available in black and brown with a sensible stacked heel and a higher lace up.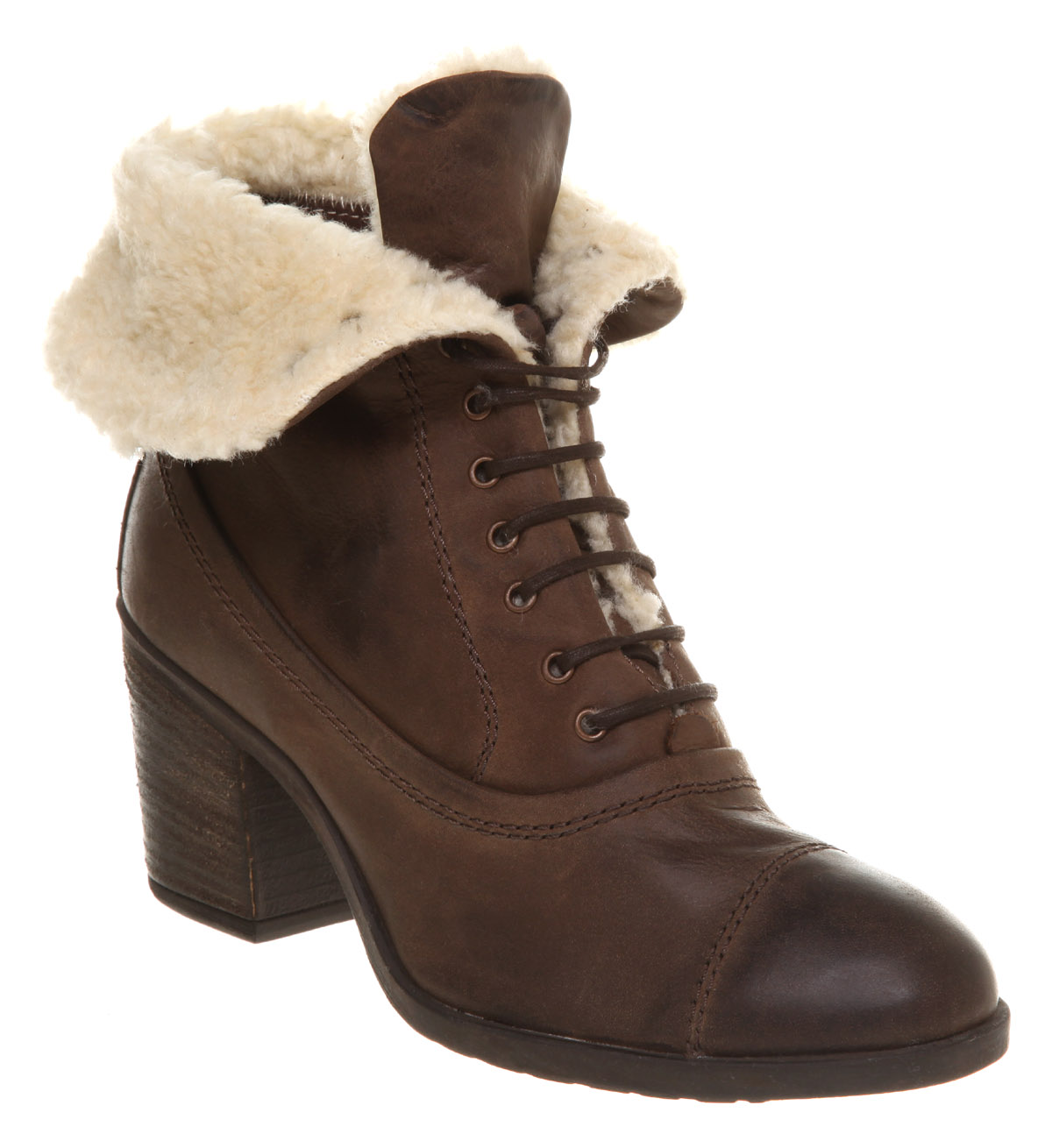 In "leather look" so should be suitable for those who don't wear leather shoes, they're a little chunkier, but look like they've got some good grip on the soles for slippy pavements!
Lady Like Lace Ups
Suede isn't always the most practical winter fabric, but in black, properly protected I think it's probably fine for normal days without torrential downpours.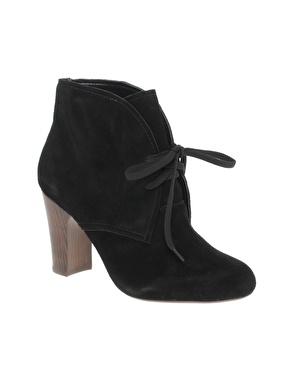 These are patent finish PU boots, so again, maybe suitable for the non leather wearers. The dark red also makes a change from brown and black.
Red Level Radio – £32 Brantano
The most bargainous pair of boots I could find and the shape looks like a dead ringer for some in the vintage scans. These are also non leather, and although they look like lace ups they actually fasten with a zip, making them far less faff to get on and off than they look.
Functional Flats
KORR LACE UP BROWN LEATHER

– £95 Office

Mostly I can manage with a small heel even in snow, but if you prefer a sensible flat then these are toasty sheepskin lined in sturdy leather. Also available in black.
Dartmoor Boot

– £80 Draper of Glastonbury
Very much like the zip up booties in the 1950s catalogue scan above. Fleece lined and toasty with a non slip rubber sole.
Kimono Collar Lace Ankle Boots

– £64.99 Schuh

A nice classic lace up boot. Also available in Black.
Final thoughts….
There are many things I completely fail to understand why we, as a society, stopped using over the years. Refillable make up containers, plastic rain hats and setting lotion just to name a few in the women's grooming category. I really, really have to add over shoes to this list.
These have hollow heels so they fit over your regular shoes for rainy and snowy days, and on arrival you just take them off, saves carrying extra pairs of shoes around with you, fabulous!
Searching eBay for galoshes brings up a few vintage pairs, but I don't know anywhere you can buy modern versions.
For a modern alternative when you need your shoes waterproof I like the Vivienne Westwood Melissa flat ankle boots on eBay or from Sarenza.
Finally, if you're really on the hunt for a bargain then try searching eBay for terms like "granny boots", but prepare to be patient to grab a bargain.