It's freeeeezing outside.
So, as far as I'm concerned, the only thing to be done is plan to spend New Years Eve in Hawaii.
Be nice wouldn't it? Instead I'm doing the next best thing and have tickets booked for Bo Nanafana Social Club Hawaiian'd Up.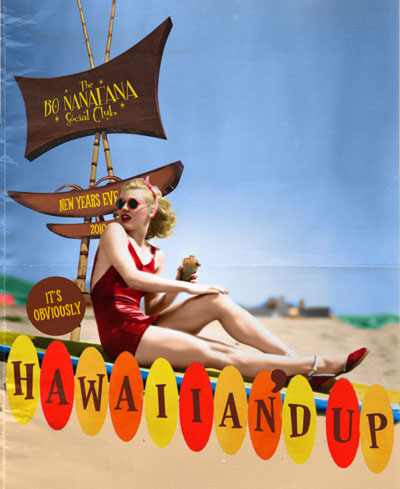 As far as I can see it's really the only place for a vintage loving Norwich gal to be on New Years Eve. I refuse to travel far on New Year. It's not the getting there, it's the getting home that kills me and squishing into tiny pubs that have charged me to go somewhere I can go free the rest of the year is also not a fun way to spend my time. Bo Nanafana, however, have never failed to provide me with a spectacular event with themed decor and entertainment, plus I can walk there.
This year we're heading off to Hawaii. The main room band are surf noir kings The Bikini Beach Band
As ever the cabaret stage will play host to a variety of weird and wonderful acts. Last year I watched a man in his pants balance beer on his head and drink it through a washing machine hose whilst juggling knives, so I can't wait to see how they top that this year….
I do know that the Scantily Clad will be in attendance and there will be magic from Bob Percy. I also know that the Shellac Collective and DJ Lornegerie will be keeping people dancing into the early hours (unless they're wearing silly shoes, which I probably will be) and that the Swing City Dance Class will be there to teach them how to dance in the first place with free swing dance lessons.
Tickets are £25 either online or from The Rock Collection in Norwich.
I have my floral lei on it's way, a hair style in progress and even a special drinking vessel planned. My last remaining issue is that the dress I had planned to wear fits me fine. As long as I don't want to sit down or bend in the middle at all.
Any suggestions for removing an inch from my hip measurement in 2 weeks greatly appreciated, if they don't involve exercise or dieting then all the better….
What are your New Years Eve plans? Will I see you there?……