Christopher Robin may well have been there with Alice but I didn't see him.
If he had any sense he'd have stayed home. What I did see were some chilly soldiers, chilly pigeons and lots and lots of snow.
I was in London over the weekend for a little pre Christmas break, staying in a hotel just across the road from the Ritz (thus giving me the opportunity to check in at the Ritz on Facebook, that's the only time I'll be able to use the words "check in at the Ritz" I suspect)
Before I start I'm going to share my misery. See this picture of me in the hotel bar enjoying a lovely drink?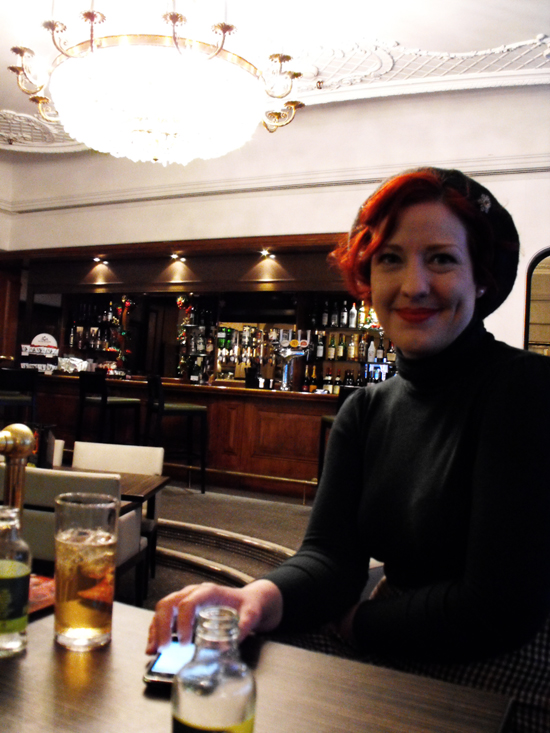 See the lovely vintage snowflake brooch on my hat? Here's a closer look.
Well, at some point between Friday night and Saturday morning it disappeared. I'm sure it was in the hotel room and I can only assume I helpfully put it somewhere safe, but despite having searched high and low (and called the hotel) it is nowhere to be found. I'm quite sad as I really loved it, so if you happen to bump into one the same anywhere let me know!
Anyway, on with pretty pictures of snow.
As I got off the tube at Green Park it suddenly occurred to me that despite having lived in the South East until the age of 18, having lived in Greater London, and being a frequent visitor to the Big Smoke I have never actually seen Buckingham Palace. So I trudged across Green Park in the snow, had tea with the Queen (not really, she wasn't in) and then took a pleasant wander down Whitehall being terribly touristy, before taking shelter in Starbucks (who have run out of Egg Nog Latte, I'm distraught!) to warm up my feet.
Nothing like being a blogger to enable you to bore strangers with your holiday snaps. Do look at that poor chilly Soldier though and feel a little bit of sympathy for those with jobs where you have to hang around outside in this weather!