Essentially my weekend revolved mostly around tea and cake.
On Saturday I decided it was time to give a new tea room in Norwich a try. Biddy's Tea Room is on Lower Goat Lane above furniture shop Perfect Pad. It only opened on Valentines Day so it's still brand spanking new.
We had cream tea, for the very reasonably price of £3.95 each, that came with more tea than we could possibly drink between us and was beautifully laid out on a tiered cake stand.
It was really beautifully decorated, with a vintage feel without being too "twee". There were comfy seats thoughtfully placed by the window and I could just imagine spending most of the afternoon in there sipping tea and watching the world go by. I heartily recommend you pay it a visit if you're in central Norwich!
For the record, the jumper in the top picture was knitted for me by my Nana sometime in the mid 90s from a vintage 60s pattern, and the hat is vintage from Mr Chicks Mum, so a bit of a family flavour to the outfit!
On Sunday I was booked in for yet more tea at The Library Bar & Grill for Norwich Fashion Week.
They'd organised a 50s style tea party in conjunction with local shop Daisy & Lola's to include a  catwalk show of vintage and pin up style clothes from the shop.
It was the first event of this kind they'd put on and it did suffer a couple of teething issues! The sandwiches had evidently been left uncovered and were very stale, and, despite having a beautiful vintage tea cup on the table my tea order was taken and bought to me in a glass. I looked around and could see other people with tea pots, so I was a bit confused. I did a very un British thing and complained, and was promptly and uncomplainingly bought lovely fresh sandwiches and a nice pot of tea. So I think these were just little teething troubles really.
We were then treated to a catwalk show, featuring brands stocked in Daisy & Lola's including Tara Starlet and Freddies of Pinewood, with typically lovely hair by Flamingo Amy.
Then.
CAKE!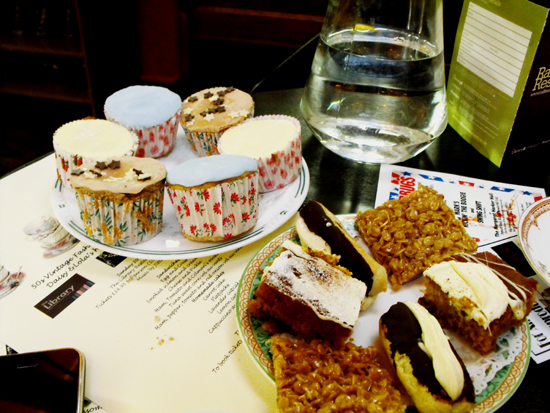 We then went for a bit of an explore of the wonderful old building that the Library restaurant is housed in. It was the first public lending library in the UK and book shelves still line all the walls. It has a beautiful high ceiling with a gallery around the top of the main space. Amongst all this splendour, for reasons known only to my own tea and cake addled brain, I decided the best place to take an outfit photo was a semi darkened, abandoned room at the top of the building. Therefore, this is the best I can do to show you my carefully planned tea party outfit.
❤ Dress - Hobbs via a Charity Shop ❤ Belt & Pearls - Vintage ❤
❤ Stockings - 

WKD Back Seams

 ❤ Shoes - Bertie via eBay ❤ Gloves - Charity Shop ❤
❤ Handbag - 1940s Vintage ❤ Dress Clips - 30s Vintage ❤
I was wearing my What Katie Did waist cincher, as I've managed to rip one of the clips off my trusty regular girdle, so despite a valiant effort I was unable to fit ALL that cake inside it. I had a jolly good go, but in the end the Library wrapped it up for me in a little handbag made of tinfoil and we took it home to enjoy that evening. Leaving all the lovely ladies behind enjoying cake and tunes from the Swing King.
Related