Last night I should have been at the Norwich Fashion Week After Party at Franks Bar.
It was billed as a 70s themed party, serving retro 70s cocktails starting at 7:30pm last night.
I planned to prove that 70s doesn't have to mean disco glitter and put together a bit of a 70s does 30s outfit.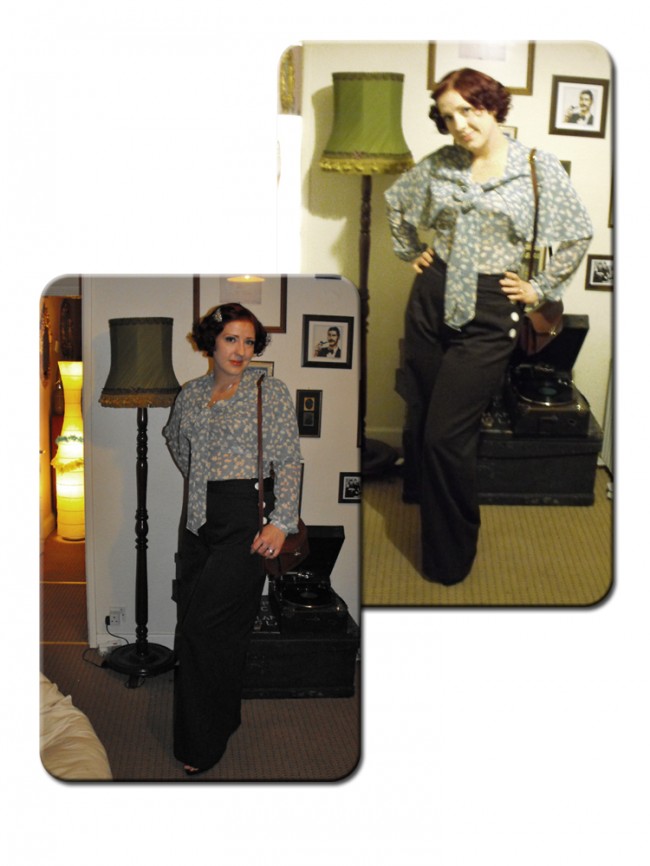 ❤ Blouse - Next via eBay ❤ Trousers - Heyday! ❤ Shoes - eBay ❤
❤ Bag - Vintage ❤ Hair Clip - Babyliss at Boots ❤
I love that blouse with it's little wingy cape style sleeves, and this is the first chance I've had to wear it! I also had some killer Revlon false eyelashes on, and it was quite nice to get out of the black eyeliner/red lipstick thing for an evening by going for heavy eyeshadow in a Bibaesque purple and lashings of lip gloss.
I arrived at Franks Bar at 8:30, but found the party to be a little more low key than I expected! We were told there was "a table of people" at the back, so I wandered back, saw about 6 people at a table and didn't recognise anyone. There were no other free tables available. So we left again! I couldn't walk up to a table full of people I didn't know and just plonk myself down for a chat! You might be able to but it's beyond me to be that brave I'm afraid.
I was a bit irritated (read: snappy and grumpy) that I'd got all dressed up, dragged myself into town for a "party" and now had no where to go. So I went to the pub with Mr Chick and Poppy Valentine instead. We had beer and talked about 70s kids TV shows, thus having our own 70s party.
Behold the fabulous double chin I get when I laugh. At least it proves I was having a good time.
In other news.
I can now offer an exclusive discount code to Retro Chick readers for my sponsor Lady K Loves! She's offering 15% off for you if you enter retrochick_15 at the checkout, so now's the perfect time to stock up on some lovely frocks in preparation for that beautiful spring weather we're bound to have any time soon….