I'd had Penny Dreadful on my blog list for some time before I met her in person.
It was last October at The Hendricks Gin Horseless Carriage of curiosities. When I noticed we were wearing the same shoes I knew I'd obviously met a girl after my own heart.
The Penny Dreadful blog is now a whole year old, and she has just given up her job to sell vintage full time in her Etsy shop. She has an amazing collection and it's reasonably priced too!
Reasons you should read her blog:
She'll show you where to find the best vintage look-a-likes on the High Street.
She's "living the dream" and we all want to wish her luck in give the boring day job the heave-ho
She's really a very nice lady indeed.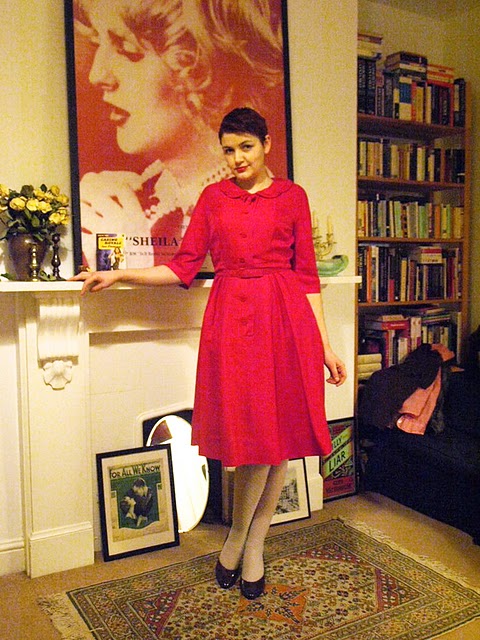 What was the first piece of vintage clothing you remember buying or owning?

This is quite a tricky one, because growing up on a struggling farm we were always short of money and at least half my clothes were hand-me-downs or from the charity store. When I got a bit older I was able to start wearing my mum's things from the early 70s – I particularly remember a gorgeous emerald green strappy ruched tank top with little buttons all the way down the front. I'd be bursting out of it nowadays but I wish I still had it. The first vintage purchase I made for myself was probably an orange and white 60s rabbit fur jacket from the charity shop (or op shop as we say in Australia), for the bargain price of $10. I wore and wore and wore it, and in fact hung onto until last year when I decided it was no longer really 'me' and sold it on in the shop. I love the fact that now hopefully someone else will wear and wear and wear it for the next 15 years, and so on until it falls to bits.

What was the last item of clothing you bought?

Well I have been on a buying MISSION at the moment for the shop, but treat my own purchases differently (sometimes I even wear *gasp* non-vintage). For the shop, the most recent thing I have picked up has been an embossed leather clutch bag with 'Tripoli' written on the front. It looks to be from the 1940s, and was the sort of thing that soldiers serving in the Middle East during WWII bought for their sweethearts back home. For myself, I've just bought a below the knee beige and chocolate brown woollen houndstooth pencil skirt. It is of course is totally inappropriate for the coming spring, but I'm looking forward to being able to wear it with a little tilt hat and ribbed sweater next winter.

What is the most expensive item of clothing you've ever bought?

I am a consummate bargain-hunter, so I try not to spend too much on my clothes. That said, I do think it is worth paying extra for quality rather than frittering your pennies on cheap rubbish. For instance I've stopped buying cheap shoes, because they always fall apart so quickly you lose out in the end. Anyway, the most expensive thing I have bought is a black fitted wiggle style dress by Thierry Mugler dating from the late 80s. It has the most gorgeous sculpted curvy neckline that dips across your chest, and I was gutted when I found it didn't actually fit me. That one unfortunately has to leave my vice-like grip and go into the shop

What's your current favourite item of clothing

It is dreadfully non-vintage, but I have hardly been able to prise myself from my bathrobe all winter. It is oversized, fluffy and blue, and I feel like a snuggly Cookie Monster wearing it. Being an ex-pat Aussie I do feel the cold quite a bit, so although I like to dress up when I go out it is warm woollies all the way when I'm at home.

Do you prefer heels or flats?

Don't make me choose! I wear whatever footwear goes best with my clothing, whatever type of heel that is. I don't wear high heels if I have to be walking around London all day, because any city girl knows that is a recipe for aching feet and more importantly ruined shoe heels. My shoe collection is getting a bit silly, I have a set of bookshelves with my nicest shoes on display, but also have another two boxes under the bed as well as boots thrown in the corner. I am a size UK7 so you would think that would at least make it harder to find vintage shoes. But nope, I always manage to ferret out the larger sizes and keep adding to my collection, much to the despair of Mr D.

Describe your style in 3 words

Eclectic, messy, creative

Skirts or trousers?

I have a big butt and I cannot lie, so skirts just suit me a lot better than trousers. I do have a few pairs of trousers I have found to suit me, but it is a great trial. I am mostly a fan of dresses. It is the ultimate in dressing lazily but looking like you have made a big effort. Throw on a nice frock and a bit of red lippy and it is amazing how easily you can fool people.

How much do you spend on clothes in an average month?

Erk, I really have no idea. I would estimate about £100. It is really hard to tell because some months I don't buy anything at all, and in others I'll find loads of things I like. I don't buy anything on a credit card though, so I know as long as I have enough saved up then I don't need to feel worried or guilty about buying what I like.

How is your wardrobe organised?

*hollow laughter* See pictures of my current 'system' here and here. Before my clothing went all Lord of the Flies on me, I tried to arrange my hanging clothes into work, evening and casual, and folded clothes into jeans, long sleeved tees, short-sleeved tees, work tops, and a place to shove knitwear (which it really is impossible to fold). You could see quite clearly which half of my clothes were for work and which for fun, as one half of the wardrobe was all navy and black and beige, and the other red checks and yellow stripes and big polka dots and blue sequins and kimonos and platforms. Now that I've just left my job to run the Penny Dreadful Vintage store full time (huzzah!), I am planning on having a proper clear-out and getting rid of all of my dark and dreary office clothes. Which will obviously be disastrous if everything goes belly-up and I have to go and work in the city again, but I am determined to think positive!  All my clothes are in big piles at the moment while I am waiting to construct my swanky new storage system, which is the Stolmen from Ikea. The poles can adjust to your ceiling height which allows you to make the most of your space, so it is really great if you live in a little London flat like me. (update: shelving now constructed!

Are you sentimental about your clothes?

I try not to be sentimental about any kind of object anymore. I've learned that it is better not to try and create your home or personality or style with things from your past that in reality no longer mean anything to you. I have held onto the dress I wore to my School Certificate graduation prom, which was a silver sequin halterneck mini dress worn with black patent mary jane heels – a drama queen even at sweet 16. But I really think I've only held onto it for so long because it is, frankly, a show-stopping dress. As an aside, I bought that dress when I was on a trip to visit my uncle in Sydney. He was scandalised to discover what he thought was a skirt was going to be my prom dress!
Visit the Penny Dreadful Blog, or Etsy Store
Or Find her on Twitter and Facebook