I reckon that the Nutribullet, or is it's similar blendy, smoothie making sisters, have to be one of the most purchased items this January?
I base this on no evidence whatsoever, other than the fact that I know several people have recently bought one and that every time I walk into a shop it seems to have a big "hey, it's January, why not smush some fruit up?" display of the things.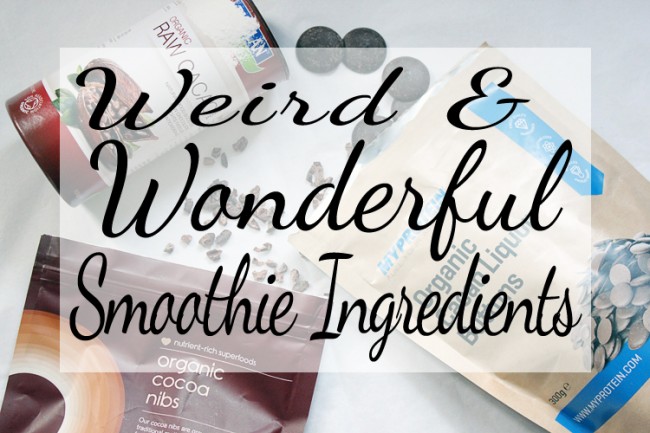 I have a Nutribullet and I think it's great. I make easy no brainer breakfasts by smushing up a banana, almond milk and protein powder. I even wrote a post of smoothie recipes last year if you fancy trying some out. Most people with their shiny new blenders will have got the hang of the whole fruit combined with milk or water or juice thing. Some might have branched out into adding kale or spinach (top tip, frozen spinach makes it nice and cold too). Still others might have ventured into the world of tasty flavoured whey protein powders.
But what about all those other weird powders and potions that people put in smoothies? What are they, what do they do, and what do they taste like?
I've tried a few weird smoothie ingredients, some I bought myself, but I've also been sent various things to try by Bioglan, MyProtein and Indigo Herbs, which means I've had a chance to put to the test some things I might otherwise not have bought. Here's my rundown on a few of  those weird and wonderful smoothie ingredients you might want to try.
Cacao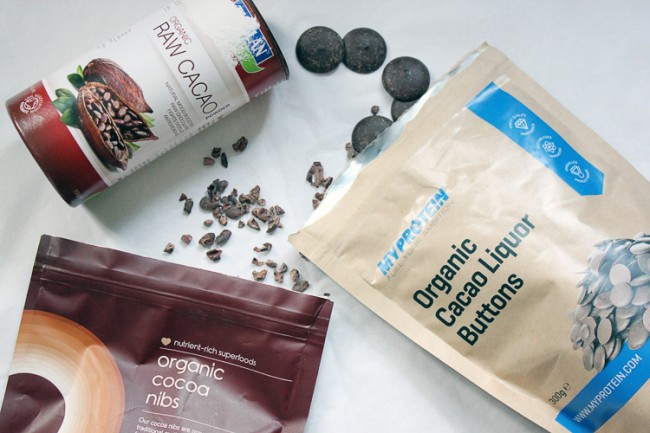 Like chocolate but are on a health kick? Cacao is your friend for adding a chocolatey flavour.  Using cacao will add some fats to your smoothie recipe. It contains anti-oxidants and can help prevent cardiovascular disease. It also has high concentrations of magnesium that helps prevent osteoporosis and lower blood sugar.
It can be quite bitter, think dark chocolate but even more so, so it's best in a smoothie, though some places suggest using it as a chocolate drink. I also use the cacao liquor buttons shown above when making chilli. I use about 10g in a smoothie, the nibs and the buttons both add a slightly crunchy texture, that I really like, the cacao powder doesn't, and also seems to have slightly less fat per serving.
Bioglan Raw Organic Cacao Powder £6.99
MyProtein Organic Cacao Liquor Buttons
Naturya Organic Cocoa Nibs £8.99
Baobab Powder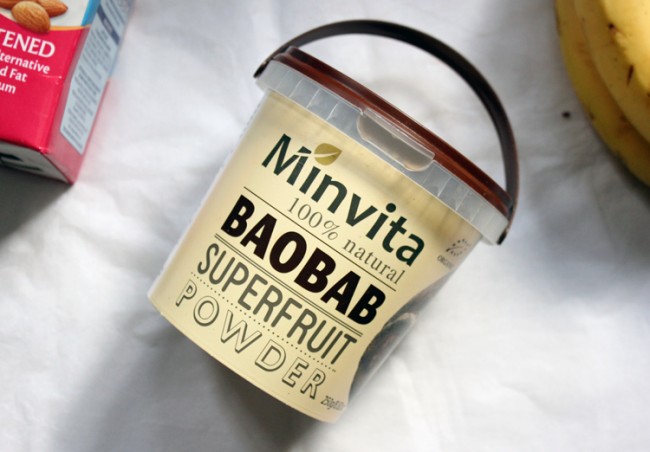 Baobab powder was one of my first smoothie supplements. It's the fruit of the African Baobab tree. Although you only use a small amount it adds vitamins and minerals to your smoothie like vitamin C, calcium, iron, magnesium and potassium, it also has some of those anti-oxidants we all love so much. It also contains fibre, particularly the soluble pectin, which can help reduce risk of heart disease.
Personally I'm not hugely fond of the flavour, it's quite exotic, but I found it slightly bitter. A teaspoon in a smoothie with other strong flavours makes it palatable to me.
Minivita Baobab Superfruit Powder £14.99
Chia Seeds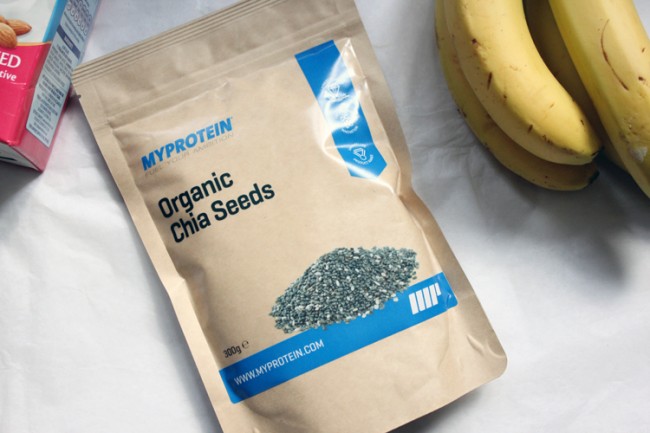 Chia seeds are tiny little black seeds, that don't really taste of much. They are packed with fiber, protein and omega-3 fatty acids, making them a great way to add some healthy fats, a touch of protein, and some fiber to your smoothie.
When adding chia seeds to a smoothie, don't over do it. They act as a natural thickener, so unless you want to eat it with a spoon just add a couple of teaspoons. I also mix chia seeds with oats and leave them to soak overnight (I use 40g oats to 20g chia seeds), and I mix a couple of teaspoons into pots of Alpro soya chocolate pudding which gives it a lovely texture.
MyProtein Organic Chia Seeds £3.99
Holland & Barratt Chia Seeds £5.99
Maca Powder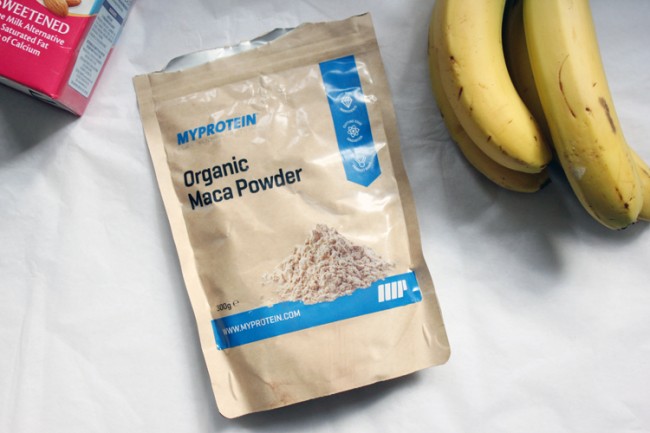 Maca Powder is one of my favourite smoothie additives, it adds a slightly malty taste and goes really well with cacao in smoothies. Originating from Peru it is supposed to be good for energy and hormonal health. It's worth noting that there isn't much scientific evidence for some of the claims of it's effect on sexual function, but it does contain vitamins C, B2 and B6.
I add 5-10g to a smoothie, and often combine it with chocolate protein powder and cacao.
MyProtein Organic Maca Powder £19.99
Naturya Organic Maca Powder £19.99
Bioglan Supergreens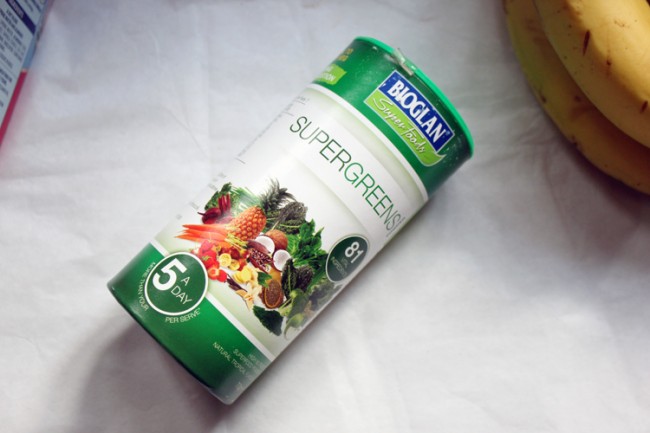 This is a powder I was sent to try before Christmas, and is of interest if you're wanting to up your fruit and veg intake as a single serving is apparently equivalent to all of your 5 a day, and a 10g serving, according to the ORAC scale equals 10 servings of broccoli. This is good for getting your vitamin C, as well as those pesky anti-oxidants and also contains pre and probiotics to aid digestion. The ingredients list is long as this has 81 ingredients, but if you read through you'll recognise a lot of individual "superfoods" like spirulina, acai, beetroot and kale.
I like to use this occasionally, but not every day as it's actually surprisingly sweet and adds a sweetness to your smoothies, as well as turning them green.
Bioglan Supergreens £19.99
Lucuma Powder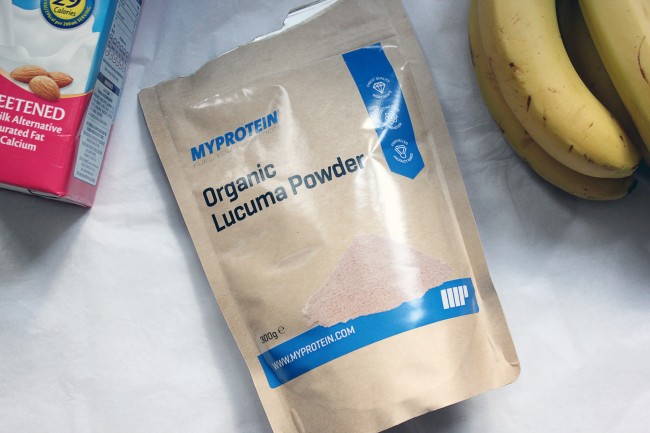 Honestly I'm still working this one out. It's supposed to be a natural sweetner that won't spike your blood sugar levels. It's not sugary sweet, but in smoothies it adds a slight caramely sweetness which is quite nice. Not having a hugely sweet tooth though I don't use it often, if you do like things sweeter, then this might be more for you. It is rich in trace elements such as potassium, calcium, magnesium and phosphorus, and is thought to have an anti inflammatory effect.
Add a teaspoon to smoothies for a sweeter taste.
MyProtein Organic Lucuma Powder £8.49
Spirulina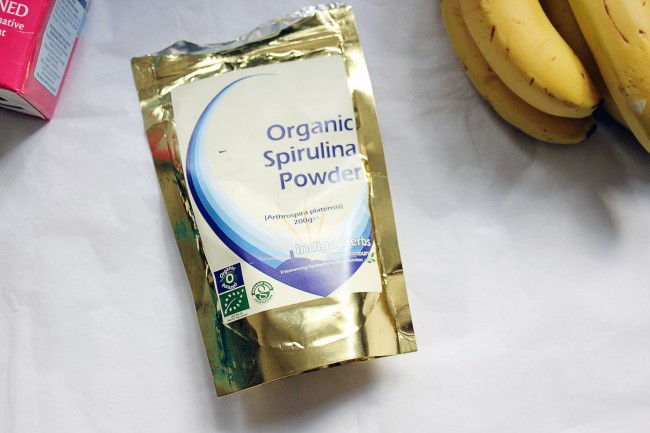 My favourite thing about this blue green algae is that a teaspoon will turn your smoothie a deep, dark green. It's a dark green powder that is high in protein, antioxidants and B vitamins, making it a great addition if you're sporty as it's good for energy and adds a little protein. It's worth noting that you'll only use a teaspoon, so if you want a high protein smoothie, using whey protein is more effective, but this is so nutrient dense that even a 5g teaspoon will give you 3g of protein.
The flavour isn't intense, but I found it a bit odd if you over do it, and the colour can be off putting. I did use it in some protein balls that were super tasty though!
Indigo Herbs Spirulina Powder £16.99
MyProtein Spirulina Powder £16.99
Are there any weird and wonderful ingredients there you plan to try? It's worth noting MyProtein have 3 for 2 on everything right now and Holland & Barrett have one of their penny sales where some items you can buy one and get another or 1p, which can help keep costs down!
Related