On the 4th June this year there's a fabulous 40's fundraiser in London Tahn….
Swing for Skin is in aid of DEBRA UK, the charity working for and with individuals and families affected by the rare but devastating genetic skin disease EB (Epidermolysis Bullosa). You can find out more about the condition on the Swing for Skin website.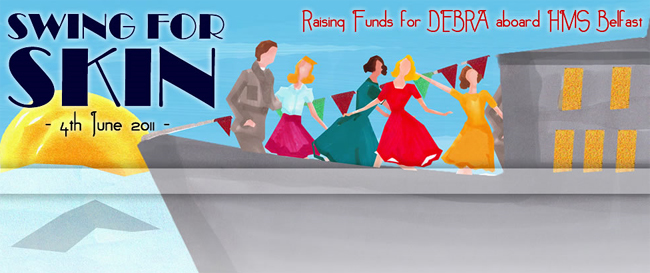 It's going to be a fabulous evening of 40s style frolics, including 1940s DJing from Mr Johnny Vercoutre, live Forties hits from The Polka Dot Dolls, vintage hair and make up styling by Lipstick and Curls and plenty of fun and games.
There will also be a raffle which features a top prize Pashley Bicycle and an astonishingly fabulous array of other prizes including a Lulu Guinness 'Lips'  bag, a Hotel Chocolat hamper, a personal shopping day for two with Vintage Secret, a BLOOM Gin hamper, Katy Potts vintage tea set, vouchers from Heyday Vintage and more.
I've bought my tickets already as the event is special to me for another reason. Swing for Skin is being held on board the HMS Belfast, the ship my Grampy was on in World War 2, and where he spent his 21st birthday helping to sink the German ship the Scharnhorst, for which the ship is famous. I've since clarified that he was in the front turret (probably called A turret) left hand gun. Apparently when he was on the arctic convoys he used to sit on the heater by his gun to keep himself warm.  As well as having a fabulous time this will be the first time I've ever visited the Belfast, and I plan to take myself along and have a little sit down to remember him. He was really pleased when I told him I was going.
Anyway, tickets are £30 in advance or £35 on the door and not only do you get to explore the ship (normally £13 on it's own) you also get 2 free drinks and an "afternoon tea" style buffet to boot.
If you fancy coming along, supporting a good cause and having a sit on my Grampys heater then you can buy tickets and find more information on the Swing for Skin website!