The world can never have enough gorgeous vintage style dresses.
Natasha Bailie has been selling the most beautiful vintage frocks through her online shop for some time, she really does source the most gorgeous pieces, but we all know the limitations of true vintage. It can be delicate, come mostly in smaller sizes, not suitable for the more modern figure with access to Domino's menus and a 24 hour Tescos and you can never find that exact perfect dress when you're looking for it.
Natasha has this month launched the first style in a range of vintage reproduction dresses that she has been dreaming about creating since 2008. The style is inspired by many of the beautiful 1950s Dresses Natasha has sold over the years and features a shelf bust, cinched waist and bow detail on the back.
The dresses come in sizes 8-14 (waist  24″-30″) I might like to see a slightly broader size range as really one of the disadvantages of vintage is it's tiny sizing, and the average UK waist measurement is larger than the top end of that scale, but still, at least it's taking the stress out of hunting for that perfect vintage dress in your size if you ARE in the range!
There are 5 different floral prints and they are strictly limited edition, reducing that dreaded fear of turning up at an event in the same dress as someone else!
My favourite is the black and pink "Ava"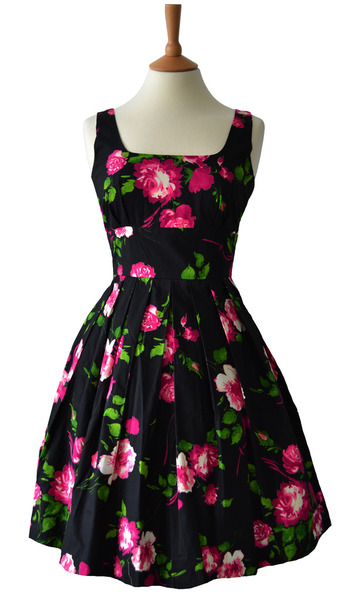 Another of my favourites is the "Betty" a perfect Summer picnic print, look at that beautiful back detail!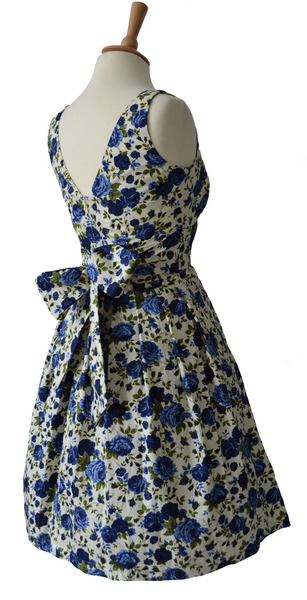 The dresses cost £120 each. This is the first of Natasha's designs and more will be forthcoming, but if you love these prints in get in quick before they're all snapped up!