Look, a review that's not of a lipstick! Shocking!
I do wear other make up other than red lipstick, and one of the products that I've been looking for a good, easy to apply, reasonably priced version of is a liquid eyeliner.
I do not have a steady hand and I also have those annoying little creases at the corners of my eyes, so I find applying liquid liner a nightmare. I have various techniques to make it easier, applying with my eyes open, drawing a line in pencil liner first and going over with liquid liner. I've also tried every type going. Pens, dip pots with little rubber nibs, brushes, and a solid cake liner applied with an angled brush, but never really found a great one.
I know a lot of people swear by MAC Fluidline, but £13.50 is just a bit too much for me to spend on an eyeliner, especially as an experiment! I was quite pleased then, to see Maybelline bring out their own gel liner, so I thought I'd give it a go.
Today, therefore, I am reviewing Maybelline Eye Studio Lasting Drama Gel Liner £7.99 (though it's currently £2 off and only £5.99 at Boots, follow the link!)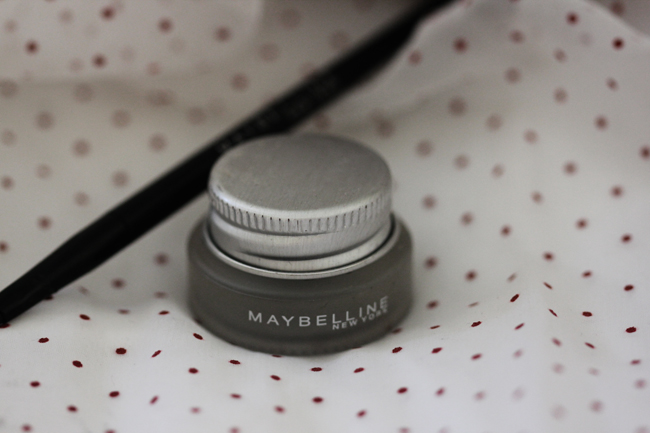 The Blurb
Well, they're not modest about it. The Maybelline website claims it "Reinvents liner".
Apparently these are the reasons I will love it
• Oil-free formula holds highly concentrated pigments in a clear gel base
• Smudge-proof and waterwproof for 24 hours
• Most intense line for lasting drama
• Safe for sensitive eyes and ophthalmologist-tested
• Contact lens safe
We'll skate quickly over that extra 'W' in the middle of Waterproof (seriously, it's astonishing how many big brands websites I find with such simple typos.)
The Pros
I absolutely love the brush. You can use it on it's narrow edge to create a really fine line, or if you're feeling a little more cats eye you can rotate it and use the flat side to make a broader line towards the outer corner of the eye.
The packaging is nice and simple, a frosted glass pot with a functional silver metal lid and the brush comes with a little plastic cover to keep the bristles clean in your bag.
The texture of the product itself is very nice. It's soft and really easy to load the brush, no wetting it like with solid liners I've used before. I also think it will last AGES as you barely use any with each application.
I found it really easy to apply, it glides over those irritating little creases on the corner of my eye and was easy to control to get a nice smooth line, no wonky wobbles like I get with a liquid brush.
I didn't often find I made mistakes with it, but when I did I found them fairly easy to correct as well, I could tidy it up a bit with a cotton bud with no problems. You'd think that would mean it was a smudgy eyeliner. But there was only one day I had any smudging problems, and that particular day it was about 29 degrees outside, and frankly pretty much all of my make up was heading south!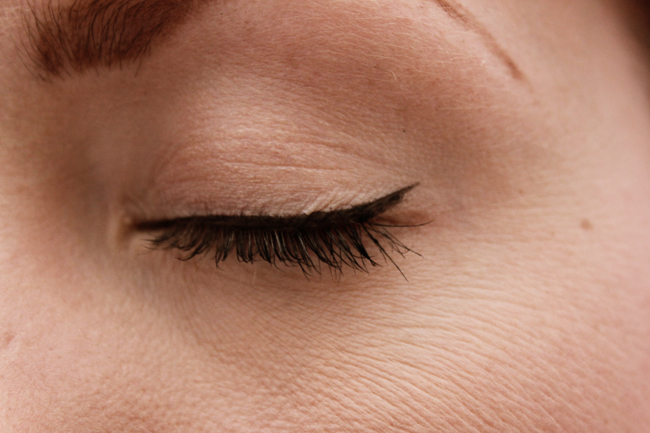 The Cons
There are a few downsides to the product. I found the small brush a little annoying to find in the bottom of a make up bag and it's fiddly getting the plastic cover on and off, meaning I ended up with a couple of stray wonkaloid hairs that needed to be teased back into place. I also found that if I didn't immediately wipe the brush with a tissue after use then next time I went back to use it the brush had stiffened and was difficult to use. Technically all these things are my fault, though, for being a lazy slob with too much in her make up bag.
The product itself, I would have perhaps liked a slightly more intense black line. It certainly wasn't as intense as the line you would get from a liquid liner. Personally I'm willing to fore go a little bit of intensity to get a smooth line instead of a wonky wibble, but if you have steadier hands than me and are adept with a liquid liner then that's great!
I personally found it's staying power to be fine, the line had faded slightly after a long day, but it didn't crack or flake for me at all.  I do think it's worth noting that I have read other people saying they didn't think it lasted well and they found it smudged and cracked.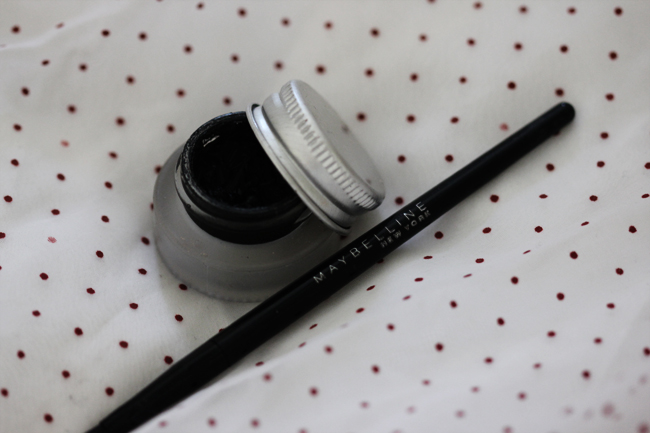 The Verdict
As far as I'm concerned this is now my eyeliner!
I do find myself tempted to give the MAC version a go. I know a lot of people like it, and if it's like this, but better, then maybe it's worth nearly double the price? Who knows. I will definitely be using this one till it runs out, and then I guess we'll see how rich I feel. If the answer to that is "not at all rich" then I will happily purchase another pot of the Maybelline gel liner without a flinch.
I'd be interested to hear from anyone who had tried the MAC version AND this one, to see how they think they compare?
Maybelline Eye Studio Lasting Drama Gel Liner is
available from Boots priced at £7.99 (currently £5.99)