Last week I told you about the Party, today I tell you about the book.
The whole point of that launch was to "bring the book to life" and it certainly did that. I even recognised tea pots from some of the pictures.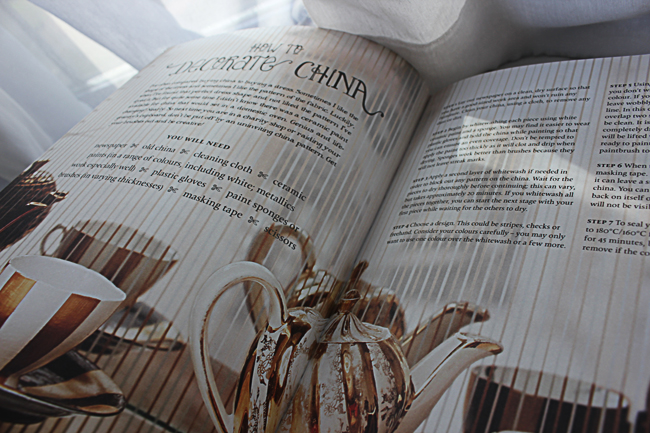 The book itself is just as beautiful as the party, and incredibly inspiring. Essentially it's a recipe book, with recipes mostly designed for parties and entertaining. It's split into sections for brunch, afternoon tea, and evening parties, with recipes specific for each. Dotted amongst the recipes are tips on decorating, party games, a cut out stencil of the queen, instructions on how to recreate vintage hair styles and fashion and make up tips for the glamorous hostess. It even features instructions on making an art deco style apron to keep your clothes clean while you hostess.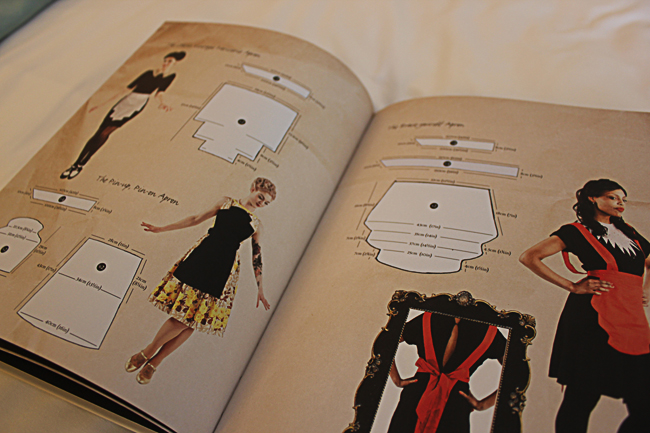 My favourite thing about the book was how clearly Angel's enthusiasm for the business she now runs and the entire idea of vintage comes across. Like many of us she clearly loves "old stuff" for it's history and loves to put it to use and give it new life rather than simply collecting.
I decided, however, that the test of a cookery book is in the actual cooking. Beautiful yet not at all twee photography, enthusiasm and exciting sounding recipes are one thing. But can you actually MAKE them?
So I tried.
This weekend we invited some friends out for a picnic and I made the following recipes from the book:
Spiced Walnuts (they are a topping on a posset, but we had them at the party as finger food)
Cream Cheese and Cucumber Hearts
Tomato Mozzarella Balls
Lemon Scones
Sugared Fruits
Green Tea and Pear Cocktails
Green Jasmine Tea Bubbles
The official Retro Chick verdict is that Lemon Scones, Tomato and Mozzarella Balls and Spiced Walnuts are all disturbingly easy to make for how tasty they are and how good they look.
See. Yum.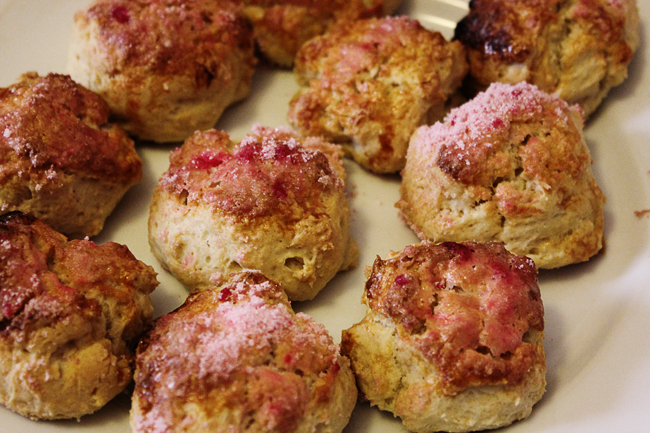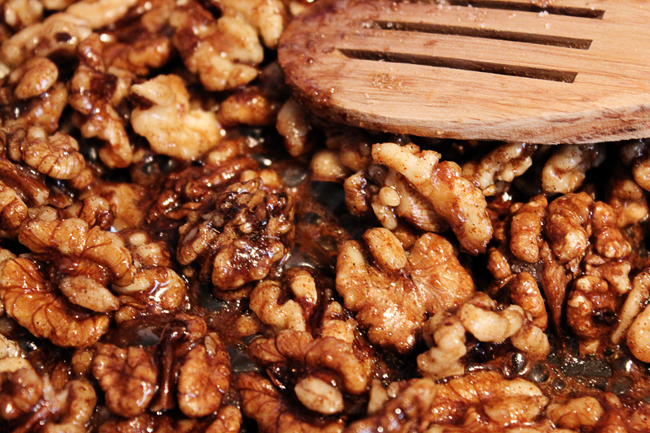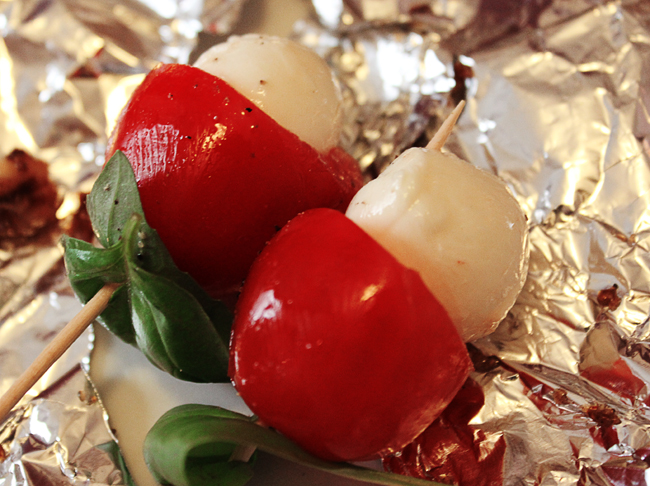 Green tea and pear cocktails are only really slightly alcoholic and make an excellent fruity afternoon picnic drink (thought a bit too sweet to drink a lot of) and Green Jasmine Tea Bubbles are just as tasty made with cheap Cava as they are with the good champagne recommended in the book (and provided at the party) in fact, I may never drink Cava again without mixing it with cold Jasmine tea in a tea cup.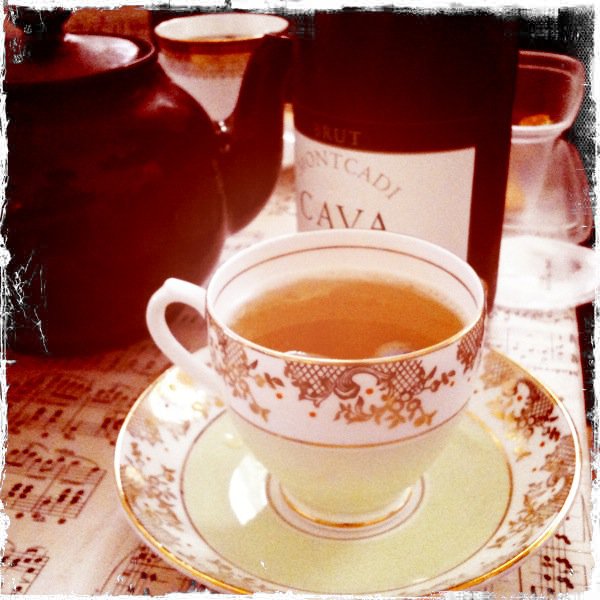 Cream Cheese and Cucumber hearts, although pretty, seemed to be far too much faff for the over all finished product (though my lack of proper heart shaped cutter didn't help). I was also slightly disturbed by the amount of waste produced. Rather a lot of bread and almost the entire of the inside of a cucumber was left unused to be disposed of, which seemed wrong when there are apparently starving children in Africa who are desperate for cucumber sandwiches.
Sugared fruits were a disaster. I don't know what I did wrong, but after a promising looking start all the sugar turned into a sticky liquid which slid off the fruit and pooled on the plate. I ate a couple and they tasted nice, but they looked like the aftermath of a stemmed fruit massacre and most of them ended up on the compost heap as no one wanted to eat them.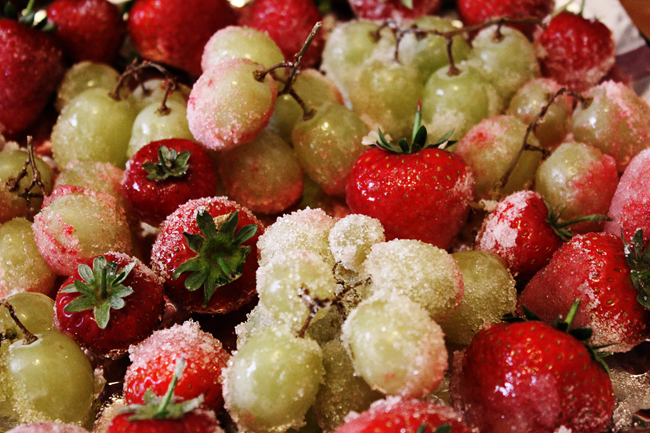 Overall, I think The Vintage Tea Party book was a roaring success for an amateur hostess who prepared all these items on a very busy Saturday morning without once bursting into tears. There are more elaborate recipes in there too for the more adventurous hostess, or the hostess that doesn't have to pack her creations into plastic boxes to take to the park.
There are certainly other recipes in there I'll try, and those Spiced Walnuts are just longing for Christmas time to come around. I also can't wait to try mixing booze with other flavours of cold tea and trying out the other cocktail recipes. Boozy tea! What a revelation!
The good news is, that by a happy confluence of events I have a copy of The Vintage Tea Party book to give away to one of you lucky lovelies.
See, here it is: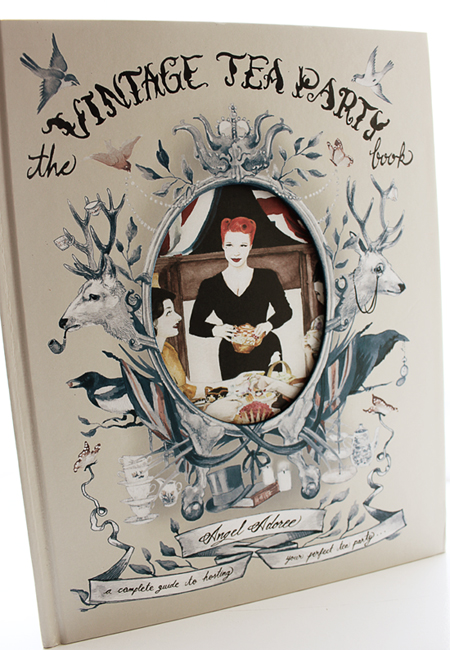 To win this book and become the perfect vintage party hostess I just want you to be a follower of Retro Chick, and leave me a comment.
You can follow using Facebook, Google Friend Connect or RSS. Of course if you're already following then that counts, just tell me how, and feel free to say other interesting things in the comment too!
The competition will stay open till Midnight GMT on Monday 29th August and the winner will be chosen at random.
If you just can't wait that long to see if you're a winner, then The Vintage Tea Party Book
book is£14 on Tesco Books at the moment, or visit my book shop.