Some of you might know I'm a big Weight Watchers fan.
I lost 3 stone with them about 4 years ago, and I'm back using the online version now as about a stone of that "crept" back on over the last year. I'm not doing well at this exact moment in time, but that's a story for another day!
At the moment Weight Watchers are running a campaign that taps into one of my frequent opportunities for rants. Giving your old clothing to Charity. I'm immensely infuriated by how complicated some Charities seem to want to make it for people with full-time jobs and lives to donate stuff to Charity. That's why I supported the BHF drive that I styled a window for, and that's why further down this post you're going to see some really embarrassing photos of me in hideous clothing.
Essentially the campaign is being run with a site called Clothes for Cash. It's bit like Cash for Gold, and a bit like those commercial collection bags that drop through your door that are doing the charities out of lots of money. Except in this instance the money IS going to charity. Specifically it's going to Tommy's which is something to do with giving babies a good start in life. I shan't pretend I know much about it after my brief reading on the website, it appears to fund research into the causes of miscarriage, premature birth and still birth which seems to be a worthy cause!
As well as getting someone to come and pick up all your old clothes you can also raise extra money by using their Facebook App to confess your style crimes. I found it a bit confusing to use, but essentially if you click "donate your wall" you fill in a form, tell them what your hideous style crime is and then that gets posted to your Facebook wall to encourage all your friends to do the same. For the first 50,000 "confessions" Weight Watchers are donating 10p to Tommy's. When I checked while writing this post they'd made £4.80 so you should probably go and give them a bit of a hand.
Anyway. My style confession was a pair of white denim flares, so in my perpetual quest to keep you entertained and make you laugh so hard that tea comes out of your nose I decided to actually put them on and take photos of myself.
That wry smile is the face of a Woman who knows she's about to post photos of herself on the internet wearing the most unflattering item of clothing known to the world. Not only that, but she hasn't put her lipstick on today and can't be bothered to do it now.
You might also notice I at least attempted a slightly flattering, side on, leg bent, hand resting gently on thigh pose to minimise the pain for all of us.
I bought these trousers in about 2001. They are Fornarina denim jeans and they fit me surprisingly well at the time, though they were far too long. I took them up, and wore them once with a turquoise Toby Pimlico Gypsy top that said "I don't have the time" on the front. They weren't cheap, for then student me, but it's OK because I bought them from a catalogue so I'm probably still paying for them now.
The first time I wore them they were filthy by the end of the night with beer and cigarette ash, and then I never wore them again.
Of course, older, wiser, me also knows that people with size 14 bottoms shouldn't wear bright white hipster jeans that cut them off right at their widest point. Seriously, I blame Jennifer Lopez, she was all the rage back then.
Cringe. Look, they're so long they give me that "no feet" look favoured by "what were you thinking" columns everywhere.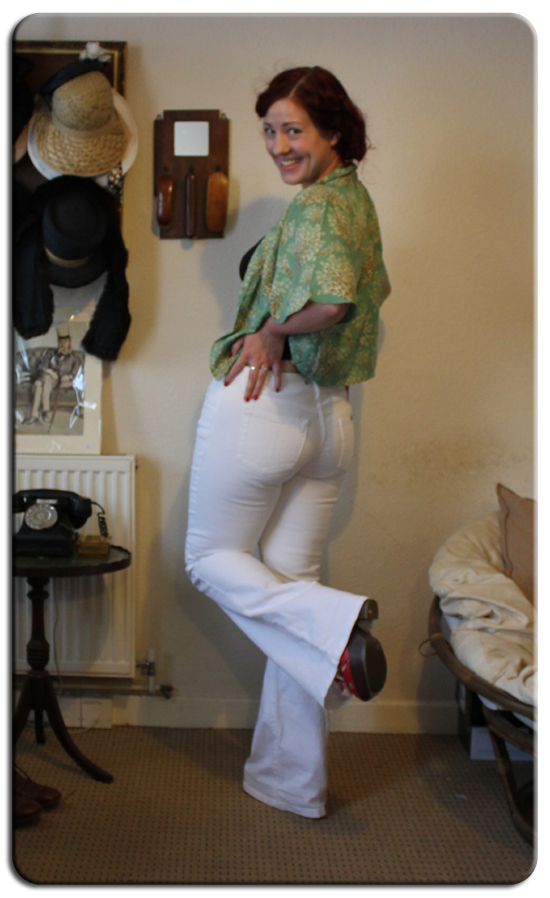 So why are they still in my wardrobe? I really don't know. Every time I do a big clear out I can't bring myself to get rid of them. Maybe I remember how excited I was when I bought them. Maybe I'm convinced I'm about to be invited to a 70s party and can team them with a bright pink afro wig for that classic hen party style. Who knows. Either way they've somehow survived many a wardrobe cull over the years, yet never made it back onto my person, until now.
So there you go. Now get yourself over to the Facebook app and help them get above a tenner at least!
*cough* Whilst I'm here you can still vote for me in the Cosmo Blog Awards under Established Fashion Blogs, seriously those blogs I'm up against are HUGE, I just don't want to be embarrassed when they tot up the scores…..