It's Party Season.
I know this because every single magazine cover, TV advert and advertising email I receive tells me it is.Christmas seems to be the most irritating season of people virtually pushing yummy food on you, then expecting you to look hawt in a sechsy frock for a night out. And that's where shapewear comes in. I'm a big fan of my Kiss Me Deadly Waist Cincher and What Katie Did Girdlette if I'm wearing stockings, but I have some particularly slinky frocks under which suspender clips are really obvious. Enter the panty girdle.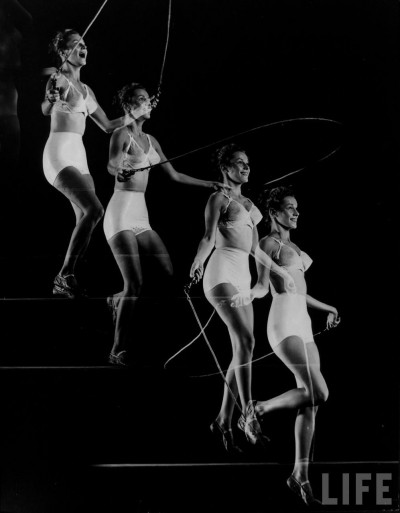 Panty Girdles have been around since the 1930s, but weren't particularly popular in the UK until tights started to become more popular than stockings in the 1960s. Some vintage versions have suspender clips attached to the legs, sometimes removable, but for a smooth line under tight clothing team them with a pair of What Katie Did Seamed tights to keep up the vintage glamour.
Sometimes it can be a bit depressing when everyone tells you it's party season and all you've got planned for the next 6 weeks is sitting at home in your Christmas pyjamas scoffing your way through a Roses selection box. If that is what you've got planned then you might find this extra handy when that surprise last minute party invite comes in and you've got 4 boxes of Roses to stuff into that wiggle dress.
The modern scary long legged hold your stomach in pants are essentially a modern version of a panty girdle, but it's not hard to fnd something much more attractive if you look around. These are my favourites.
Triumph Lace Sensation Long Panty – £33
So pretty, trimmed with lovely scalloped lace that not only looks nice, but should also help minimise any potential VPL problems. I really want a pair of these!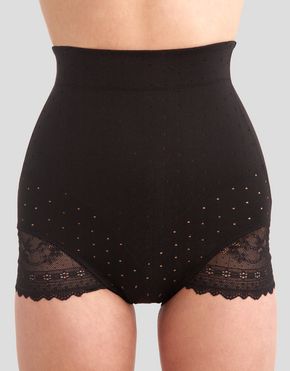 If you already own other What Katie Did Lingerie then this one might already have matching friends in your lingerie drawer!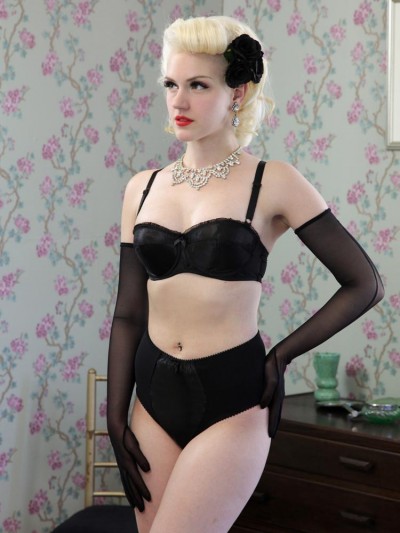 Kiss Me Deadly Vargas Panty Girdle – £29
This is the bronze version in an opaque metallic finish satin fabric. A nice longline design to avoid the dreaded "muffin top"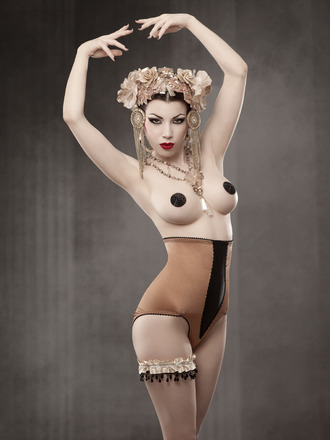 Embroidered power mesh side panels make these prettier than your average pants, and the low legs apparently have seamless smoothing edges.
George at Asda Black Lace Control Pants – £6
Down at the super cheap end of the scale these probably don't have a HUGE amount of control, but they are a pretty black lace and will work unless you're wearing something super slinky!