That special time of year when guys and gals with a sense of humour and a penchant for booze and fancy attire descend on a small park in London to pose for photos, behave like idiots and get more than a little bit tipsy before dispersing into the night once more, bitching about how their feet hurt (that last bit might just be me).
This years Chap Olympiad was a 2 day affair, but in the end I only attended on the Saturday as I needed to get back home and get some sleep! The Saturday was amply stocked with lovely vintage ladies to party with though.
L-R : ME!, Charly of Landgirl 1980, Minna of Red Legs in Soho, Lena of The Style High Club, Charlotte of Tuppence Ha'Penny, Ellen of B Millinery, Margaret of Penny Dreadful, Naomi of Vintage Secret
Now, obviously the vitally important question here is what did I WEAR?
Refusing to let grey skies get the better of me I wore a Paul Costelloe bias cut dress that I found in a Charity Shop with a sporting print of tennis racquets, croquet mallets and other paraphernalia and a straw hat.
Being British, I also sensibly wore a cardigan.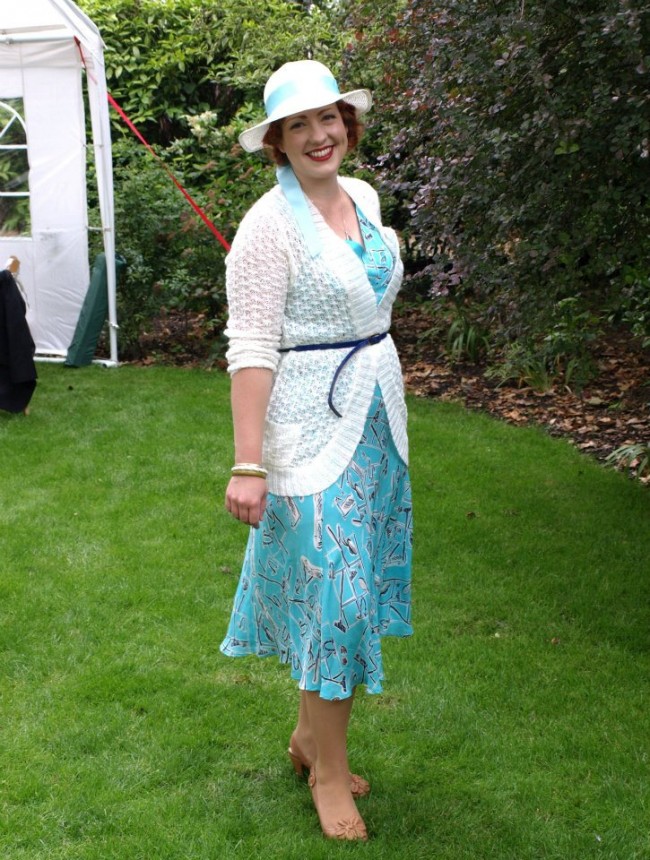 ❤ Hat - From a bootfair ❤ Cardian & Belt - Primark ❤ Bracelets - Charity Shop ❤
 ❤ Dress - Paul Costelloe via a Charity Shop ❤ Shoes - Unisa ❤
At some point during the day it actually got warm enough to remove my cardigan. So I attempted to take another photograph, unfortunately this man had other ideas….

And then I got a bit silly, but you get the idea.
A delicious picnic was largely provided by the prodigious baking talents of Mat from Southern Retro, Lena of Style High Club and Charly of Landgirl 1980, the sandwich making talents of His Lordship of Perditas's Pursuits fame and the shopping skills of Margaret from Penny Dreadful. Our contribution  was a black pop up gazebo which saved us from untimely downpours and was bloomin' heavy to carry.
Because I do not trust myself with posh cameras at all day events involving lots of booze, all my pictures are taken on my iPhone, so I'll share a couple more, but otherwise I suggest you check out Margaret's photos for the Vintage Guide to London  and Penny Dreadful and the wonderful portraits taken by Hanson Leatherby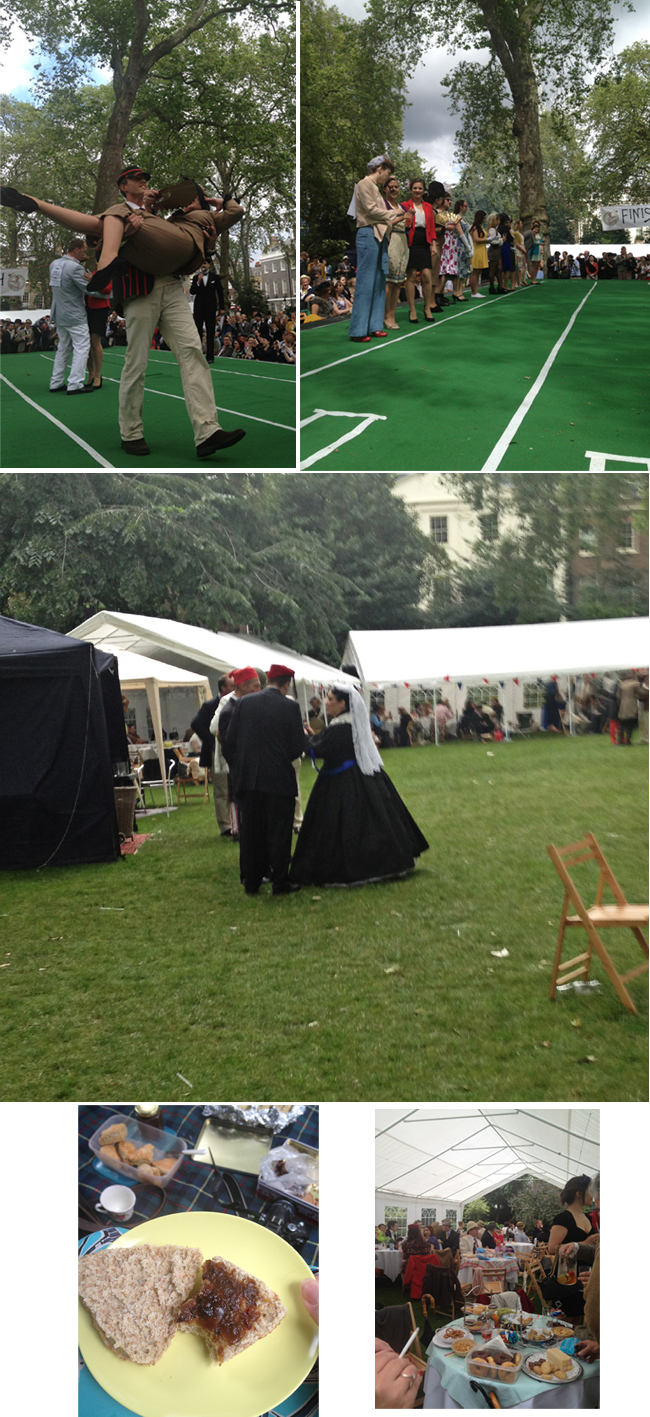 Eeeek! I nearly forgot! Tony Robinson was there! Yes, Baldrick and now he digs stuff up on Time Team, you know the guy! Charly had her photo taken with him!