The problem, when you book things months in advance, is that you never know what will be happening when the date finally comes around!
Thus it was, that last Friday, despite having only 3 days to get out of my rented house and my kitchen still being in boxes in my dining room I found myself off on a "relaxing" overnight trip to London.
For Christmas Mr Chick booked me tickets to see the Agatha Christie classic The Mousetrap that has now been showing at St Martins Theatre in Seven Dials for 38 years of it's epic record breaking 60 year run. I'd been down to Seven Dials Christmas Shopping last year, and fancied making the trip a little exploration of the area, but a hotel failure meant it didn't quite work out that way and we ended up staying at Holiday Inn in off Oxford Street which was OK, but touristy and a little over priced.
We walked down to the Seven Dials area for about 4pm to start the evening with a couple of drinks at The Two Brewers which is a "proper" pub dating back to the 1800s and serves some nice real ales. I can't remember what ales were on now, but they were nice enough to have 2, and then start worrying I would doze off.
Being in the middle of Theatreland there are a few restaurants offering pre theatre menus in the Seven Dials area, and I finally settled on Mon Plaisir. Mon Plaisir is "possibly" London's oldest surviving French restaurant, though apparently several restaurants lay claim to this honour. The restaurant has passed through the hands of several French families, and has been expanded over the years so it now consists of 4 rooms. The front, and oldest, room, has barely changed since the 1940s, and you can really feel it as you walk in, it has the feel of a proper French bistro, rather than a French theme restaurant.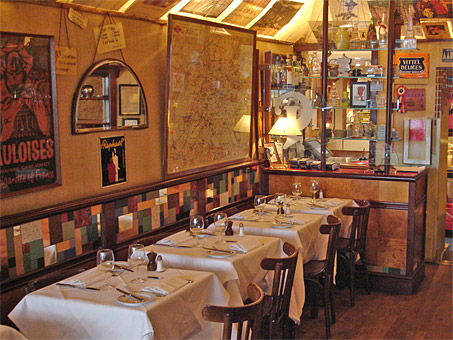 We were seated in the Back Room, which was an 80s addition and is now furnished in some rather fetching striped upholstery. The restaurant checked what time we had to be away for our play before we were seated, and we decided to eat from the very reasonable pre theatre menu, which had 3 courses and a glass of wine for £14.95. In case you care I had terrine, a perfectly cooked minute steak and chips and some very nice cheese for dessert. I also had wine, on top of 2 pints in the Two Brewers and a glass of Champagne on arrival at the restaurant. Napping through the play and missing the reveal was starting to look like a real possibility.
Anything Agatha Christie related gives me the urge to channel Miss Lemon, sartorially speaking, so I'd pin curled my hair, despite the fact that I'd been too lazy to set it the night before and it was therefore slippery and a nightmare to do anything with.
One thing I did want to take a peek at while I was in there was the bar. It was rescued from a Lyonnais brothel and is apparently famous! It does look rather glamourous and very french, with the light streaming through the atrium. I would have liked to spend hours prancing around posing and attempting to look Gallic in a haze of Gauloise smoke, but there were lots of stern looking French people and I felt silly, so I just snapped a photo and scurried back to my wine and cheese.
After dinner we arrived at the St Martins Theatre in time to have a look round and order interval drinks. The theatre itself dates from 1916 and is a beautiful building. It looks like it's barely changed since it opened, though I know that extensive refurbishment has taken place over the last few years, including replacing the original canopy and hanging silk wallpaper in the auditorium.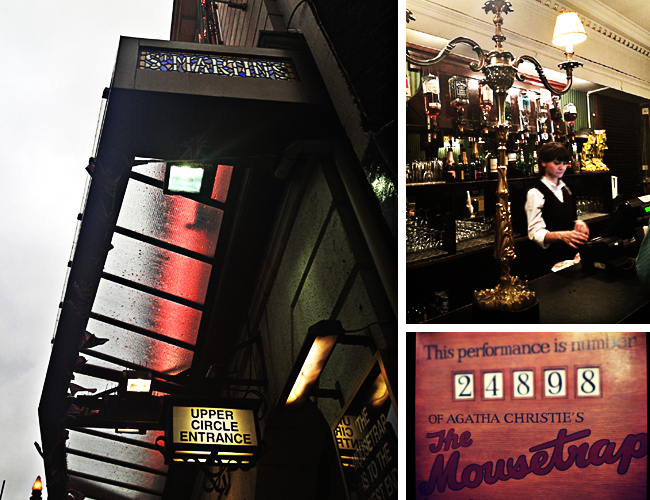 The upstairs bar has walls covered in old newspaper cartoons about the Mousetrap, mostly relating to its long run. It's great to realise the jokes about how long it's been running date from the 1960s!
And the play itself? Well, it's really rather splendid! Set in the 1950s with some great costumes to lust after if you're that way inclined (I'm that way inclined) and a classic whodunnit story line. I loved hearing everyone in the bar in the interval picking over the characters motivations and possible hidden histories. I shan't tell you whodunnit, because they asked me not to spoil the fun. Even my own Father wouldn't tell me who it was and he saw it years ago!
I do recommend you go and see it if you get the chance, it's a little part of history, and an amazing theatre as well. I only wish there weren't so many people in shorts and trainers, as for me it rather spoils the feeling of luxury from being in such a beautiful building. But that's just my own personal bug bear!
Post theatre we briefly contemplated going for another drink. Like most London pubs ,however,  the pubs around Seven Dials had become standing room only by about 5pm and people were fighting their way to the bar and milling into the streets clutching plastic pint glasses. I couldn't quite face it, so instead we fought our way back down Old Compton Street, stopped in a newsagents to listen to a drunk man have a humorous argument about the price of a bottle of vodka and settled back into our hotel room with a bottle of wine.
I can't tell you where to go for breakfast in Seven Dials, as my slightly bleary eyed self couldn't face another mile trek back across Oxford Street, Instead we decided to visit the delicatessen Paul Rothe & Son, which has been around since 1900. Unfortunately it was closed for the Bank Holiday so we ended up in the CÔTE brasserie in St Christopher's Place. This is a chain restaurant, but doesn't really feel like one, and it was a nice book end to our French meal the night before to round off the weekend with coffee and crepes sat by the large folding windows. It was like a weekend in Paris, but without the trauma of having to dredge up GCSE level French from the depths of my brain.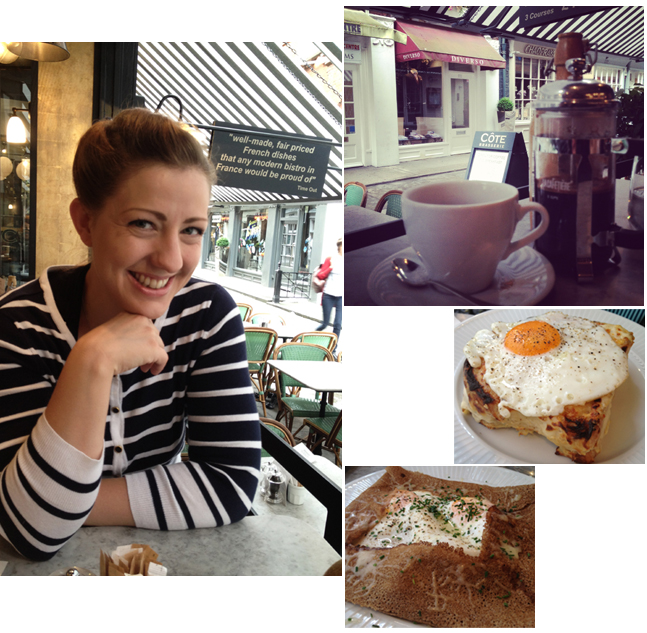 No London jaunt is complete without a little wander down the Burlington Arcade to peer through the windows at the deeply understatedly British luxury on display, all woefully out of my price range, but this time we also did something I haven't done before and popped into Fortnum & Mason in Picadilly. Considering all that awaited us on the return trip was a room full of boxes and a microwave I splashed out on a little blue bag of wonder containing Stilton, chutney, pate and biscuits to have for dinner. Far better than a ready meal, I'm sure you'll agree.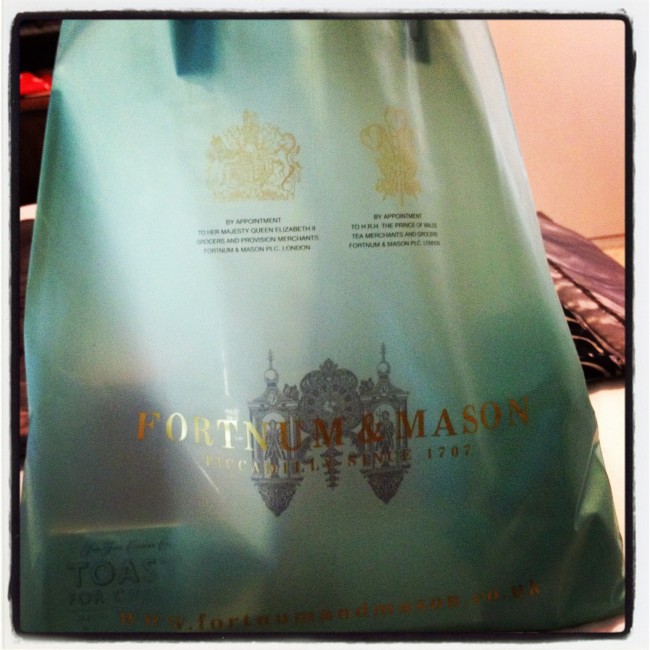 Thus ends my adventures. If you'd like to follow in my footsteps (and I particularly recommend the restaurant and theatre shaped footsteps) then here's some links to be getting on with….
❤ The Two Brewers Pub ❤ Mon Plaisir French Restaurant ❤ St Martins Theatre ❤ Cote Brasserie ❤ Holiday Inn Oxford Circus ❤ Burlington Arcade ❤ Fortnum & Mason ❤