There's a definite touch of autumn in todays outfit.
It was only a month ago that I was going totally tropical in the blazing sunshine, but today's outfit is definitely a different season. I'm going nowhere special, but the change in weather has inspired me to start dragging those autumnal colours out of my wardrobe, and my autumn staple, berets.
I bought this dress in the sale back in January after writing about it. I've only worn it a couple of times as it's a little tight on my arms, which is a problem I often have with this style of sleeve.
❤ Beret – eBay ❤ Necklace – Vintage 1930s ❤ Dress- Wallis ❤ Shoes – Clarks ❤
The shoes are c/o of MyVoucherCodes as they wanted to me to promote their Clarks discount codes They had a 20% discount code promotion running which reduced these shoes from £54.99 to £43.99, but I'm a little disappointed to see that it's already expired before I even received the shoes, which is a shame, it's always worth keeping an eye out for more though!
One of the promises I made myself is to stop buying cheap shoes as they just kill my feet (so do expensive ones, but hey, what can you do!) Clarks are one of my favourites, they do some lovely vintagey styles and they have things like padding on the balls of the feet to reduce the high heel trauma. The problem with being permanently skint is that I can hardly ever afford them though, so I always wait for sales, discount codes, or keep an eye on eBay for shoes at good prices. These ones are the Alva Kendra shoes, but they've got some other lovely styles and I've got a post planned for later on Autumn shoes!
I also have to show you the cutest brooch I own. Brooches on berets is one of my favourite ways of wearing them and this tiny ladybird brooch I bought in a shop in Hastings looks so cute on black berets. I think it's probably 60s, though I find dating brooches very difficult and the the shop owner said it had come in with a 50s Scotty Dog brooch that I also bought, so it's possibly earlier. Either way I love it!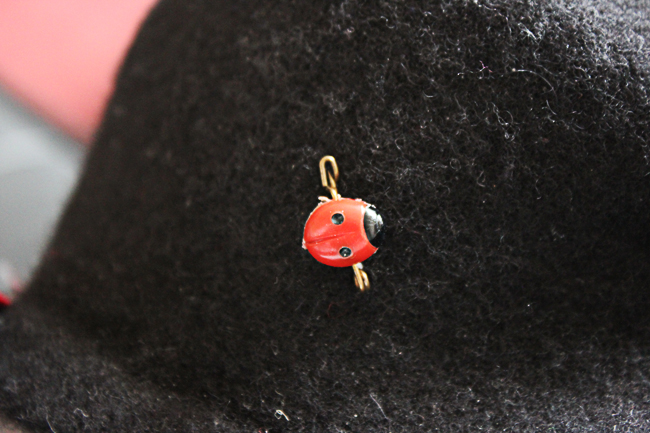 I got some lovely comments that nearly made me cry on Monday's post. I really wasn't expecting that sort of comment, I was hoping the post might motivate others rather than have them say nice things about me. But it's motivated me to try and get back to my regular posting schedule, even thought I still have no kitchen, I can't use moving as an excuse forever! Do forgive me if I go AWOL for the odd day, but hopefully I'll be around a lot more often!