Christmas officially started this week as far as I'm concerned!
Don't worry. I'm not so forward as to have done anything so foolish as put my Christmas tree up in November (I'll be doing that tomorrow). But on Tuesday night I took a trip to Birmingham to visit their amazing Frankfurt Christmas Market. I went last year in the week before Christmas and it was great fun, so I was determined to fit in another trip this year. The opportunity happened to come up in the last week of November, rather than December, so I have decided to officially start Christmas early.
The Birmingham Christmas Markets are wonderful in the evening. They're open till 9pm and there's a merry go round, twinkly lights and wooden huts selling frankfurters, schnitzel, gluhwein and hot chocolate. I started the evening with a nice warming gluhwein.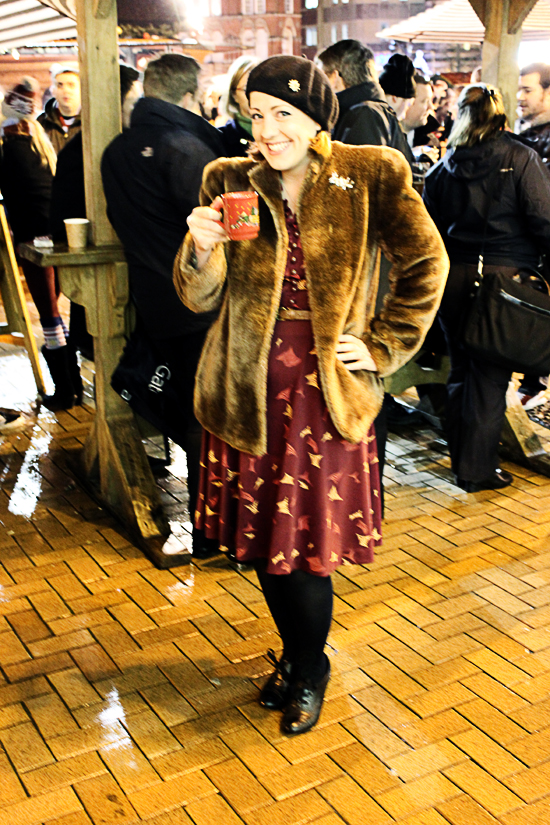 ❤ Beret- eBay ❤ Brooches – Vintage ❤ 1940s Faux Fur Jacket – Penny Dreadful Vintage ❤
❤ 1970s Dress – Charity Shop ❤ Shoes – New Look ❤
I also had hot apple wine. And hot Cider with rum. And winter Pimms. And some more Gluhwein because that was nicest. Hic.
In between I wandered round taking photos of sparkly things. We've stocked up on flavoured coffee and weird marshmallow sweets as well as buying a few Christmas presents and being  charmingly robbed by a Big Issue seller who took our £3 per copy, and then asked us if we really wanted the magazine or if he could resell it (errr.. I might try that at the next Sip & Shop, "do you really want that dress, or can I take your money and sell it to someone else?")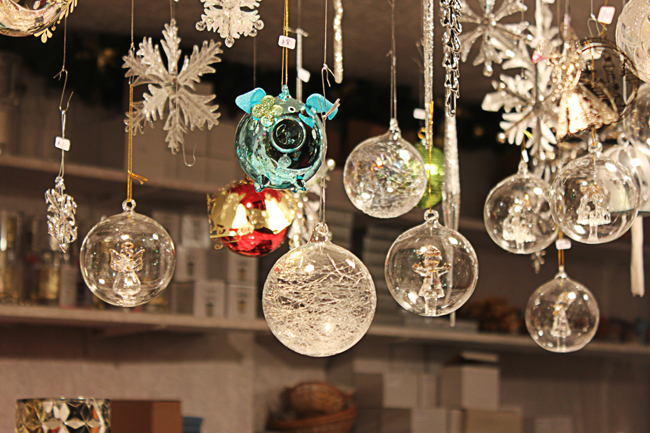 The Christmas Market shuts at 9pm, by which time I was pleasantly abuzz with hot alcohol and had completely forgotten it was raining. So we headed off along Colmore Row to look for a pub called the Wellington that was recommended in the comments on Mondays post.
As promised it was a lovely pub, friendly, with a brilliant 16 real ales on tap. Woo! One of which was 9%, eek!
Wearing a stupid smirk with a pint of Black Country Ale.
It's entirely possible that, filled with Christmas Spirit(s) we then visited 2 more pubs. One, called The Post Office Vaults, looked like a Post Office from the outside and smelt like a toilet on the inside, which was, erm, pleasant, but there was a cute dog in it. The other was called the Victoria, which was lovely and cosy, if just a little bit (a lot) hipster.
Then we retired to the hotel to watch a program about trams. Yes, trams. Not particularly festive, but very interesting none the less.
So that's it. I'm officially in Festive mode. Which is a good job as the Advent Giveaway starts tomorrow and it's the biggest (and most complicated to administer!) giveaway I've ever done, so I'm going to need some Christmas Spirit to carry me through!
If you fancy making your own festive trip to the markets then they're open until the 22nd December. We stayed in the Birmingham City Centre Holiday Inn, which was less than half a mile away from the market, but the Holiday Inn Express is also convenient and slightly cheaper.