Mascara is one of those cosmetics that I've yet to find one that I love enough to be loyal to.
This means it's one of the products where I'm always trying out the latest wonder product. I bought a mascara just before Christmas which I found quite underwhelming, but I was stuck with it as I refuse to buy new things while I have an old one on the go. So when I got an email asking if I wanted to review a new mascara it was a bit of a relief! The product in question is GOSH Boombastic XXL Volume Mascara, and I also have 5 to giveaway, so keep reading to the end if you want a chance to win one!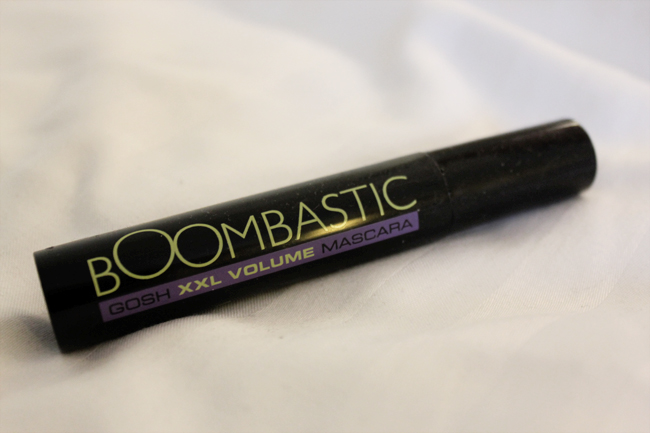 I like quite a strong look for my lashes, none of that namby pamby "natural look" stuff. My Rock Chick past always creeps back in when I'm chosing mascara and I like a heavy look. I don't want it to be too clumpy, but I want my fine and very fair lashes to stand out.
The blurb on Boombastic XXL Volume
This mascara is for the one who really want to build up extreme volume and length at the same time.

The huge brush with its three giant reservoirs will store plenty of mascara and add the most precise accent on the lashes when applied. It will also separate the lashes without clumping the lashes together.

More than ever you can build up massive volume and in the same time the lashes will appear perfectly separated and long.
The Reality
I don't really know what "3 giant reservoirs means when it comes to mascara wands, but the brush is one of those rubber ones with small spiky bristles.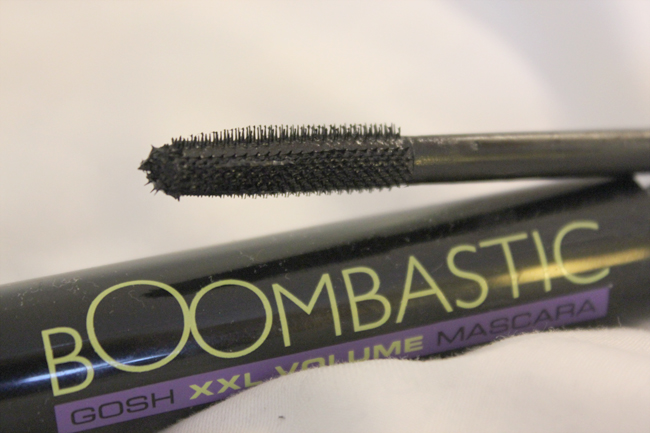 The brush needed a fair bit of wiping on the edge of the tube to make sure it wasn't overloaded, but I found it pretty easy to apply and it gave good coverage with one coat.
I didn't find it's claim to keep the lashes clump free that convincing. It took a bit of going over to make it go on smooth, but I didn't have to resort to eyelash combs, which frankly I have no patience for. I have better things to do that spend all day putting on my mascara. I want one coat and I'm off.
I was impressed with the one coat finish of the Boombastic and it did give a really great lengthening and volumising effect.
Here's a photo with one eye done with one coat and one with no mascara so you can get the full effect and also see me looking like a rabbit caught in the headlights.

I have tried some more expensive volumising mascaras in the past that gave an AMAZING effect on lashes, this one has less pretty packaging, but is £10 cheaper and the effect is as good.
There is no indication on the website or packaging as to whether the mascara is appropriate for contact lens wearers, but I am a contact lens wearer and I can happily report no problems with flaking or irritation. Here's both eyes done.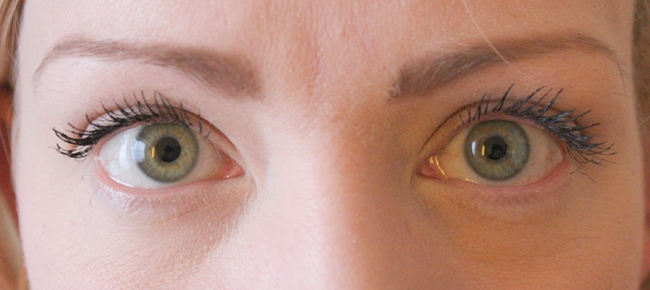 I'm not sure I've found the mascara I will remain faithful to for the rest of my life, but it's definitely on the list and I'll keep using it in preference to the far too natural looking one I bought last time (Oh ok, it was this one, it's a decent mascara, but it wasn't dramatic enough for me).
I've tried a couple of Gosh products (I mentioned the BB cream before Christmas) and I've been quite impressed. I'm considering trying their red lipstick for a review. I tend to find that lipsticks is one of the areas where cheaper brands let themselves down so it'll be interesting!
You can buy Gosh Boombastic XXL Volume mascara at Superdrug for £8.49. Or alternatively you can have a go at winning one of the 5 Gosh have given me to give away using the rafflecopter widget below! All you need to do is become a fan of Gosh on Facebook. I've also thrown in another couple of opportunities to earn extra entries, by becoming a Retro Chick Fan on Facebook or tweeting about the competition, should you want them!
a Rafflecopter giveaway

Related