Last night was the launch of Norwich Fashion Week.
I was offered a VIP ticket to the launch show at The Forum, so decided to get my glad rags on and pop along. I decided to call last nights look Rock n Roll Vintage, but only in my head, I didn't say that out loud, right? Only an idiot would name their outfit, obviously. I blame the new blonde hair, sometimes it fools me into thinking I am 90s Courtney Love.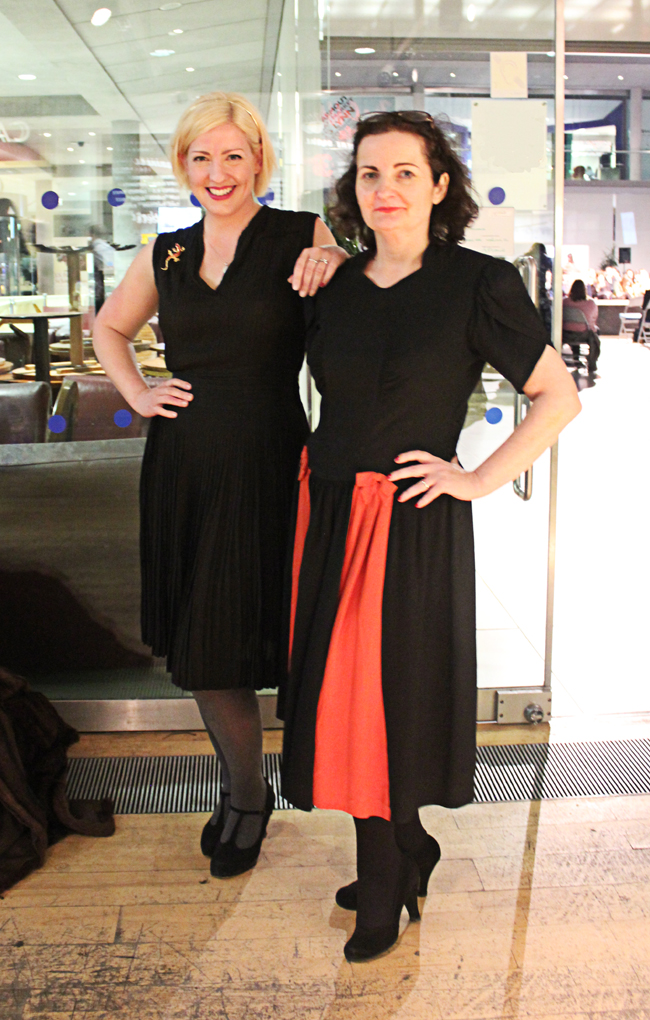 ❤ Dress – 40s Vintage ❤ Tights – Hepburn & Leigh ❤ Shoes – Clarks* ❤
❤ Brooch – vintage ❤ Hairband – Primark ❤
That's the Fabulous Miss K with me in the photo wearing a vintage dress and vintage shoes because she has tiny feet that fit into them. I'm looking forward to the launch of her new vintage inspired clothing collection on Sunday night.
The tights are the ones with back seam and button detail I bought from Hepburn & Leigh, you can see more of them here, unfortunately I have laddered them up near the waistband and they're no longer on the website, so they have limited life left in them, sob. The Clarks shoes are starting to look a little shabby now as they are so comfortable they are now the only shoes I ever wear, a replacement is desperately needed!
I also opted for pink lipstick last night, to make a change from red. It's the Illamasqua lipstick in Welt I don't wear it very often but I don't know why because every time I put it on I love it.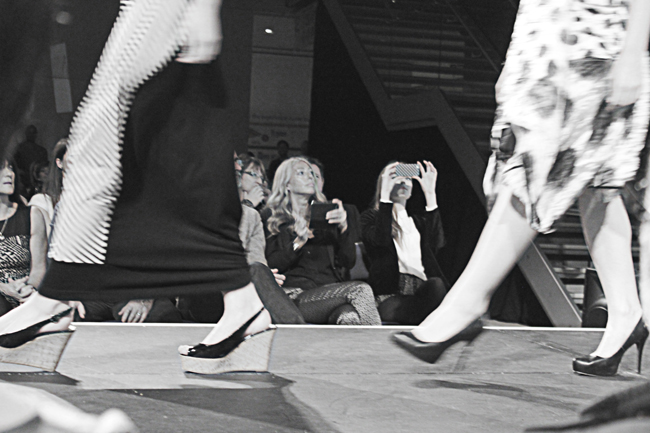 The launch night was fun, though I do wish fashion shows would let models smile on the catwalks more often. Moody faces do not make me think "ooh what a lovely frock!"
Some of my highlights from the shows, I'm afraid not all the photos are as sharp as they could be
A gorgeous green gown from Love Couture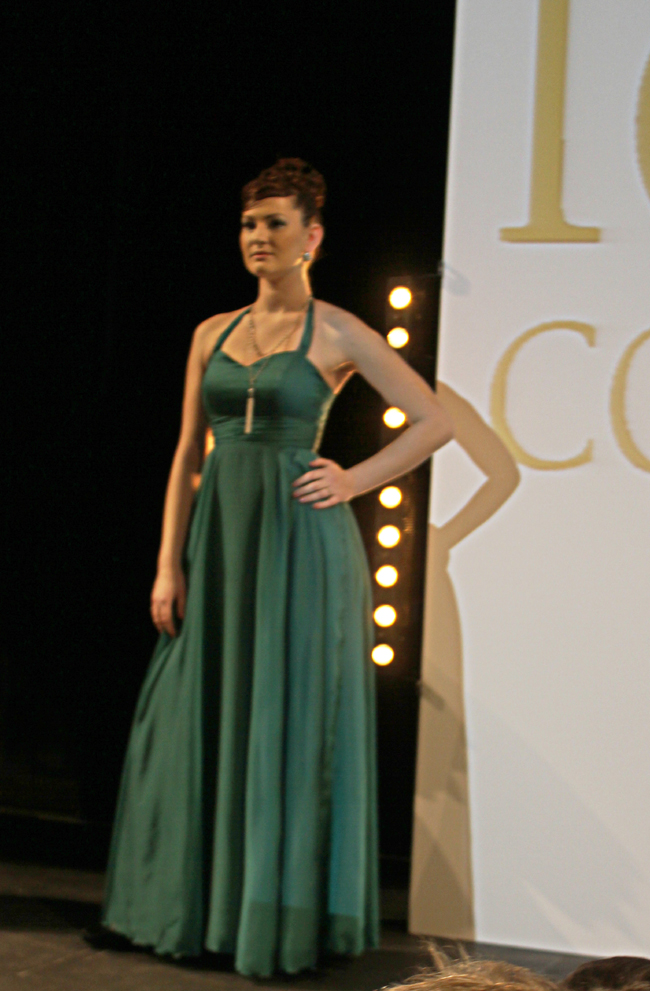 Somerset by Alice Temperley at John Lewis lace overlay dress.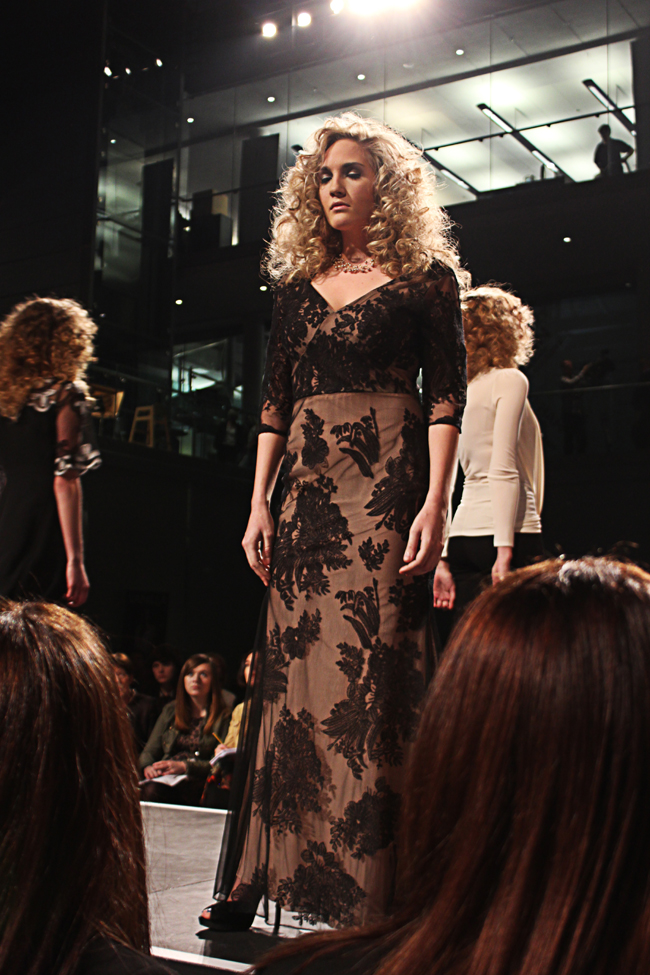 Pink shift with kimono sleeves from Jarrolds.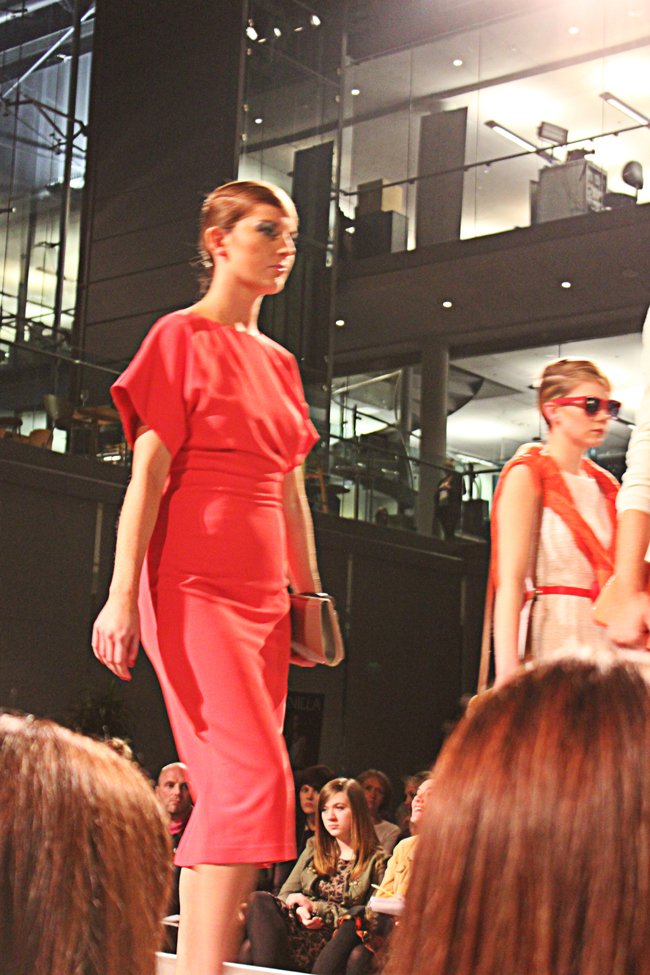 And for the boys, I'm sure you'll all be delighted to know that orange socks and shorts are in your future summer wardrobe…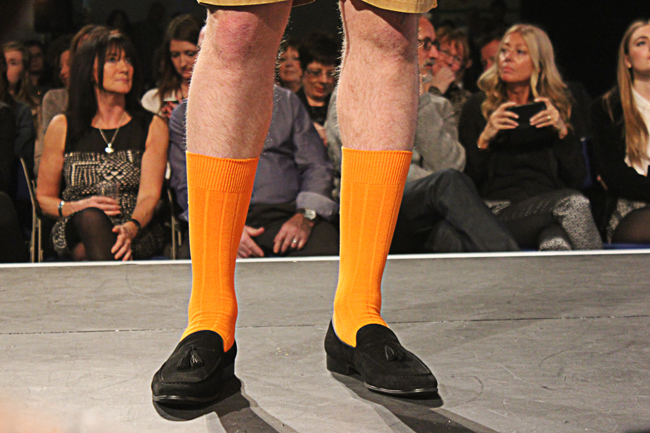 Norwich Fashion week is continuing apace tonight with the Lanes Fashion Show, which I'm afraid I am not going to, instead choosing to go for a run, watch TV in my pyjamas, and catch up with some sleep. Last night was very mainstream fashion, but there is a strong vintage focus on many of the other events that are coming up, if you happen to be Norwich based, then these are the best events for vintage over the next week.