It's time for another red lipstick review.
It's been a while, in fact it's been a whole year. Last week I popped into Superdrug to experiment with foundations seeing as it appears my favourite shade in my existing brand has been discontinued and got a free Max Factor Colour Elixir Giant Pen Stick with purchase, I picked the Passionate Red shade. So I thought it was time for another review.
With a purchase price of £6.99 this one falls into the under £10 bargain section. Here's the chart…..

I'm afraid it's quite near the bottom, which is disappointing as these chunky lip pencils do seem appealing for ease of use. I tried this briefly over the weekend, and then for a full days wear.
The Blurb
I actually can't find the pencil on the Max Factor website at present, but I know it was only due for release in April. It's available on the Superdrug website with a blurb that reads:
A chunky pencil with a precision sculpted tip for defined application and an intense slick of glossy colour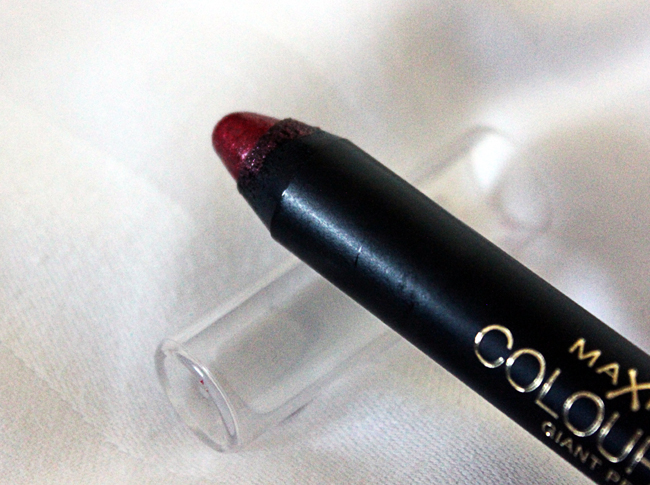 The Pros
The packaging is quite sleek and striking in matte black and gold, with a colour flash at the end of the pencil so you can distinguish it easily in a make up bag, there's also very little on it to break if it's kicking around the bottom of a handbag.
When I first applied the colour I was impressed with it's intensity, I expected anything boasting "gloss" to be wishy washy, but it wasn't and went on thick with one layer. This shade has a shimmery gleam that's not too intense, and I quite liked, and after blotting actually looked quite matte, so would appeal to vintage purists as well maybe. The glossy texture also didn't bleed as badly as some others I've tried in the past.
The shade was nice too, a deeper red, almost maroon on application. There was a brighter red also in the range.
It's the sort of lipstick I think of as good for a night out. Compact for an evening bag, not expensive if you lose it, bit of shimmer looks nice in evening lights, and it's staying power is fine for a few hours in the evening.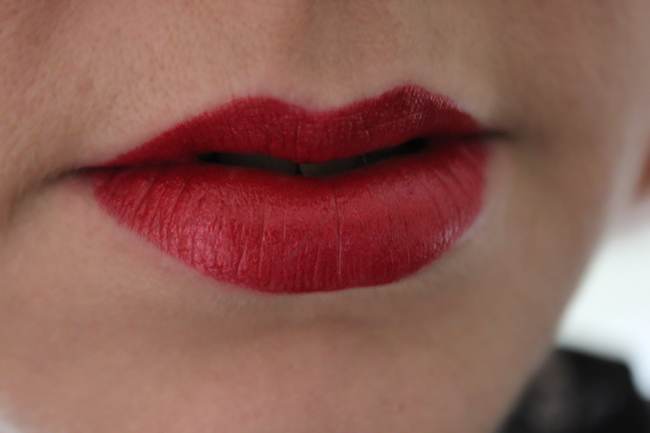 The Cons
The reason I don't wear lip gloss is because I hate sticky lips, and this managed to combine the sticky downsides of a lipgloss, with the bleeding and uneven wearing off downsides of a bright lip stick. Not great. On first application it was so sticky I couldn't walk around indoors without finding hair stuck to my lips, let along face the great and windy outdoors.
I tried blotting it, and was left with quite a nice matte stain, that felt a little tacky, but not too sticky, but all the shimmer was gone. Bleeding wasn't too bad, but there was some and it happened quite quickly after application, so even though it's pencil, I might still try it with a lip liner.
After a few hours the colour had lasted quite well, though I felt it had faded a little to a reddish pink on my lips instead of the bright red it was on application. Sadly, though, it barely lasted through lunch of soup and a toastie, which left the colour noticeably faded in the centre of my lips and going patchy. I had left the pencil in my suitcase, so I had to carry out emergency repairs smoothing out the remaining colour with vaseline and then blotting.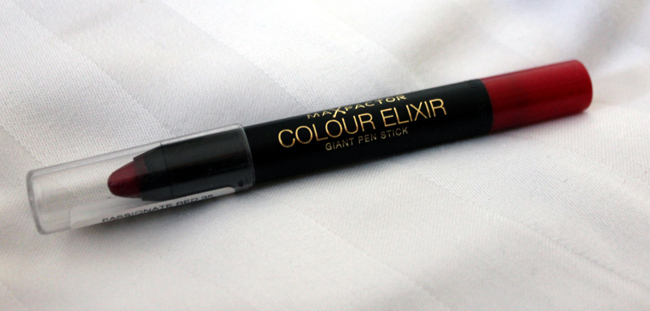 The Verdict
Whilst I liked the intensity of the colour, the fact I had to blot to get rid of the awful stickiness removed any of the positive points of this lipstick to me. It's not a shiny gloss, but blotting knocked out a lot of the intensity of colour and the slight shimmer that it had.
If you like lip glosses and want something more intense, this might be for you, but personally I can't stand the stickiness and it's unlikely I'll use this again, except for possibly as a little touch of shimmer in the centre of my lower lip when I'm wearing regular lipstick.
Anyway, this is what it looks like on my face BEFORE I blotted off the shine/stickiness. FYI, the colour of my hair is a Smart Beauty dye in Peach Melba after one wash, you can see it when it was fresh here!
Max Factor Colour Elixir Giant Pen Stick is available from Superdrug for £6.99