Another in my never ending hunt for glamorous but wearable lingerie.
Gossard are a brand that I was very familiar with in my youth, which was around the "Hello Boys!" advertising bill board era, but I stopped paying much attention to as I remember them as not the most comfortable of contraptions. Recently they have released a few wonderful vintage inspired ranges, like the Oh La La! I wrote about back in 2011.
A couple of weeks ago they contacted me about the possibility of working with me, and offered to send me a selection of their vintage inspired ranges to try. This is what arrived through the door.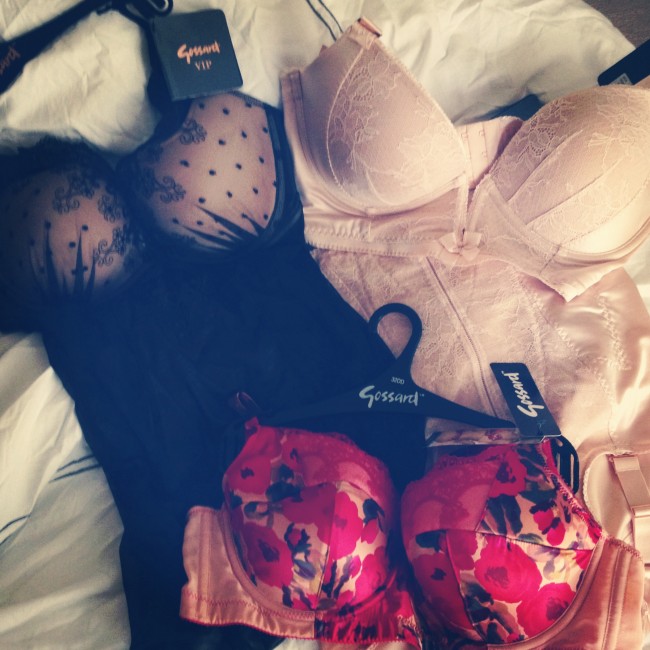 In there is the Femme Fatale Slip, which is nice, but I didn't find particularly "controlling" and has such narrow suspender clips that I wouldn't dare even try them with seamed stockings, I'd more likely just remove them and wear it like an underwired vest! The Oriental Bloom longline bra was very nice, but the wrong size, I was sent a replacement, but it was the non padded bra instead of the longline and I found it a little skimpy in the cut.
What I do want to talk about, as I am in love, is the Gossard Retrolution range. I have the long line plunge bra and high waisted panty girdle (called a waist cincher). The set has wide detachable suspender straps that will actually keep your stockings under control and is controlling enough to hold you in, whilst still comfortable enough to wear all day, at least if you don't mind slightly restrictive underwear! The waist cincher also stayed in place and didn't roll down or ride up too badly during an evenings wear that involved sitting and eating.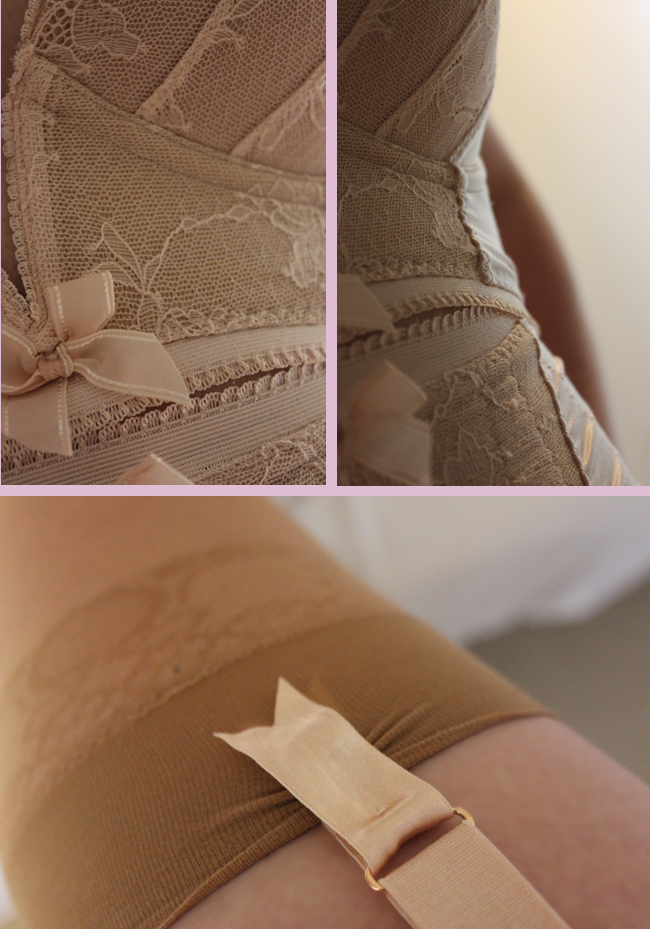 The set feels good quality, the fabric is heavy and the lace not scratchy.
I'm going to be a little brave now, as it's one thing seeing glamorous, well lit Gossard models in their pants, and quite another to know what it looks like on a regular size 12-14.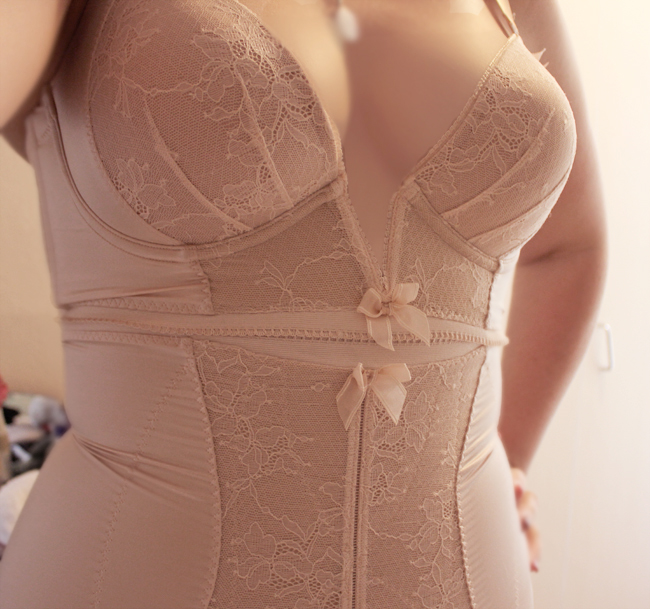 Despite the fact that a picture of me in an equally revealing vintage swimsuit has appeared on the big screen over Vintage at Southbank I wasn't quite brave enough for a full body shot without the help of a professional photographer and air brush on hand! I have air brushed my cleavage a little in order to deter internet creeps, as Gossard is rightly famous for it's cleavage enhancing properties and it's quite frankly terrifying. The bra also came with pads like pillows, like the Wonderbra I remember from my youth. They're in little pockets, that were always just the right size for carrying money, or anything else you might have wanted to put in there. I took them out, as my own cleavage made me want to cry, I could pretty much see it out of the corner of my eye and I'm just not comfortable with that level of boobage.
The bra is longline, so gives a good line under clothes. I've yet to try it under anything too slinky, but it has a lot of detail so may well show through. The straps at the shoulders and back are wide so it sits comfortably and is supportive. If you normally go for a more vintage pointy bustline then this might come as a bit of a shock as it's very much and "up and in" balconette bra, as opposed to more "lift and seperate" vibe of a vintage bustline. I have to say I quite like the more rounded bustline the bra gives though. Some of my wardrobe demands a pointy bust, but I think some of it could look good with this shape. I'm wearing it in Mondays outfit post, so you can see the shape it gives, without pads, under clothing.
Normally I stick to repro or original brands like What Katie Did, Kiss Me Deadly or Rago for glamorous shapewear with a vintage vibe that will also keep my seams straight, but Gossard have got it spot on with this beautiful set, and it will hold your stockings straight in autumn, as well as work barelegged in Summer.
The Retrolution Stylo Plunge Bra (£42) and Retrolution Waist Cincher (£40) are available from Gossard
Related