The weather for this weekends Chap Olympiad 2013 in Bedford Square gardens simply couldn't have been more glorious.
Of course, this brings with it its own sartorial dilemmas, and I will say that lugging picnic baskets, umbrellas, chairs and tables across the country on the train and the tube was a terrible hot mess, and my shoulders and arms are still screaming at me today.
As ever, I didn't take many photos. I never take my proper camera to the Chap Olympiad and I think of it as my day off! I just enjoy the day, meet up with friends that I don't get to see one year to the next and drink occasionally excessive amounts of cocktails.
I did, however, put a lot of effort into my outfit, so it's worthy of being featured! It all started with the hat. Mr Chick bought me this Betsy Hatter hat for Christmas after I fell in love with it last October. It's a green felt tilt hat, with pheasant feathers and green velvet flower trim and it's so gorgeous I've been trying it on weekly since I got it, and not yet found anywhere worthy to wear it.
After weeks of stressing about what to wear with it, I finally found this checked Monsoon dress in a Charity Shop for £8. It's 50s style, but on me needs to be taken up about 4 or 5″ to wear with a petticoat. However, on the advice of Shona from Heyday I added a dangling ribbon belt of dark green velvet to tie in with the hat and wore it long as a 30s style dress.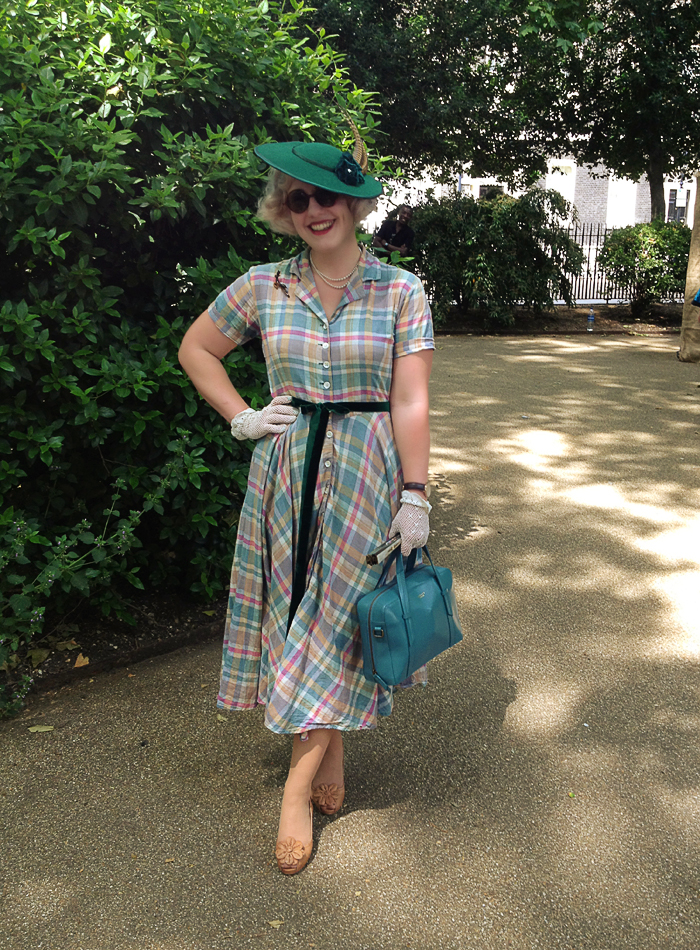 ❤ Hat – Betsy Hatter ❤ Dress – Monsoon via a Charity Shop ❤ Handbag – c/o Radley ❤
❤ Shoes – Unisa ❤ Gloves – Dents ❤ Brooch, Glassses, Pearls and Fan – Vintage ❤
 The handbag is from Radley, good lord they sent it to me for free, free Radley handbags certainly isn't something I expected when I started writing a silly little blog 5 years ago. The colour conveniently goes perfectly with my dress, and it's surpringly roomy, I got my shoes in it and everything, plus as it's leather it smells delicious (and it comes with a dust bag, I've never had a handbag nice enough to need a special bag to put it in when you're not using it before).
Clasped in my hand there you can see one of the other essentials of this years Chap Olympiad. A fan. I think this one came from a boot fair, most of my fans do.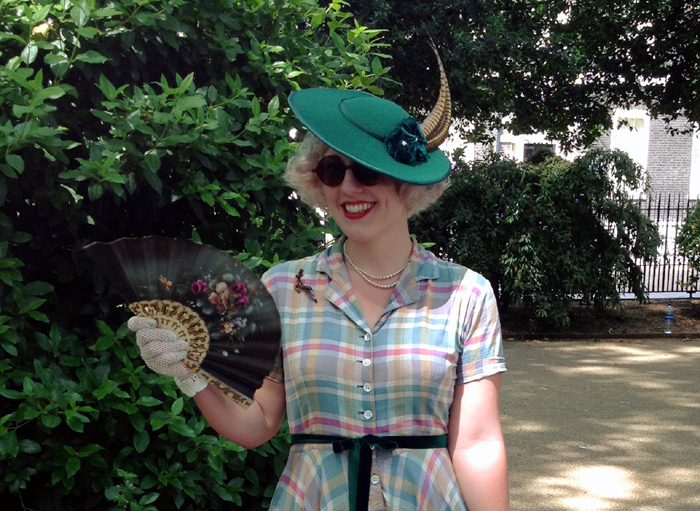 I even painted my nails to match my frock. I do love to be matchy matchy!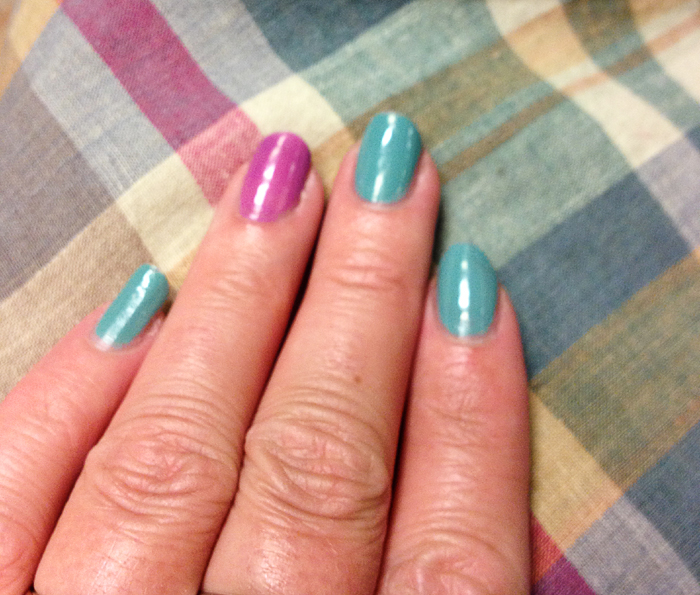 This is the first year I travelled down from Norwich on the train, normally we book into a hotel. I have to say I picked the wrong year for public transport, but we did everything we could to make it more civilised (and discourage people from trying to sit next to us on the train) a bucks fizz brunch is really the only way to start a Chap Olympiad day.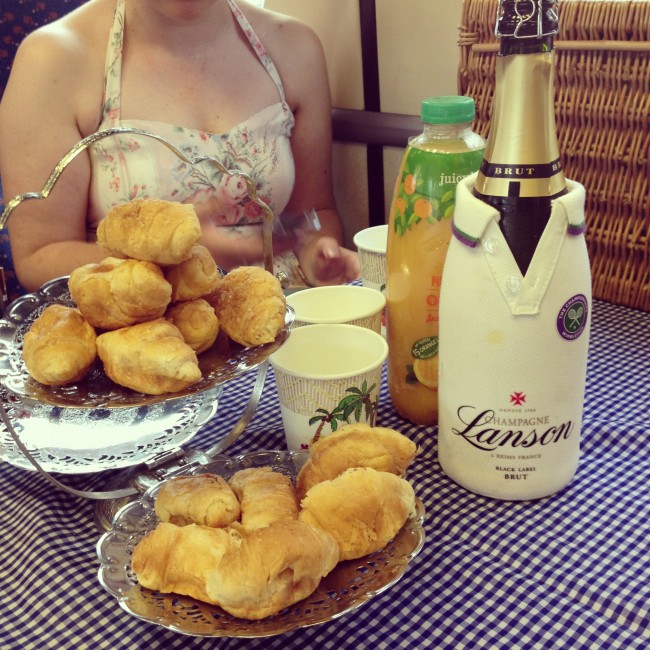 After a hellish tube journey, it was good to have a few hours of lounging. This years Chap Olympiad was a relaxed, and slightly over-heated affair. Apart from the occasional meander round the grounds to catch up with those I wasn't sat with we largely lounged by a table and over indulged in cocktails and picnic food. (this picture is courtesy of Perditas Pursuits)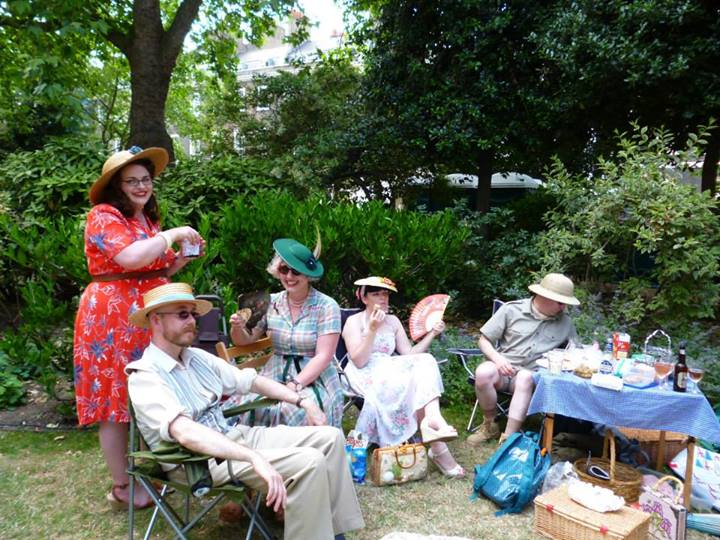 Sartorial mention of the day goes to His Lordship of Perdita's Pursuits fame who persevered with some very dapper matching gloves and spats for most of the day, despite soaring temperatures and could only be persuaded to remove them when we explained we feared for his health.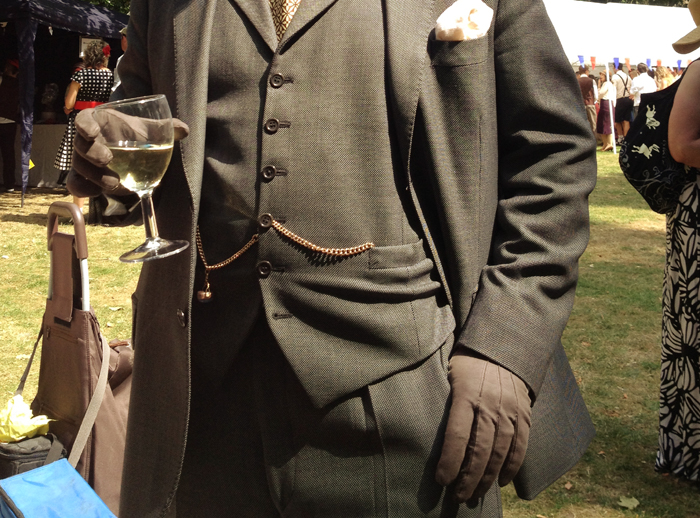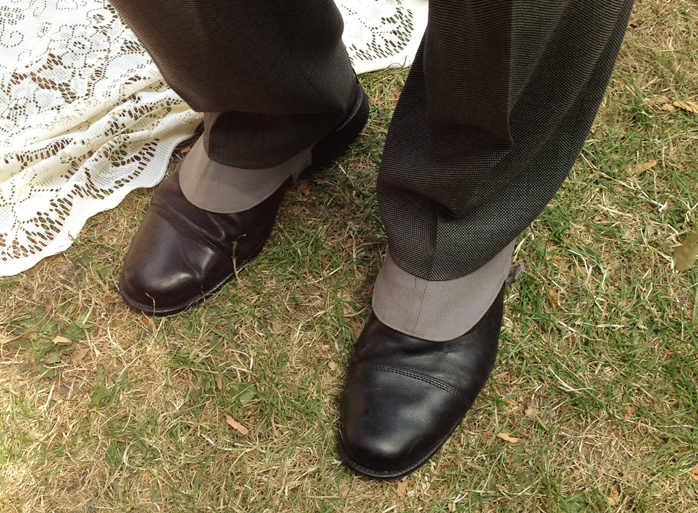 Were you at the the Chap Olympiad? If not, how did you enjoy the weekends sunshine?
Related