Ah, eBay. I love you and I hate you.
I've got some of my best ever bargains on eBay. 99p designer shoes, mis-spelt listings that everyone misses and taking risks on badly photographed vintage, that might turn up in a bin bag, but once washed and ironed is oh so gorgeous.
But with the increasing popularity of vintage, it's getting harder and harder to sift through the Primark tea dresses and overpriced polyester to find the good stuff.
Much like Charity or Thrift Shopping, the best way to find bargains on eBay is to hunt, get off the beaten track, make use of the advanced search features, and use some imagination. Prices can still get high though, so if you want some reliability in your purchases, then established eBay shops are the way to go.
Today I am sharing some shops on eBay that it's worth keeping an eye on. Most of these have been on my watch list for years, some I have bought from, some I haven't, but they all seem to get consistently good feedback and have a good range of stock.
UK eBay Vintage Sellers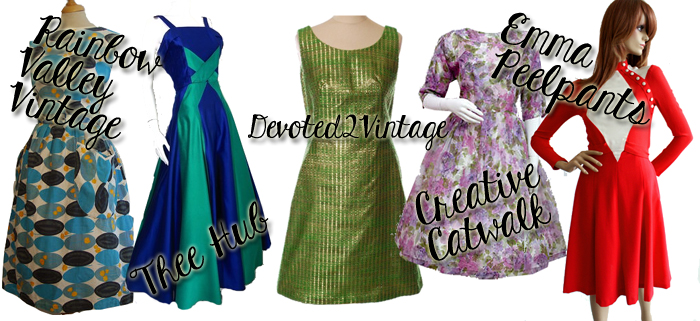 eBay sellers who also have an online shop. They sell mens vintage as well as womens and have a huge selection on eBay of over 800 pieces in the shop. It looks like largely 70s items, but they have quite a few nice earlier pieces.
A smaller shop, that also does menswear as well as ladies vintage. They have a good selection of pieces from the 30s and 40s, all on Buy It Now. The prices aren't super bargains, but on the whole don't look crazy high to me either.
Not strictly an eBay store, but an eBay seller who also has her own online shop off eBay. She specialises in beautiful designer vintage from the 60s and 70s. Prices aren't cheap, but this is seriously good stuff.
*Update* Rainbow Valley appear to have closed, but I have replaced them with a recent great eBay vintage shop find!
UK eBay Reproduction Sellers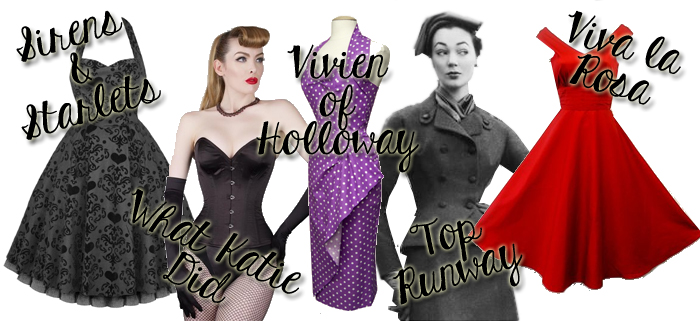 Top Runway is a store I have had my eye on for a long time. I know a few people with some of their vintage reproduction suits, and one day I WILL get around to buying one myself. They use pictures of original vintage suits from the 40s and 50s to illustrate their listings, but the suits are made to order in China. You can choose your own fabrics and trims and send them your measurements for a custom made suit.
I ordered a belt from here some years ago which I'm still wearing now! I've not yet ordered any of their clothes, but they have some nice looking repro styles, but from the feedback it looks like you should check measurements carefully to make sure the length is ok for you.
Vivien of Holloway has an eBay sale shop that it uses to sell off end of lines. Always worth keeping an eye on.
Another established repro brand with an eBay clearance store. This time it's vintage style lingerie.