I'm back from Holiday and it's competition time!
I'll tell you all about my holiday once I've had time to sort put my photos, unpack my suitcase and do all my washing. But in the meantime today I have a fabulous prize of £100 worth of ASOS vouchers to giveaway to introduce you to a new site I've been working on for the last month.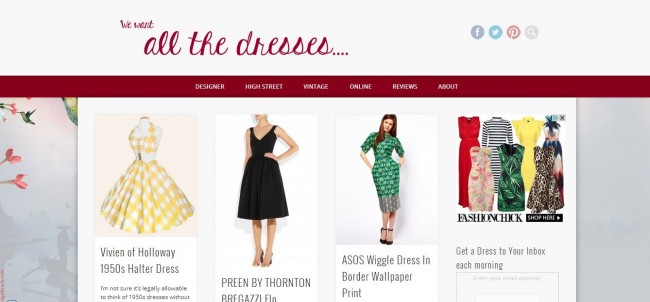 We Want All the Dresses is a sort of extension of my Friday Frock Love posts. I spend a disturbingly large amount of time looking at vintage inspired frocks on the internet. Affordable high street ones, vintage ones, stupidly expensive designer ones, vintage repro ones. You get the idea. I can't squish them all on here as it would interfere with the time I spend wittering on about what I did at the weekend, so I've set up a new site, totally dedicated to dresses.
At the moment I'm posting a different dress a day, you can search the site and it's sorted into designer, high street, vintage and online only then divided by decade. So if you want a high street 20s style frock you can go and try on you can take a peek in that category and see whats around. Most of them are available to order online too, of course, but I've also set up a separate category for online only frocks. You can also sign up to get that days frock delivered to you by email. I also plan, in future, to do some more in depth reviews than I do on here.
So. To launch the new site properly I have teamed up with ao.com, they sell home appliances, but have been kind enough to give me £100 worth of ASOS vouchers to giveaway that you can spend entirely on dresses, should you so chose.
There's a lot of entry options, but you only need to do one of them to get your entry, or you can do all of them for a total of a possible 19 entries into the prize draw. I'd also love to hear your opinions on the new site, so feel free to leave a comment as well! You must fill in the rafflecopter widget for your entry to count!
You can earn 2 entries for following We Want All the Dresses in each of these places – Facebook, Twitter on Bloglovin'. or by signing up to receive the daily email
An extra 1 entry can be earned for tweeting about the competition.
Finally, you can earn a whopping 10 extra entries into the draw for mentioning We Want All the Dresses and this competition in a blog post. You need to link back to We Want All the Dresses and to this competition for your entry to count.
The competition will close on Sunday the 18th August, and is open Worldwide!
Good Luck!