Time for another lingerie review.
The last one I did for Gossard was popular, so I thought I'd be brave and do another for Marks & Spencer.
I was sent the Perky Profile bra and Shaping slip to review.
I was particularly interested to try by the Perky Profile bra as part of it's marketing is in it's more "vintage" profile. It's a padded T shirt bra, but it promises to lift and separate rather than the usual more upwards thrust which leaves your boobs round your ears.
For comparisons sake I tried to take some profile photos wearing one of my regular bras, which is a Triumph Amourette W, I think it gives a more natural vintagey profile, but it isn't padded so it can be a little, erm, too perky on chilly days. Just for comparison I also did a profile in my What Katie Did Bullet bra, I couldn't find the pads, so it's not the smoothest line under a t shirt, but you can see the difference.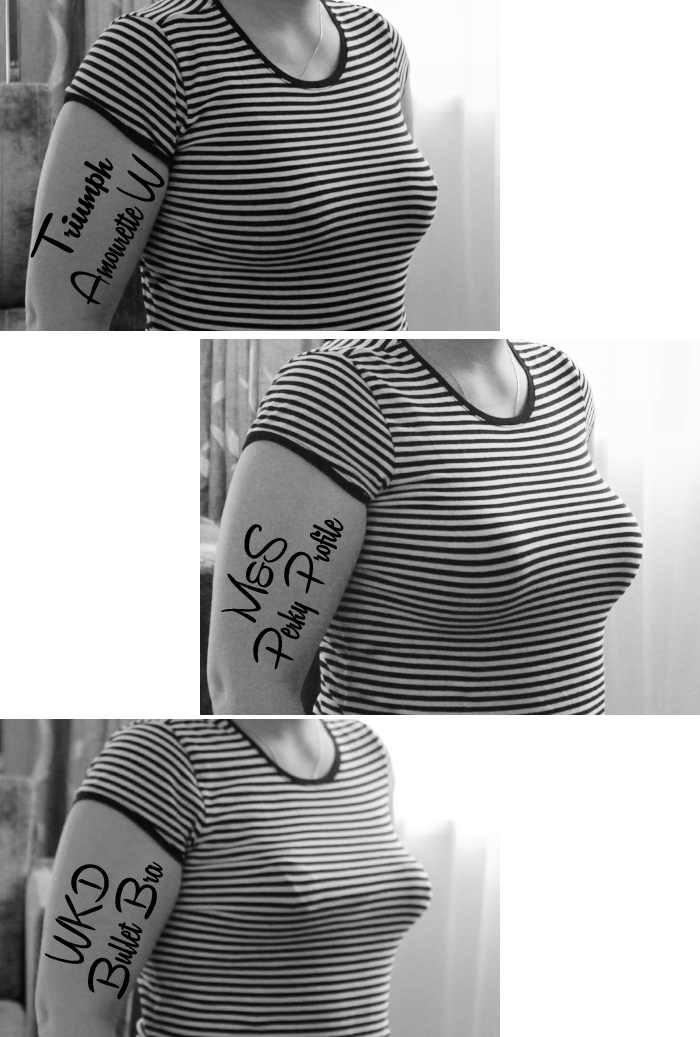 Sadly I didn't have a push up bra for comparison, but the Perky Profile definitely seems to offer a more natural bust line. It's not a pointy effect, but more like you would get with a soft cup, but with a bit more padding. I also quite like the colours, which have leopard print trim in the middle. I originally ordered black, but the size wasn't right, so I had to return it and they only had purple in my size in store, but maybe it's about time I had more bright colours in my lingerie drawer!
To review with it I also had the Firm Tummy Control Waist Sculpt Wear Your Own Bra Slip (hereafter known as "the slip" because that's a bit of a mouthful!) Bascically this is a corselette, with no suspender straps and no bra. I was intrigued by it, because sometimes it's nice to have some shapewear that doesn't need stockings with it. In the summer, perhaps, or just because it doesn't work with a slinky satin evening gown to have suspender straps. I also thought it would work well under my increasing collection of body con midi dresses!
It's basically a very tight mini dress. I've seen people in the pub in shorter dresses, though to be fair none of them were also showing their bra, so probably best to keep it for underwear.
It's a bit of a wiggle to get into, as with most shapewear I guess, but once you're in it feels secure with good firm support. The "skirt" did ride up slightly as I walked, you can't take big strides, so probably not one to wear if you need to run for a bus or it'll end up round your waist and you'll look really weird under your body con frock. Its main downside over a traditional corselette is that with stockings attached a corselette can be shorter, and therefore using the toilet is much easier! I'm a little worried that at some point I'll end up sticking my thumbs through the fabric of this as I try and wiggle it down in a cubicle, it's happened before, it'll happen again!
Overall I'm pretty impressed. When M&S sent me the underwear, they asked me to create a 50s look. I'll be honest, if you want an authentic 50s look, you might as well wear a corselette as you can wear stockings with it. As shapewear the slip works well for a look that requires bare legs, maybe under a slinky 1930s gown, or for a more modern interpretation of the 50s under a body con midi dress that would show stocking clips. The bra, I think, would be excellent if you wear wearing a girdle or suspender belt, and just wanted not quite such a modern push up look, without going as far as a bullet bra. I tried it under my Kitty Copeland dress, that I normally wear with a bullet bra, and the silhouette was still good.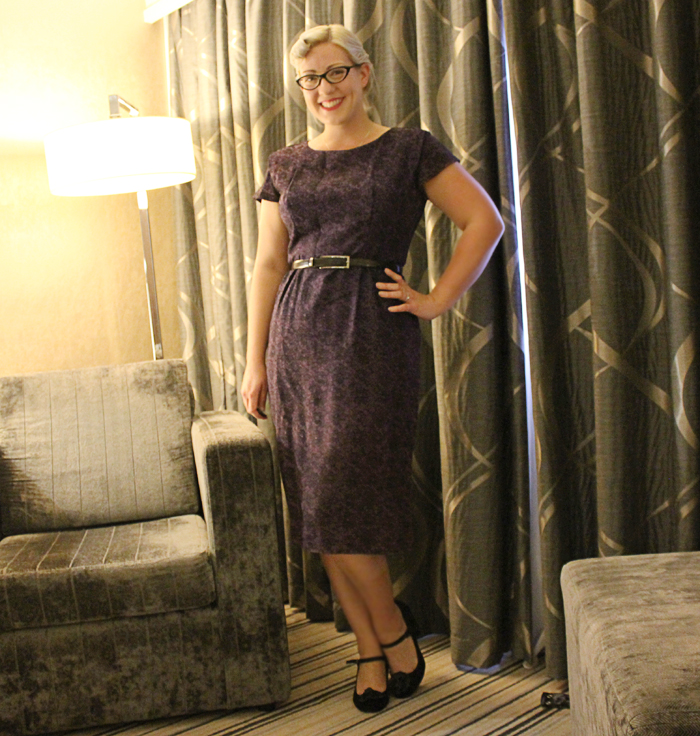 The Perky Profile bra is currently reduced in some colours, price from £8, £17.50 is the regular price, the slip is £32.50 from Marks & Spencer.
Related