Happy Monday my lovelies!
Well, it would be if I hadn't had such a lovely weekend away that Monday is all grey and dull.
This weekend I travelled all the way down the country to spend the weekend in Salisbury. I did ask on Facebook if anyone could recommend anywhere in Salisbury to visit and got not a single response, so I guess none of you know anywhere, so just in case you ever visit, I do have a few suggestions!
We arrived rather late on the Friday night and checked ourselves into our hotel which was the City Lodge. It's right in the centre of the city, and lots of reviews complain about the noise from nightclubs. We asked for a room at the back and didn't have much of a problem. The first night we were woken up by people INSIDE the hotel, grrr, and the second night some people had a fight outside our window, but they were gone in 10 minutes. I guess if you are used to living in a city it doesn't bother you too much. If you normally live in a rural idyll with only the night time sounds of owls to wake you from your slumber it's probably a right racket. It being late when we arrived we ate in a nearby Wetherspoons, which was noisy and average. We went back on Saturday lunch time when it was stupidly busy with the overall feel of a school canteen, so I don't recommend it!
Somewhere I do recommend if you happen to pop to Salisbury is the Cosy Club, where we started our day with poached eggs and peppermint tea.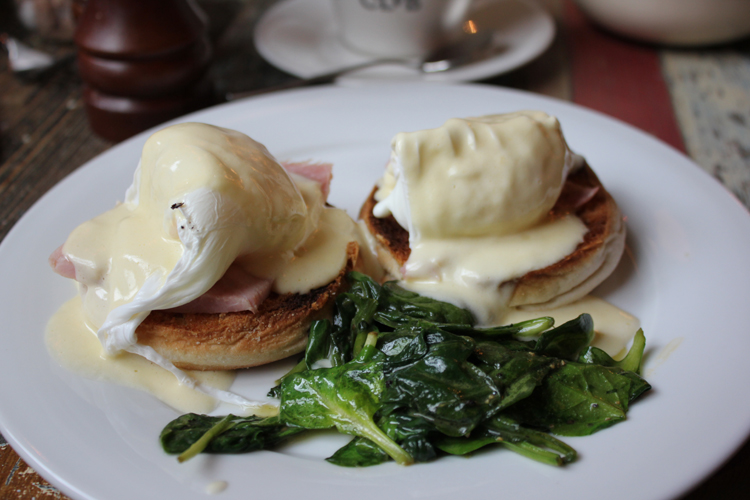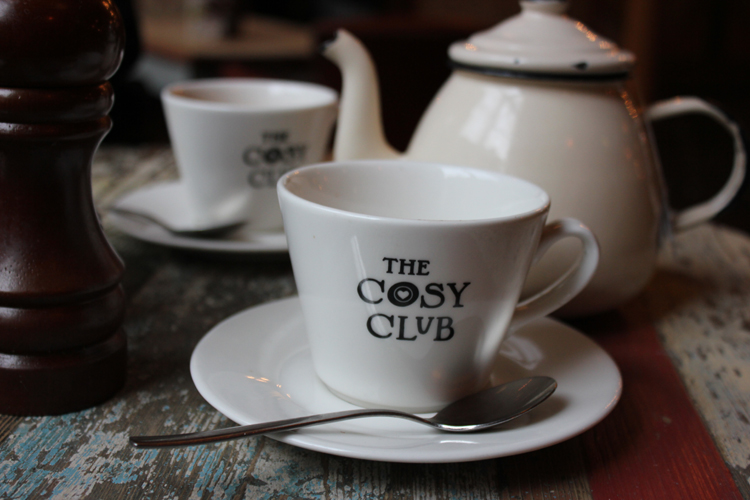 It was, well, cosy, which was a nice escape from the rain outside. It's quirky with antler chandeliers, an Art Noveau bar back (which you can just see to the left of the photo) and distressed tables made from reclaimed wood. More importantly the food was delicious, we went for breakfast both mornings! It also has a nice looking cocktail menu which I shall be sampling if I ever return.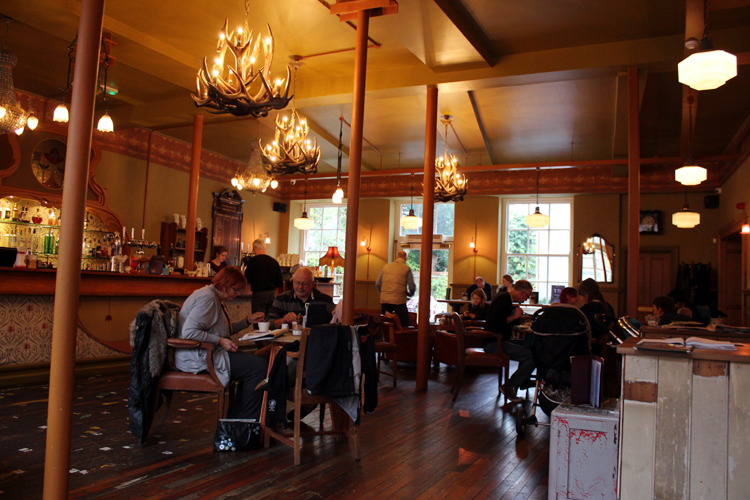 Thankfully the rain came to a stop around lunch time, so we did some touristy things. Salisbury has a very nice market square lined with shops and cafes, and the streets are quaint and lovely to walk around. They're full of wonky old buildings and interesting shop fronts, like this vintage shop, which I didn't actually go in. I did visit a few Antique Markets, though, which had a lovely stock, including vintage clothing.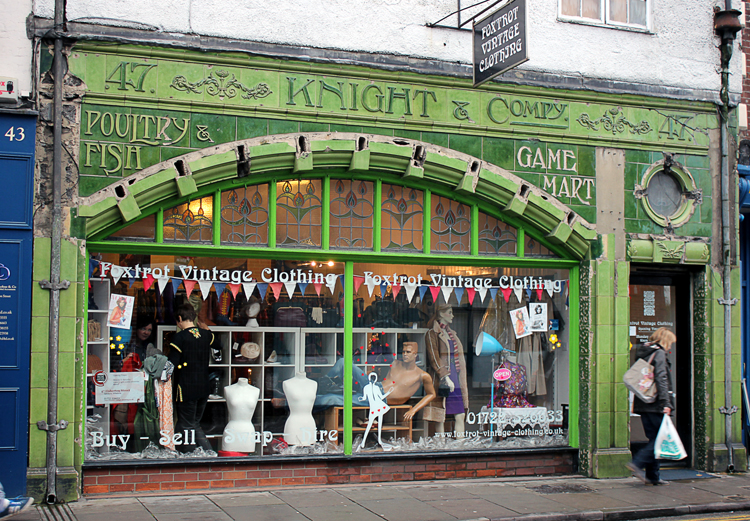 We also had a peek around the Charity shops of Salisbury, but sadly they have been hit by the mental pricing fairy and we left empty handed. Charity Shops of the world please note; £6 is too much money for a second hand Primark shirt, and yes, Aquascutum is a good label, but if I can buy one of their coats for under £50 on eBay there is no earthly reason I would want to pay £100 for one in your Charity Shop. Also Karen Millen doesn't count as "designer".
Of course, Salisbury is famous for the Cathedral, so we took a wander down. The Cathedral Close is beautiful and in nicer weather would have been lovely to spend some time in. We didn't go inside the Cathedral as we were meeting a friend and had to shoot off, but I did prance around outside to take outfit photos, naturally.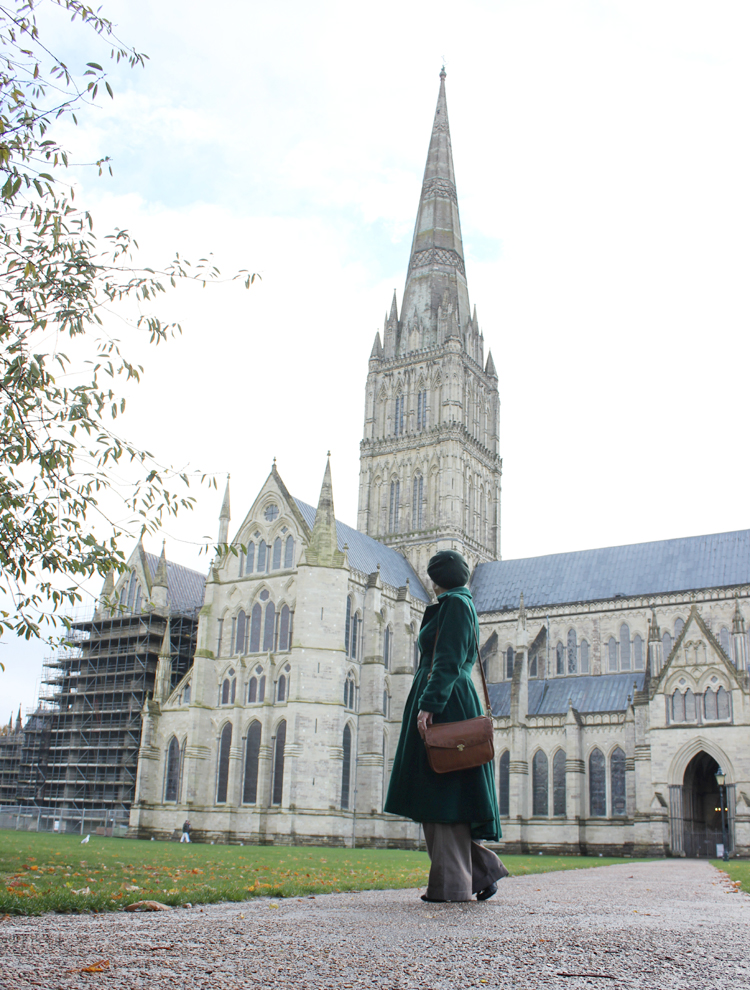 ♥ Beret – eBay ♥ Coat – Heyday!* ♥ Trousers – Heyday! ♥ Bag c/o Nica Satchels♥
The Heyday! trousers seemed like a good idea, and they did keep my legs warm, but I hadn't been expecting rain, and with my short legs I did start to get rising damp by the afternoon, you can probably see a faint line around my ankles if you look!
The bag is the Alicia satchel sent to me a company called Nica. I normally carry a black leather satchel, but it's always handy to have a brown bag as black doesn't always go. I was a little wary as the bag isn't leather and I've had problems with non leather bags falling apart in the past, but this one seems pretty sturdy so far and it has a TON of zippable sections and pockets.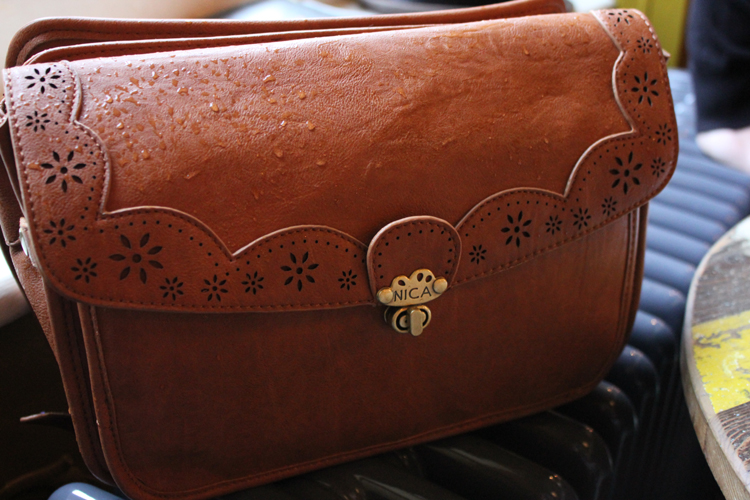 Tourist duties done, we retired to the pub. The New Inn is a very, very old pub, all beams and low ceilings and tasty beer.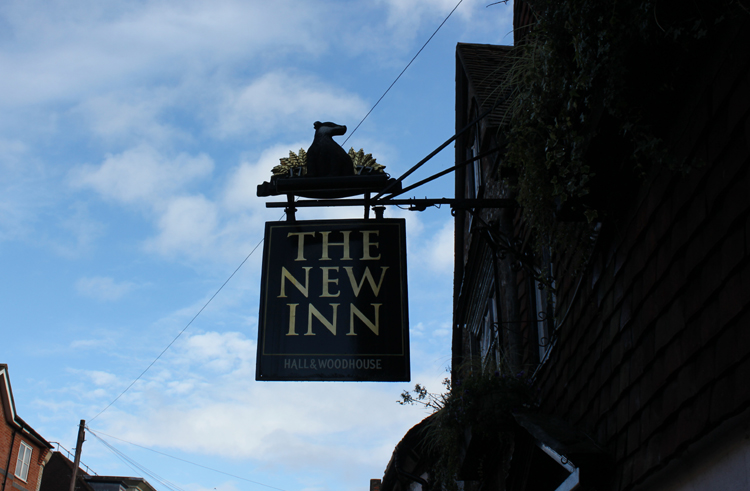 We then tried several other very pleasant pubs, before returning to the New Inn later in the evening, where I took this photo, thus proving that my photography skills are totally unaffected by beer.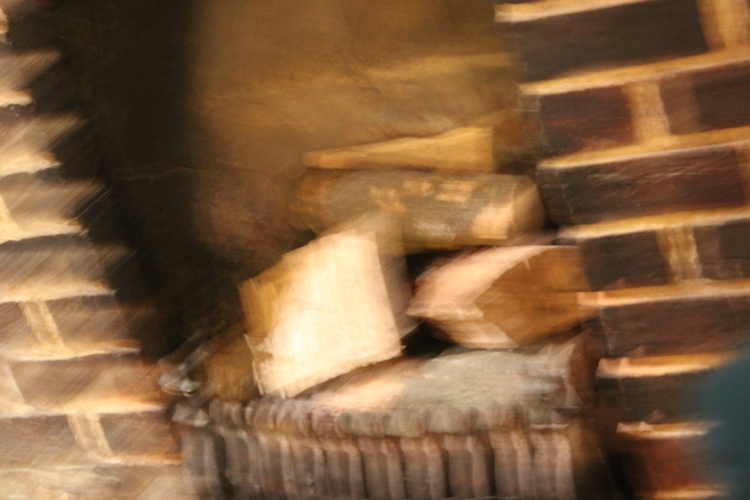 The next morning I awoke feeling bright eyed, bushy tailed and raring to go. Ok, no I didn't, I awoke feeling groggy and wondering whether that last pint was really necessary, or the pint before.
I was soon revived by breakfast and more peppermint tea and ready to head home, but not before one last touristy stop off that I had been REALLY looking forward to.
I've gone past Stonehenge in the car before, but never visited, and I was stupidly excited to finally go there. Although, when I thought about it a bit harder I wasn't really sure WHY I was so excited to go look at some stones in a field, but I was.
They are in the process of building a huge new visitor centre, due to open in December, that will house exhibitions and all sorts of other exciting attractions, but when we arrivedit was still just a gift shop and a small cafe selling pastys.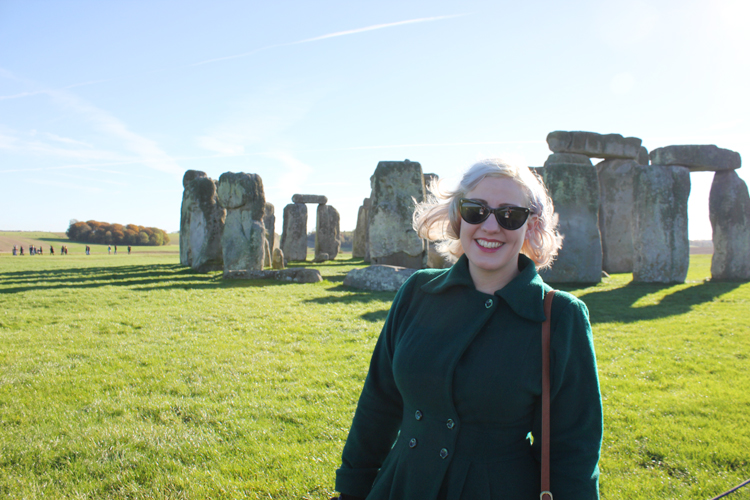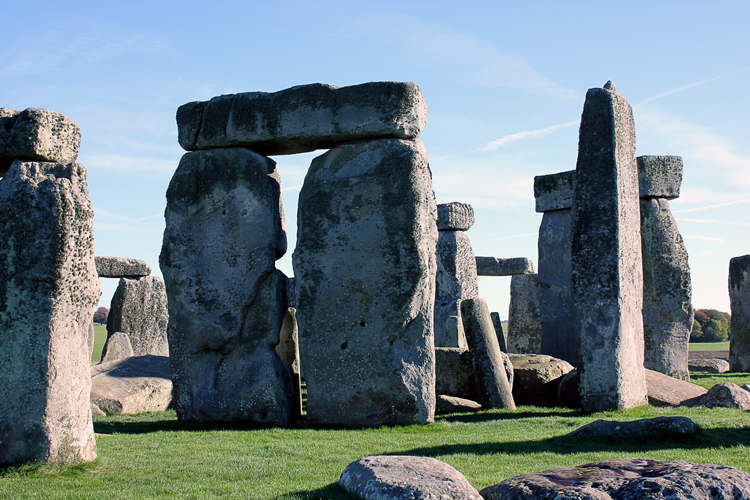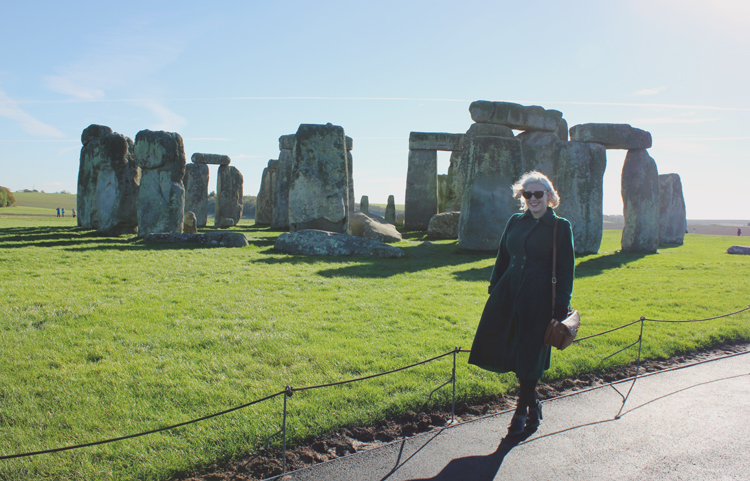 As you can see it's also a little windy, but at least we had blue skies!
This might sound a bit silly, but I was sort of surprised by how big the stones actually are. Most people have seen a million, billion, trillion photos of Stonehenge, you know exactly what it looks like. You've seen aerial photos in the snow, arty photos from a low angle and newspaper photos of modern day druids in robes at Midsummer, but when you're actually there, in the middle of a huge open plain looking at these MASSIVE stones covered in lichen it's a little awe inspiring really. I wish I could have got closer, but hundreds of tramping feet erodes the soil and thousands of touching fingers erode the stones, so I understand why it's not possible for it to be open to everyone.
If you haven't been to Stonehenge already, I recommend you add it to your list. Also, the gift shop is delightfully full of exactly the sort of themed tat I love. You can buy tiny models of Stonehenge for all budgets, a build your own Stonehenge kit, Stonehenge earrings (which so nearly tempted me, if I'd been richer I'd be wearing them right now) and Stonehenge keyrings. In the end I left with a Stonehenge mug that was on sale, a bottle of Stonehenge beer and some Stonehenge chocolate.
And now it's Monday, back to work with no historical monuments, delicious poached eggs, or lunch time beer. *Sigh*