The other week I was contacted by Waitrose. In January they want to encourage people to enjoy life a bit more and find something to celebrate, so they're giving away a free bottle of Champagne with all orders over £50. They sent me over a Waitrose voucher and some champagne so I could put together a post about celebrating.
Now, before we get on with this post I promise that I totally intended to spend the money on preparing something healthy and tasty to prove you could celebrate and still eat something good for you. But then I was in Waitrose and I remembered it was Burns Night coming up and I saw the BEST recipe for Mini Haggis Wellington on the MacSween website, so I bought all the stuff to make that instead. Sorry.
Well, lifes about moderation and you can't be angelic all the time. I used sweet potatos and turnips and mashed them with low fat spread and skimmed milk, so, you know, it could have been worse, right? Lets face it, January is a sucky month generally, full of good intentions and resolutions, but the quickest way to fail is to spend all your time depriving yourself. Anyway, self justification over, lets get on with the (totally delicious) celebration meal I came up with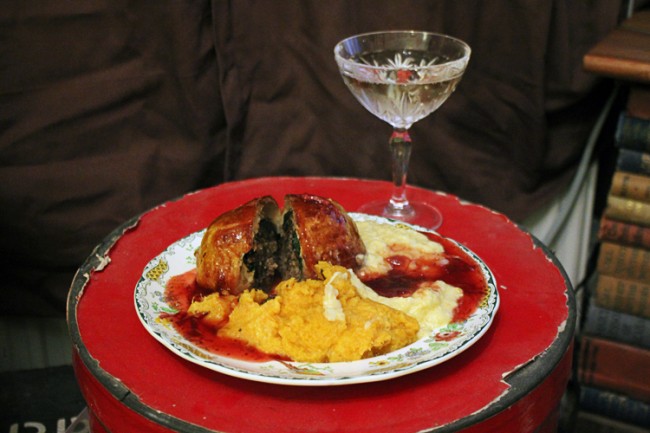 I actually edited the recipe slightly, on the website its for mini wellingtons, instead I made 2 large ones, and I also used a venison haggis instead of the 3 Bird one they suggest. Here's my slightly edited version:
Serves 2 hungry people
1 MacSween Venison Haggis
1 block ready made puff pastry
1 Egg yolk
30g Finely chopped shallots
80g Finely chopped mushrooms
sea salt and black pepper to taste
15ml oil
60g Fresh baby spinach
Heat a non stick frying pan with the oil.
Sauté the shallots until soft, then add in the mushroom and sauté. Season and turn up the heat to boil off the juices until almost dry.
Finally add in the spinach and wilt for 30 seconds.
Transfer mix to a fine sieve and drain. Squeeze out any excess moisture.
Spread the mix on a tray to cool.
Heat the oven to 200c, line an oven tray with parchment paper and reserve.
For 2 people use a quarter of the puff pastry block per person. Roll each quarter out into thin square
Remove the outer film from the haggis cut in half and microwave for 1 minute to cook through
Take the mushroom mix and place in the centre of the pastry. Top this with the haggis .
Now gently pull the pastry disc up and around the haggis, stretching the pastry until the edges meet.
Turn them over so the smooth side is facing up and place on the lined oven tray.
Brush with egg yolk and bake in the oven for 15 minutes.
Served here with mashed turnips and sweet potatos, and a cranberry sauce.
If you fancy free champagne then you can get a bottle with any order over £50 placed on the Waitrose website before the end of January. Oh, and it's Chinese New Year this weekend, another excuse for a celebration! Just be good the rest of the week…..
Related