"Vintage Inspired" is a funny old phrase.
Sometimes I'm not sure exactly what it means anymore, but it's still a phrase I use to describe my wardrobe. I take my outfit inspiration mostly from the elegant styles of the 30s and 40s, the feminine fancy of the 1950s and the youthful fun of the 1960s. I haven't read a fashion magazine in years and I certainly don't follow trends, but I like to put my own stamp on things. You've probably noticed I don't wear a huge amount of "true" vintage much older than the 1970s. The reason being that much of it is beyond my budget or not my size, so I shop for my "vintage inspired" style from repro brands, charity shops and the High Street.
Today I thought I would share my top ten places to hunt for pieces for a vintage inspired wardrobe. I'm including places I own clothing from, or clothing I have seen, felt and lusted over in real life, even if I don't own any, so if it's not what you expect, it's because I haven't shopped there!
Yep, actually online fashion department store ASOS is high on my list of places to shop for vintage inspired style. There is A LOT of content on that site, and tucked amongst it are often the most gorgeous dresses and skirts. I can't afford to buy all of them. But I certainly admire from afar. Sometimes you need a little imagination to see past the way they are styled on the site.
At the moment they have some really lovely midi skirts on the site, many of them with modern features like scuba fabric or leather look waistbands, but that makes me like them even better as I love the idea of creating a vintage inspired look from such modern fabrics.
Some Current top picks. (L-R)
ASOS Petite Organza Insert Midi Skirt ♠ ASOS Premium Full Midi Skirt ♠ ASOS Midi Scuba Skirt with Pleats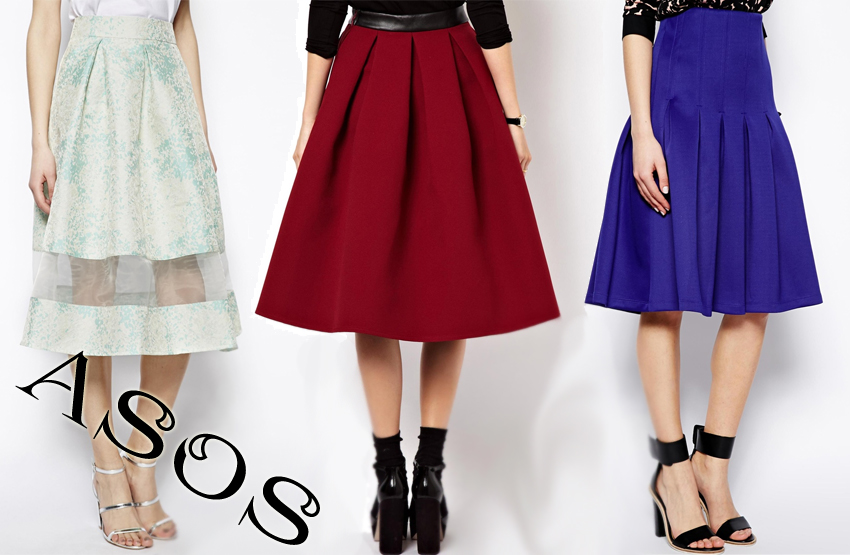 No surprises here. The best thing about Heyday! is that the clothes are both authentically vintage inspired, and made for modern lifestyles. Most of their designs can be thrown in the washing machine and many don't even need much in the way of ironing. I am currently the proud owner and wearer of  1 Fifth Avenue Coat, 3 pairs of Swing Trousers, 2 Fleur Wrap Dresses, 1 Twizzle Dress and 1 Mary Dress. I'd own a lot more if I were richer.
Some current top picks. (L-R)
Moss Twizzle Dress ♠ Red Pencil Skirt with Polka Dot Bow ♠ Doris Wrap Top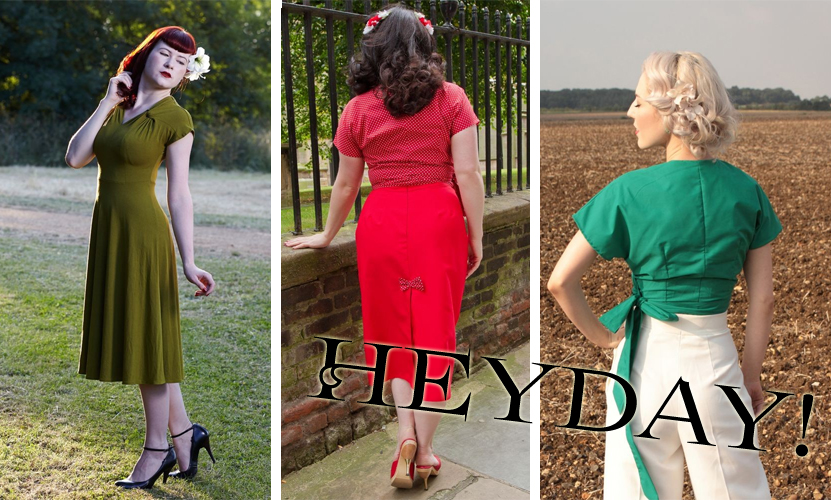 Eliza J always seems to have a great selection of beautiful 50s inspired midi dresses. I bought a navy blue 3/4 sleeve dress a couple of years ago and it remains a favourite. They have the same style in different colours and some different patterns on the skirt, but they also have lots of other beautiful vintage inspired styles just longing to be teamed with a pair of crazy tights and a slick of red lippy.
In my experience sizing runs a little large, so size down rather than up.
Current top picks (L-R)
Burnout Lace Skirt Dress ♠ Graduated Spot Hem Dress ♠ Embroidered Skirt Dress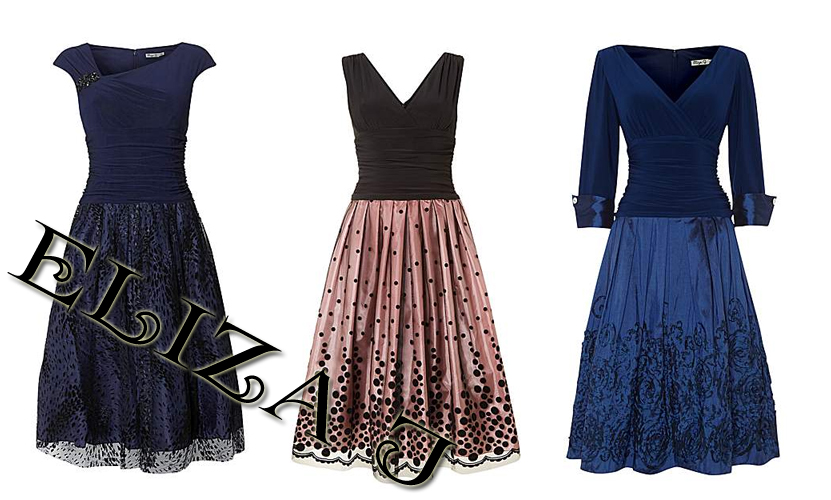 Last summer I got that gorgeous 40s mexicana inspired crochet bodice dress from Phase Eight, and this week I used another one of their dresses in my fantasy shopping trip with Jarrolds. They're good quality fabrics and being a more "grown up" brand the range normally features skirts and dresses in a nice below the knee length.
On the site at the moment are also some really lovely looking little nipped waist jackets as well as some jumpsuits like this paisley 70s does 30s number I've included in my picks.
Current picks (L-R)
Amalfi Fit & Flare Dress ♠ Roxie Jumpsuit ♠ Beatrice Embellished Cape
I don't actually own a dress from this capsule collection, but that's simply because currently they all have sleeves, and with no give in the fabric I can't get my arms through the size that fits me! I have tried them on and extensively fondled them, so I have included them because I think they are great quality and all made in the UK. They are a little pricey for a day dress, but they'll last forever and have great details like pockets and front buttons that actually open.
Barbara Dress in Red ♠ Charlie Dress in teal ♠ Barbara in Navy and White stripe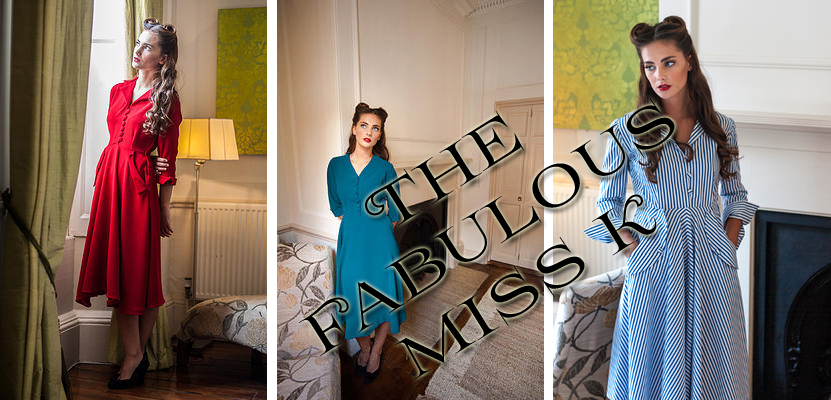 Stop Staring
No surprise here. They're very pricey, but I do love them. I really like the heavy stretch fabric they use in lots of the dresses. It's form fitting, but doesn't show lumps and bumps and hold you in like a full body spanx. Plus it means the sizing is forgiving enough to take into a account a few large dinners…..
There are several UK stockists, but the link here is to Revival Retro who have a good selection, including my favourite Raileen dress in Green!
Current pick (L-R)
Green Raileen Dress ♠ Black Duchess Dress ♠ Rouge Dress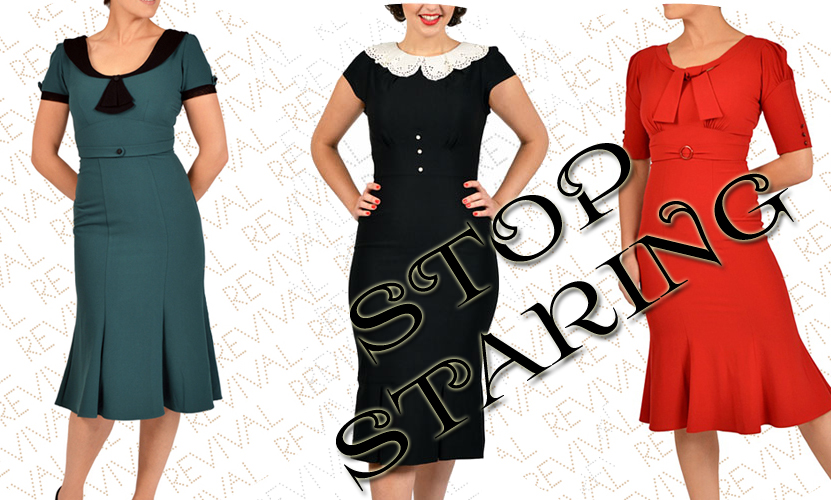 Yep, that's right. But only online. Whenever I look in store I rarely find anything, but online F&F seem to always have a great range of "prom dresses" both above and below knee length. Last year I got a great pair of 40s inspired shoes, and I'm in love with the black and white stripe above the knee dress I got last summer. They have a similar style in scuba fabric at the moment that I have my eye on, along with other things!
Current picks (L-R)
Limited Edition Chevron Print Prom Dress ♠ Houndstooth Print Pencil Skirt ♠ Oval Spot Print Prom Dress
I fell in love with this brand at a press day, and last year I got my mitts on one of their sun dresses. I chose the wrong size so it doesn't fit quite right, but I am so desperate to get my hands on another in the right size. At the moment a lot of the site is sold out as they are working on getting their new collection out, but with very reasonable prices this is definitely one to keep an eye on.
My 3 picks are still in stock and really show the vintage inspired but slightly cartoonish pin up look of the brand.
Pink Flamingo Dress ♠ Green High Waisted Skirt ♠ Leopard Print Wiggle Dress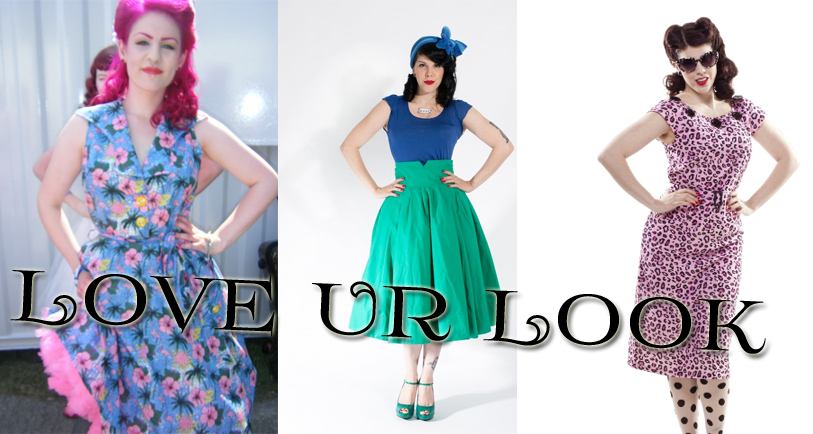 Another brand I fell in love with at a press day, the dresses were such gorgeous quality, also using that very heavy stretch fabric that fits so beautifully and works as a full body spanx! I've just been sent one of their dresses and I tried it on this morning and almost shed a tiny tear I was so happy it was so pretty and such a lovely fit.
They do a range of classic and vintage inspired styles, as well as some more modern designs.
Current picks (L-R)
Forest Green Mistress Swing Dress ♠ Sorrento Hourglass Swing Dress ♠ Bardot Black Pencil Dress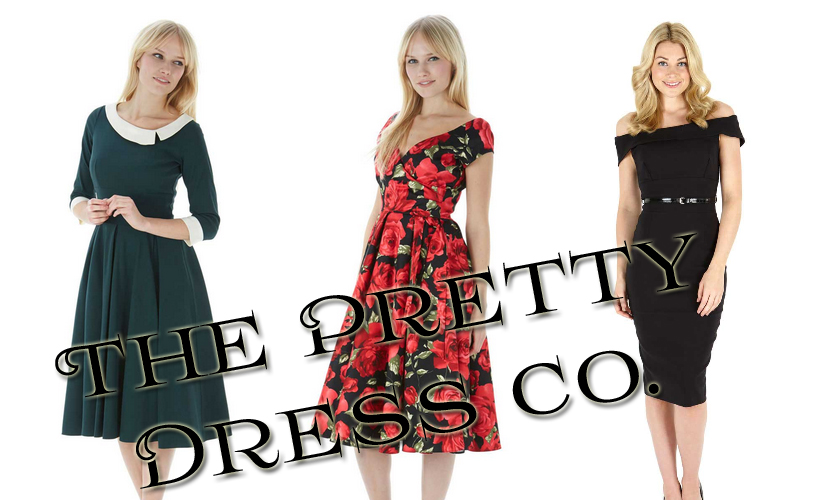 Swagger Joint
This one makes me a little sad as Pin Up Parade, the shop behind the Swagger Joint brand, are closing down. Bonus for you, though, is that everything is currently on sale, so the remaining Swagger Joint Olivia Dresses are hugely reduced. I have these in the green floral and the Oriental, the zips can be a little stiff, but they are a beautiful shape, comfortable to wear and even have little concealed pockets at the front for bringing your change back from the bar!
Current Picks (L-R)
Olivia Dress in Green Pink Roses ♠ Red Fan Print Cotton ♠ Chinese Satin Brocade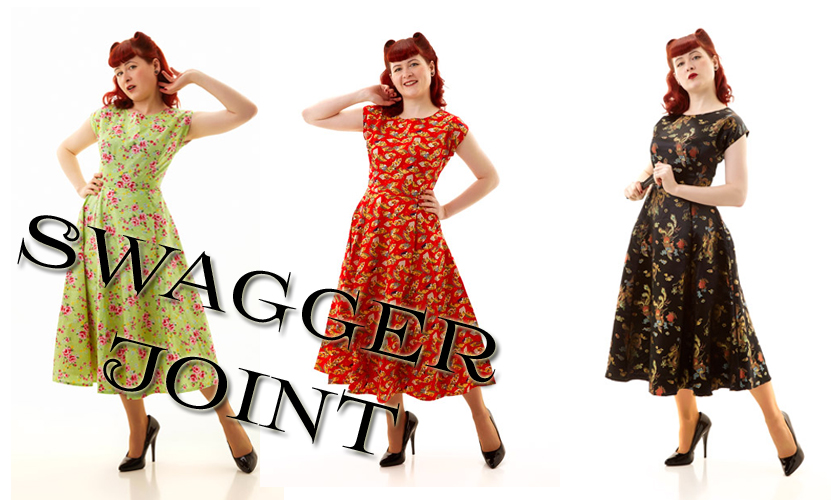 Where are your favourite places to shop?
Related