Yes, another outfit post.
They're like Buses, I don't do one for ages and then a gazillion come along all at once. This is normally because I haven't had anything new to wear for ages and haven't worn anything old in a new way and repeating outfits is pretty dull for me and you!
But, as part of my dedication to not hating my wardrobe this autumn and winter, I have had a bit of a revamp, so outfit photos ahoy!
Lindy Bop actually asked me to pick a dress in early September, which I did happily, going for day wear instead of evening fanciness because of the gaping day wear hole in my wardrobe. I then wanted to hunt out the perfect coloured tights to go with it.
I am afraid that currently I am poor as the proverbial Church mouse, having frittered away all my available cash on Cocktails in early October. Fortunately, just as I was wondering how on earth I was going to keep my legs warm, let alone attractively coloured in a "perfectly matching with my dress" kind of way, UK Tights asked me if I wanted to review some tights. So I am afraid I am about to do that thing that they always tell Fashion Bloggers they should never do and post an outfit all made of "stuff people gave me". Still sod it, I'd have spent my own money on all these things happily, if I had any right now, and it is an awesome Autumn outfit that makes me very happy.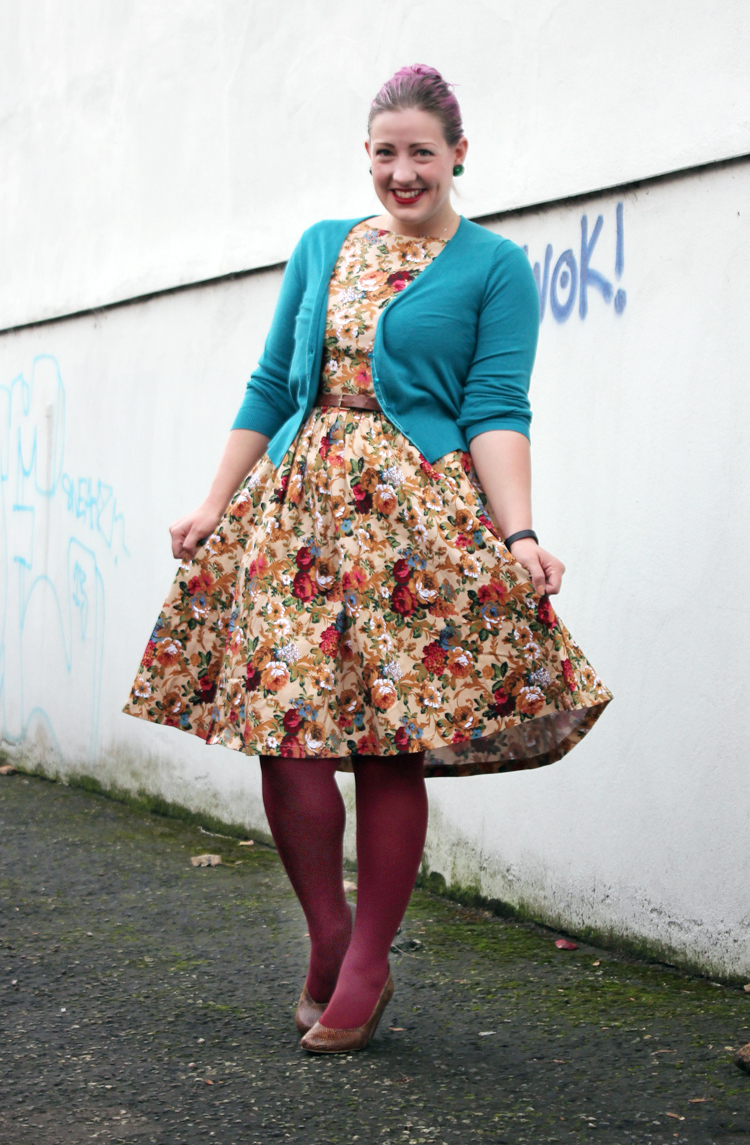 ♥ Audrey Floral Dress c/o Lindy Bop ♥ Charnos 60 Denier Tights in Berry c/o UKTights ♥
♥ Cardigan – Boden* ♥ Shoes – Office ♥ Belt – H&M ♥
By way of a review I can tell you that the Lindy Bop dress costs a tiny £34.99 and I was surprised at the quality for that price! It's a thick fabric with just enough stretch and fits really well. If I had anything bad to say it would be that the armholes are a little tight, but I'm used to that so they probably won't be on you, unless you have Popeye arms like me (Yes, I know Popeye had big forearms, not big biceps, but you know what I mean!), also the fabric covered belt that came with it was a little small, so I swapped it for one of my own.
And the tights, well, they're tights! When tights are good there is a little to say about them! They're matte, comfortable, don't roll down or wrinkle up and didn't fill with holes after one wear, so a win!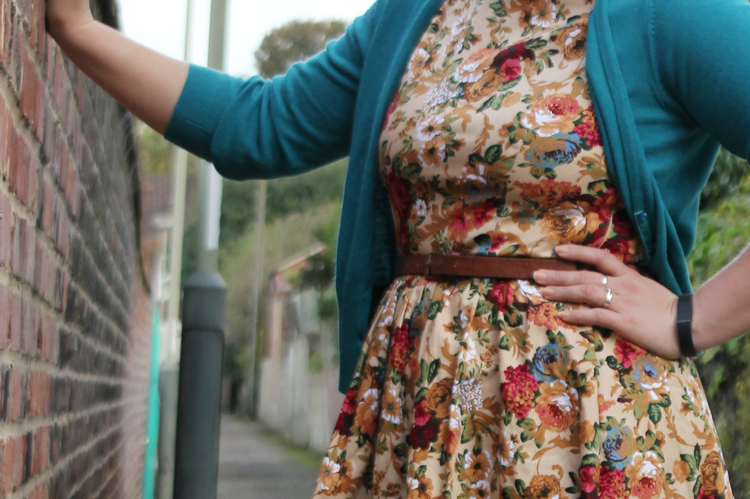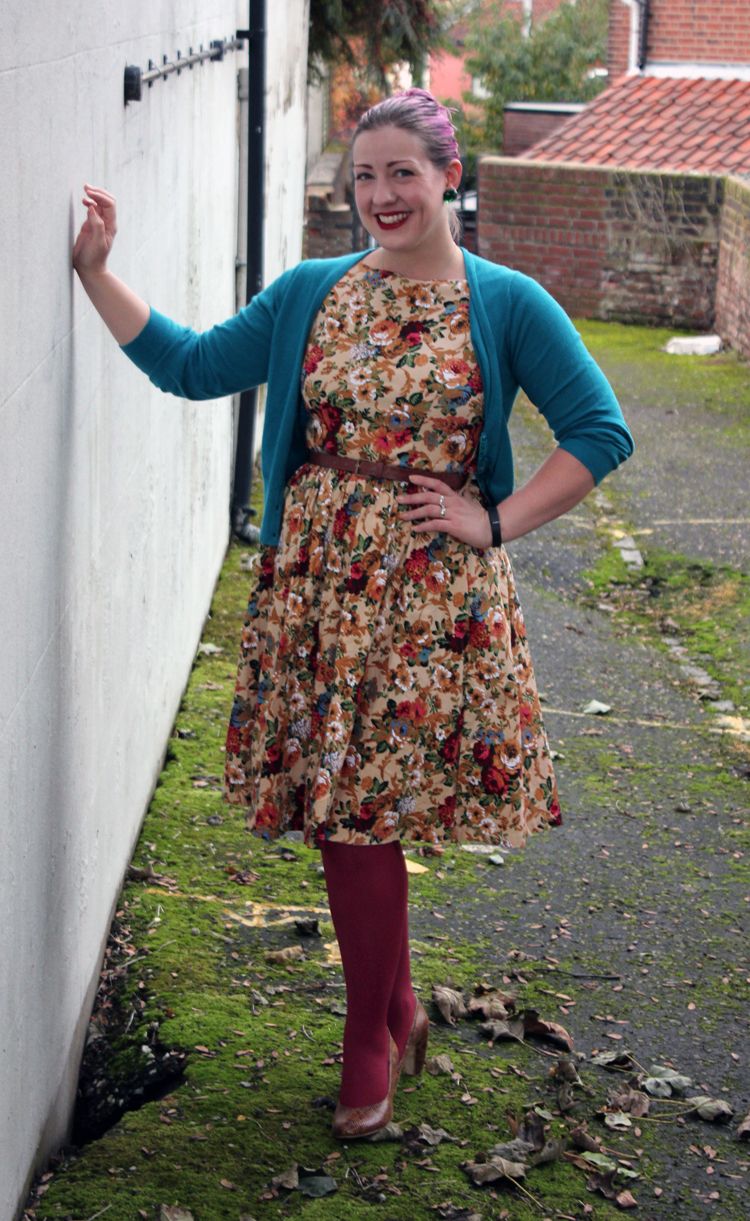 I'm also wearing some pretty awesome confetti lucite earrings, the shop they came from is sadly now defunct, but I found similar ones on Etsy here.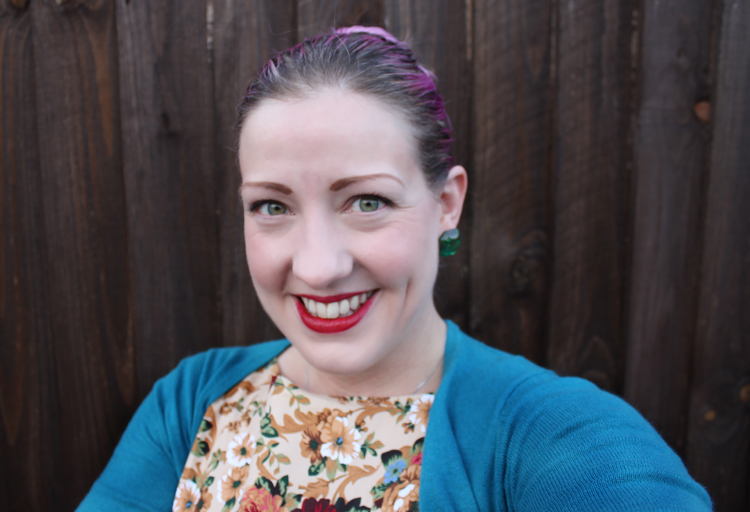 As the weather gets colder (and my bank balance gets hopefully healthier) I plan to invest in berets in more colours. I do love a beret, and being a matchy, matchy sort of a person I quite like to get them in the same colours as my cardigan/tights/coat so I can feel all coordinated. I'm thinking berry is a beret colour missing from my selection (berry beret, geddit!)
I'm also in need of a big trip to the shoe repairers, and a new pair of winter boots.
What holes do you have to fill in your winter wardrobe?