Happy Friday!
Well, today's weather can safely be described as "changeable" I think. This morning when I took these photos it was bucketing with rain outside and I lurked in an alleyway in my back garden to get some photos. Then I came inside, grabbed a coat and went to the shops. By the time I got there I was squinting in sunlight and boiling in my trench coat. Now, back home I sit here writing this post watching the rain fall again. But then, I've lived in the UK all my life, so you'd think I'd be used to that by now.
It's been a busy week this week, so today's post is just a quick outfit post featuring a frock from the Seamstress of Bloomsbury.
I love wrap dresses, they're nicely flexible depending on how much you've eaten that day, and easy to fling on. This particular wrap dress is extra special because from a distance it's a nice sensible navy frock, and up close it has a cute print of Scotty Dogs! I do love a novelty print!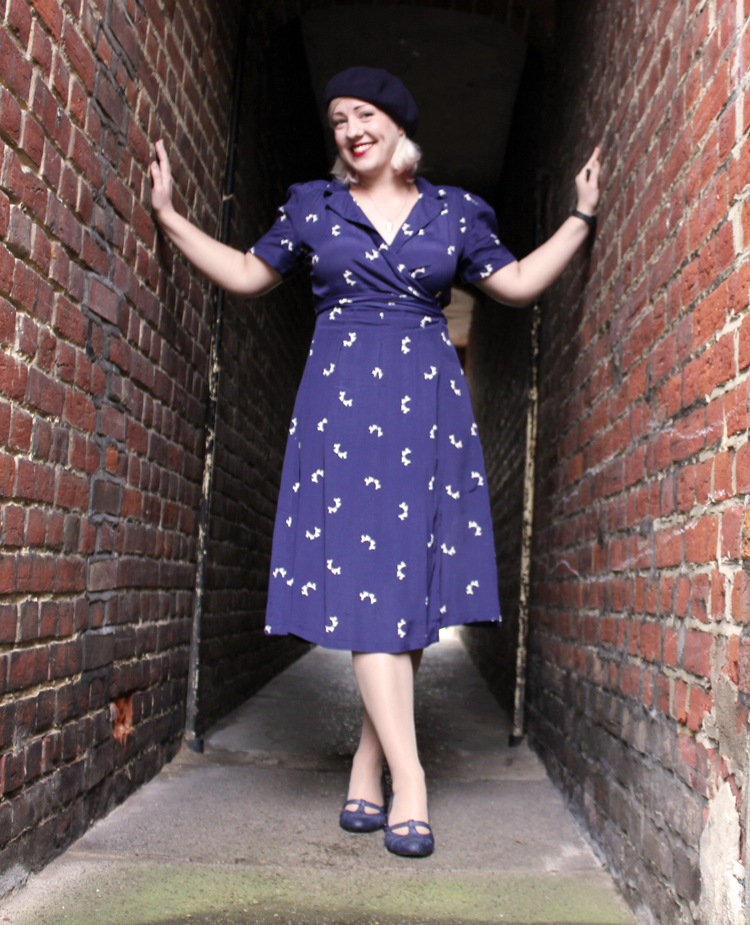 ♥ Dress c/o Seamstress of Bloomsbury ♥ Shoes – Stylist Pick* ♥
♥ Beret – Ebay ♥ Tights – UK Tights* ♥
I was worried that a wrap dress was a bit of a boring choice, but this is gorgeous, based on an original 1940s design with little pin tuck pleats at the skirt to make it hang beautifully and puffed sleeves that are wide enough even to accommodate my massive arms! It also has a long enough wrap belt to wrap around twice and tie at the back, which I prefer.
I ordered the bigger size 14 to be on the safe side, but I think I'd have been ok with the 12 as it happens.
If you want to win a dress of your own, The Seamstress of Bloomsbury is running a competition on their Facebook page, but be quick as it finishes today!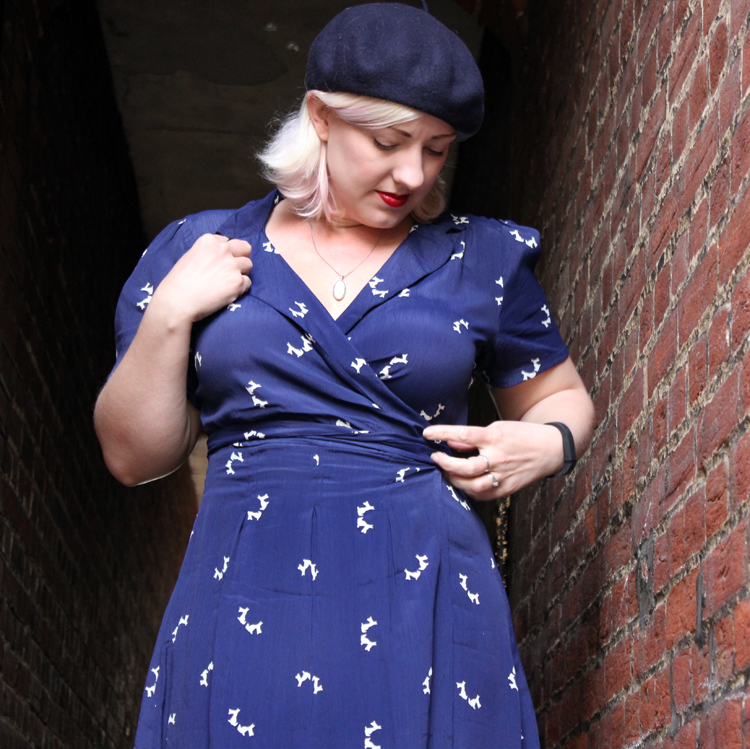 I also think the dress looks great teamed with these tights I got with my UKTights voucher, which are pretty darn fantastic. They're by Transparenze and have a back seam with a hand drawing.
I'm kind of disappointed that I'm not going anywhere exciting today to show them off, but that's the advantage of a blog, I can show them off to you, even if the cashier at Tescos doesn't really appreciate them.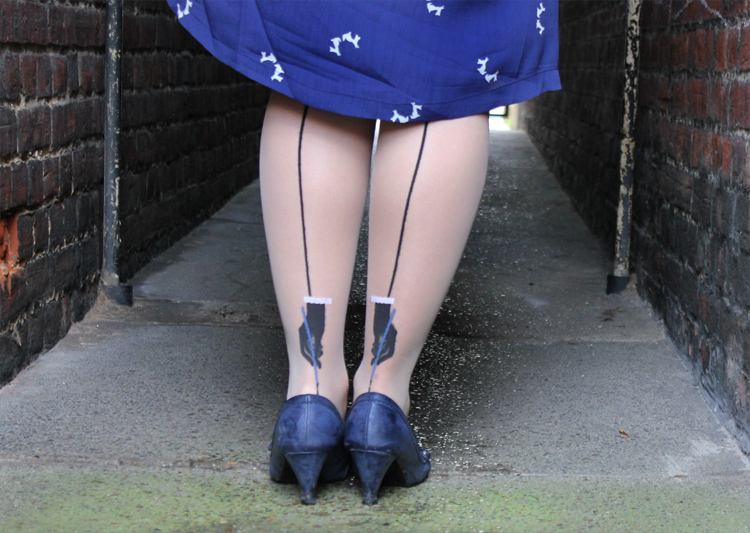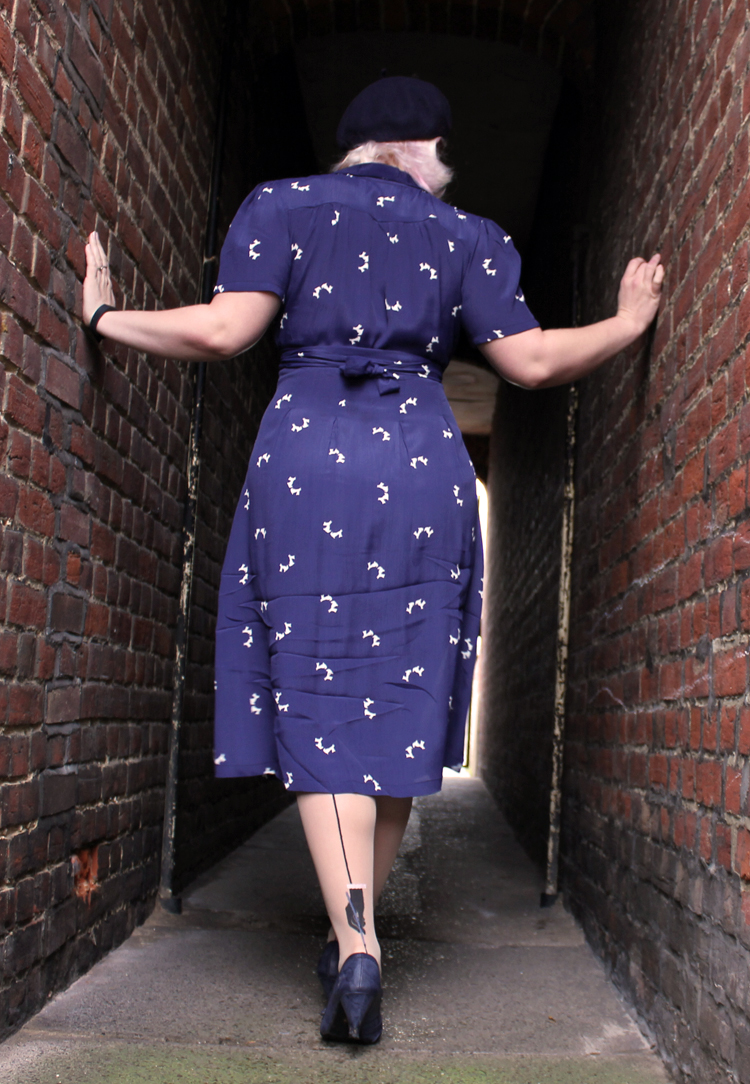 The reason I have nothing exciting on tonight, is because tomorrow I have an early start. I am heading off to Chelmsford for my second public Roller Derby game. I'm not as nervous as I was for my first one, but I'm pretty sure it'll kick in tomorrow! I'm on team Firecracker in the mixed opener and if you happen to be in the Chelmsford area and fancy watching some Roller Derby and seeing me fall over look a lot less glamorous in a helmet and mouth guard then you can find out more details here!
I hope you all have exciting weekends planned?