I'm so sorry, I know I promised you no more Cocktails.
But these ones were FREE, which is the best kind of cocktail, and they came with dinner thrown in too and it is an actual rule in my life never to turn down a free cocktail. Really
On Saturday, after that long drive back from Yorkshire, I'd been invited to check out the new Las Iguanas in Norwich. Now, I have eaten at a Las Iguanas before, in Spitalfields back in April, and it was SO good. Mr Chick, however, hadn't, so in an effort to cement my BEST WIFE EVER status I booked us a table for 2.
I posted a few photos on Instagram on Saturday night and met with a few comments from people all excited that Norwich now has a Las Iguanas, so I thought a blog post was in order just to make sure you all know! And if you're not in Norwich, well take a look for your nearest and pop in.
The first thing that happened when we arrived was that a man came to our table with a very cool pineapple ice bucket and taught us how to make Caipirinhas. I can't promise this will happen when you go, but it was fun. I got to muddle limes and pour excessive amounts of Las Iguanas own brand Cachaça into my glass.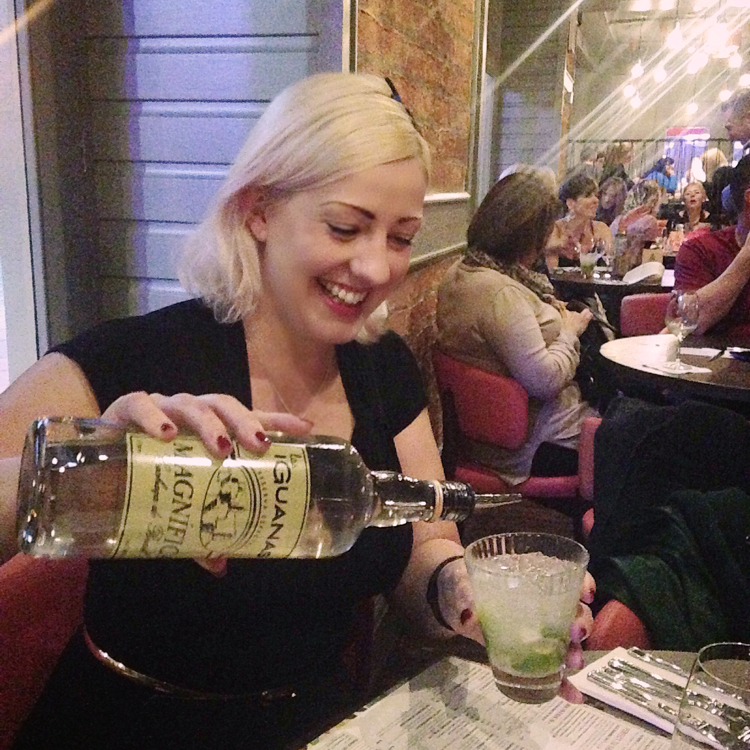 The Las Iguanas menu is a mix of tapas and some Brazilian specialities. We opted for tapas to start, brie and mango empanadas, gambas and chorizo to be precise, and then a couple of the brazillian meals for a main course. I went for The Extraordinary XinXim, because how could I not with a name like that? It was lime chicken in a peanut and crayfish sauce with fried plantains and green beans, and was REALLY good. Mr Chick opted for Vatapa Gambas, and they both came served in pottery warmers so you could dish up as much as you wanted and the rest wouldn't get cold, therefore assuming that we aren't the sort of gluttons who would scoff the lot within 3 minutes, which of course we are.
We also got a glass of Sangria with our main course. I say glass, it was a jar, which is super trendy right now, and I secretly like, it makes me feel like a hobo, it's better than mismatched china anyway. However this jar had a handle, which I don't get. Jars don't have handles, so putting handles on glassware shaped like a jar just feels weird to me. It was really good though, so it's churlish to witter on about the glasses (but while we're at it, all restaurants in the world, please stop serving me dinner on slates or planks of wood. Plates are popular for a reason)
After scoffing all that, you would think there was no room for pudding, as these are goodly sized portions for hungry people, not piddly little fancy restaurant portions. But if you think that, you obviously haven't met me. It did take me a while to choose, I was drawn to the Dulche de Leche cheesecake, but worried it might be a bit sweet, seriously tempted by the Affogato Cubano, spiced rum espresso, ice cream and cinnamon churros (Mr Chicks final choice) but in the end I chose Aztec Chocolate Fudge Cake.
I actually wish I'd gone with the cheesecake now, but the cake was good, I'm just greedy!
Also, of course, a third cocktail arrived, the Crema Chido, and if you ever go to a Las Iguanas you should DEFINITELY try this one. It's "A blend of Mexican Liquers. Xta with honey and aniseed flavours, shaken with Kahlua, cream and almond syrup" which is apparently Brazilian for "OMG It's gorgeous!"
Las Iguanas is more of a party restaurant in the evenings, so the music is up a little higher and the lights are down low, explaining my appallingly grainy iPhone photos I have inflicted on you. It's a great place to go with a group of friends, but actually pretty nice for a romantic meal as you can tuck yourself into a corner and no one but you can hear your conversations, where as some fancier restaurants you can feel a little over looked. Las Iguanas in Norwich is on the Riverside complex, which isn't always my favourite place to go of an evening, but steer clear of the nightclubs and it's ok, and excellent for people watching.
In other, possibly more interesting to most of you who probably don't care about posts about me eating food and drinking, something else that's been taking up a lot of my time lately is preparations for this years Advent Calendar Giveaway!
I'm getting together a whole 24 prizes, one a day up till Christmas, so far I have some old favourites and some exciting new faces behind the doors, there are still a few spots left, so if you are a brand or business that have something amazing you want to pop behind one of the doors, then get in touch!
In the mean time, you can sign up to the Advent Calendar newsletter. I send out daily alerts to tell you what prize is behind the door each day, and remind you to enter to make sure you don't miss any!