Happy New Year!
Over the last couple of years I have started a little tradition that I totally intended to be what I did every year. My first blog post of the year would be an outfit post, my first frock of the year, and then I included a little round up of the frocks from the year just gone.
I started 2013 in a fetching purple vintage number and 2014 began with an excessive amount of stripes. I wanted to do the same this year, but, well, there haven't been any frocks yet.
I'm still a little poorly, and although I did put on a dress at 8am this morning to go to the Doctors it certainly wasn't outfit post worthy, in fact it was a bit screwed up as I wore it to pop to the shops the other day and then just dumped it on my blanket box, and it has a hole in it as one of the seams need sewing up, and I wore it with bobbly tights. Other than that the only time I have left the house is to go for a little run because I am taking part in Janathon.
So maybe I could post my New Years Eve outfit, like last year? Well, I would, but this year I stayed home for New Years Eve. We camped out on the living room floor, watched Footloose, drank Aldi Champagne and ate party food by the fire. I could have done this in a glamorous frock I suppose, but I didn't, I did it in a totally amazing 1960s Babydoll nightie I got from Wake Up Little Susie, but I don't normally do outfit posts of my nightwear.
Indeed, it occurs to me as I write this that I haven't made the effort to get my proper camera out for outfit photos since the beginning of December. I'm sorry, I am a bad blogger and I promise there will be more frocky excitement on the blog as soon as I stop coughing and can be bothered to change out of my pyjamas.
My New Years look back at the year was maybe a little heavy, even if it did include a hilarious photo of me running in the pouring rain, so I think we could all do with a bit of frivolity to start 2015 with. I am the queen of introspection (retrospection? What's the right word for this?). I rarely go a day without checking my TimeHop (oh look! This time 2 years ago I was grumbling about my emails and taking photos of my food!), so New Year presents a perfect opportunity for me to spend all my time comparing this year to last. The frocks, the hair, the selfies and the food, so even though there's no first frock of 2015 as I am a lazy cow who has worn mostly pyjamas for at least the last week, there were still plenty of frocks from 2014 to look back at, so here we go!
In January there was the pretty awesome Betty Page Lime drop dress that I bought in Vegas and then took out for Cocktails, this one needs to get more wears this year, and it looks awesome with my gold peep toe stilettos, soon my pretties. In February I hated my entire wardrobe, so bought myself a new dress for £12 to cheer myself up, and then in March I got my hands on a Heyday! fan print Fleur, which I have worn LOADS.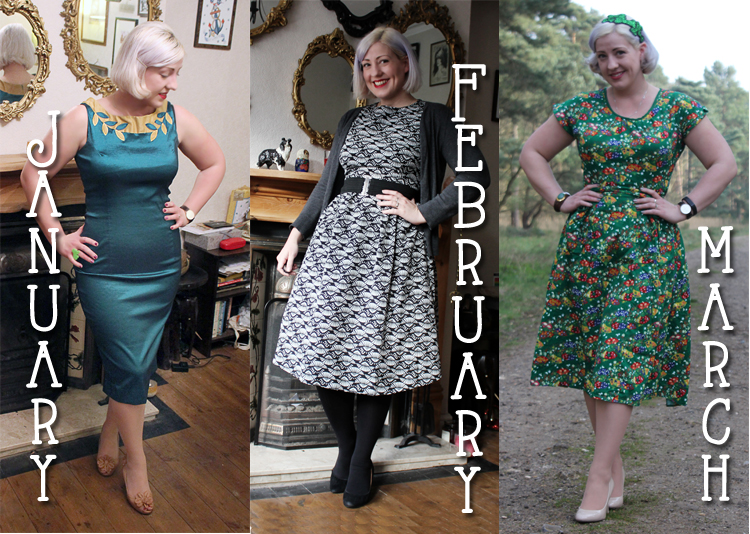 The crazy hair colours arrived in April, along with a Hobbs LBD, an orange Weekend Doll dress to do art in, and a Warehouse Summer frock as June arrived and for once was actually blazing.
July saw a sprained ankle that confined me to flats for the rest of the Summer, but I think I managed to make it work in a Pretty Dress Co dress for a stonking hot day in London, an Emily & Fin dress I snapped up in the ASOS sale and that awesome foxy print Hell Bunny Dress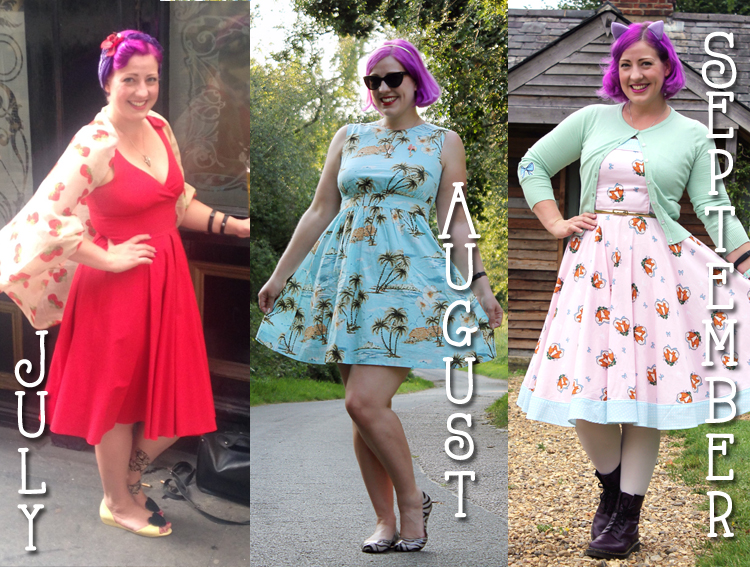 By October I was back in heels, and wearing a yummy Boden leopard print dress that I subsequently ruined by washing it when it's dry clean only. I notice, however, that it is currently on sale for just £25, so if it's still there when I next have any money I might replace it! In November I was not only back in heels with a vengeance, but also back to blonde in a vintage dress for my Wedding Anniversary, and in December, the last time I got properly glammed up was in another rather awesome LBD from The Pretty Dress Co.
January needs to bring at least one frock worthy outing, or otherwise I'll be rather stuffed when it comes to next years round up
Related