I consider todays post an important public service announcement!
Some of you may already have seen this important information on my Instagram or Facebook, but for those of you that haven't:
Long term readers will know I am a fan of Babycham. Having started collecting bits about 6 years ago I now own going for 30 Babycham glasses, Babycham beer mats, Babycham tea towels, a Babycham deer and an assortment of advertisements. When I was a teenager I had a picture of the Babycham deer on my wall at around the time of the misguided and short lived rebranding attempt.
But I never knew they made shoes. Or rather, I think I had a vague idea that they did, but I'm sure last time I looked it was some kind of terrible "club wear" and I was unimpressed. Either way, Babycham have obviously cottoned on to their kitschy vintage appeal, and now sell a small but perfectly formed range of cute, vintage inspired, quirky shoes.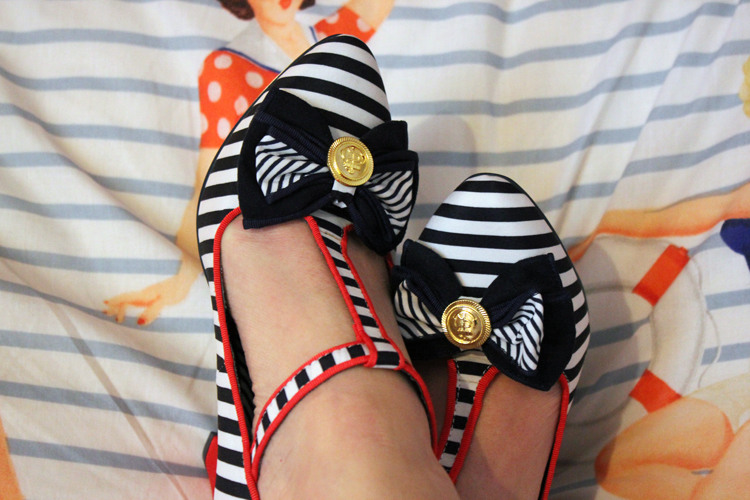 They even have a little Babycham deer on the sole!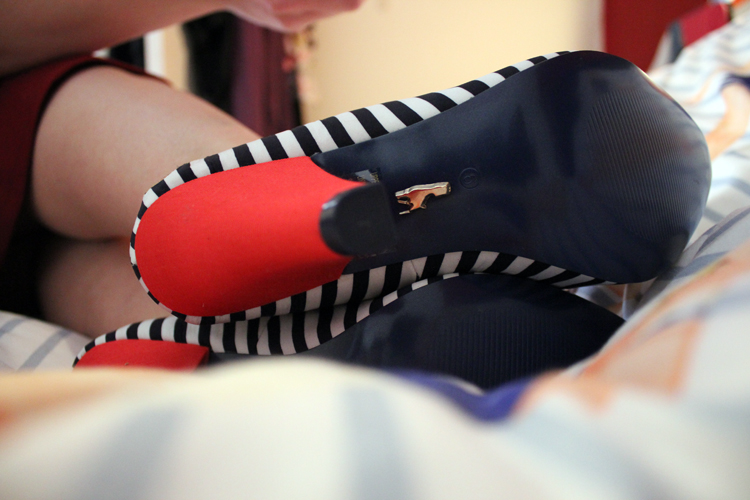 I've always had a soft spot for Breton stripes and nautical looks (doing nautical in 2009 and 2010, 2011, 2012. You get the idea…) but skating for the Norfolk Brawds with their nautical theme means that I get even more opportunity to channel the seaside for bouts and after parties, so these shoes are perfect!
Now, in true "It's dark in the evenings" style this is an outfit I wore to go to the pub, but didn't photograph because it was dark. It goes so well with the shoes that I have recreated it in daylight hours so I can photograph it.
this is what I call "dressing down" as I am wearing a t-shirt. The rest of the world has jeans. I have this. Looking at it now I think it might go in the same box as that time I somehow thought adding a headscarf would dress down a fancy frock and heels. It didn't.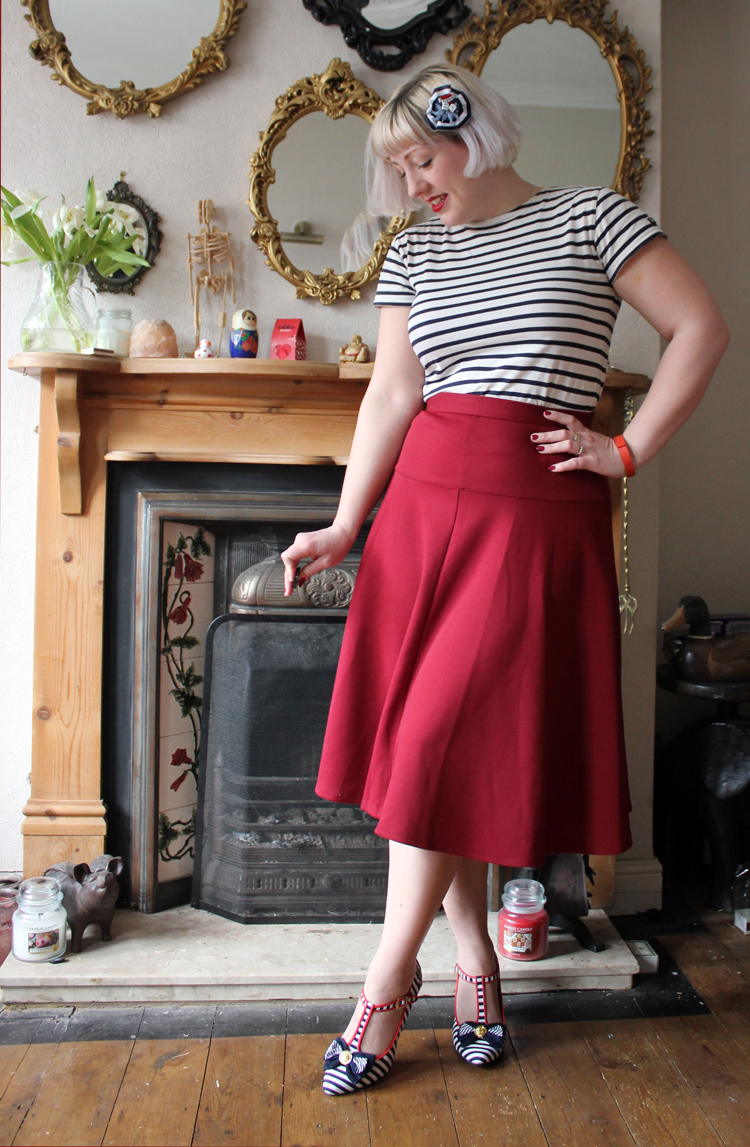 ♥ T-Shirt – Kids T from the SS Great Britain gift shop ♥ Skirt – ASOS Sale ♥
♥Shoes c/o Babycham Footwear ♥ Fascinator – Bad Kitty* ♥
Yep, that's the red version of that perfect black skirt that I bought. It's still on sale, though sizes are getting low. I'm wearing a 12, but I've lost a little weight and noticed the waistband felt loose. So now I am panicking that if I lose any more it won't fit and I am genuinely considering buying it in a size 10 just in case. Is that weird? I don't know, but it really is my perfect skirt! I teamed it with a kids t shirt from the SS Great Britain gift shop and a fascinator that was a gift from my Norfolk Brawds team mate Bad Kitty.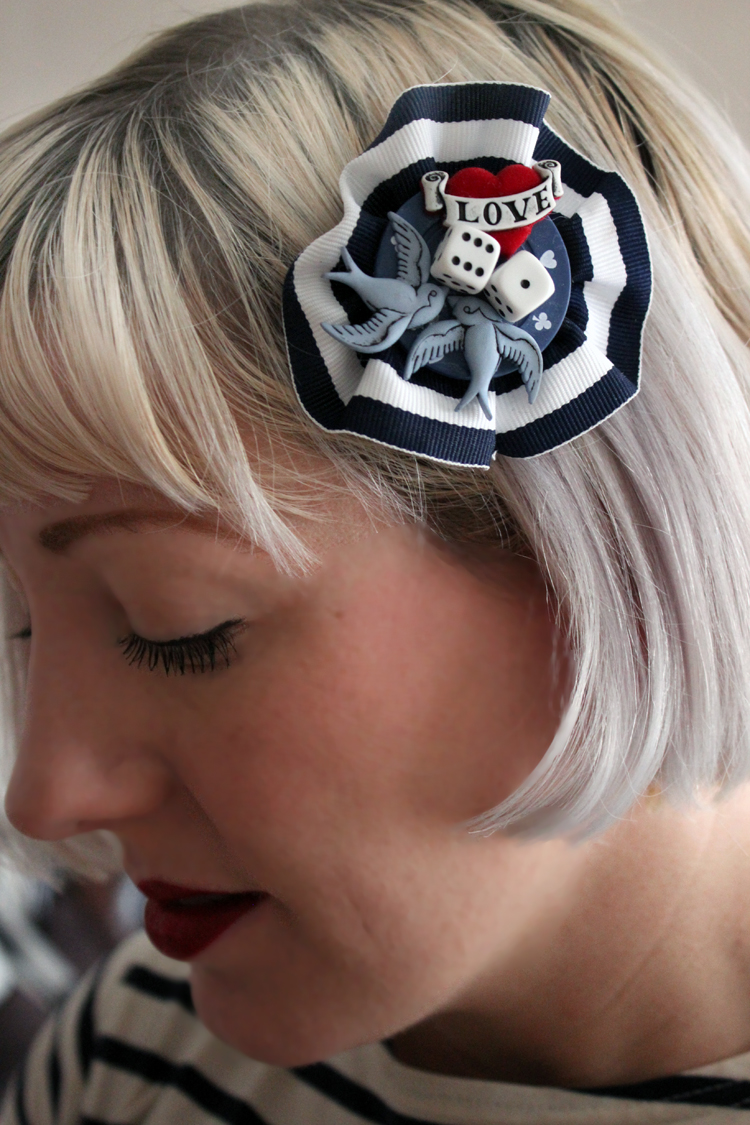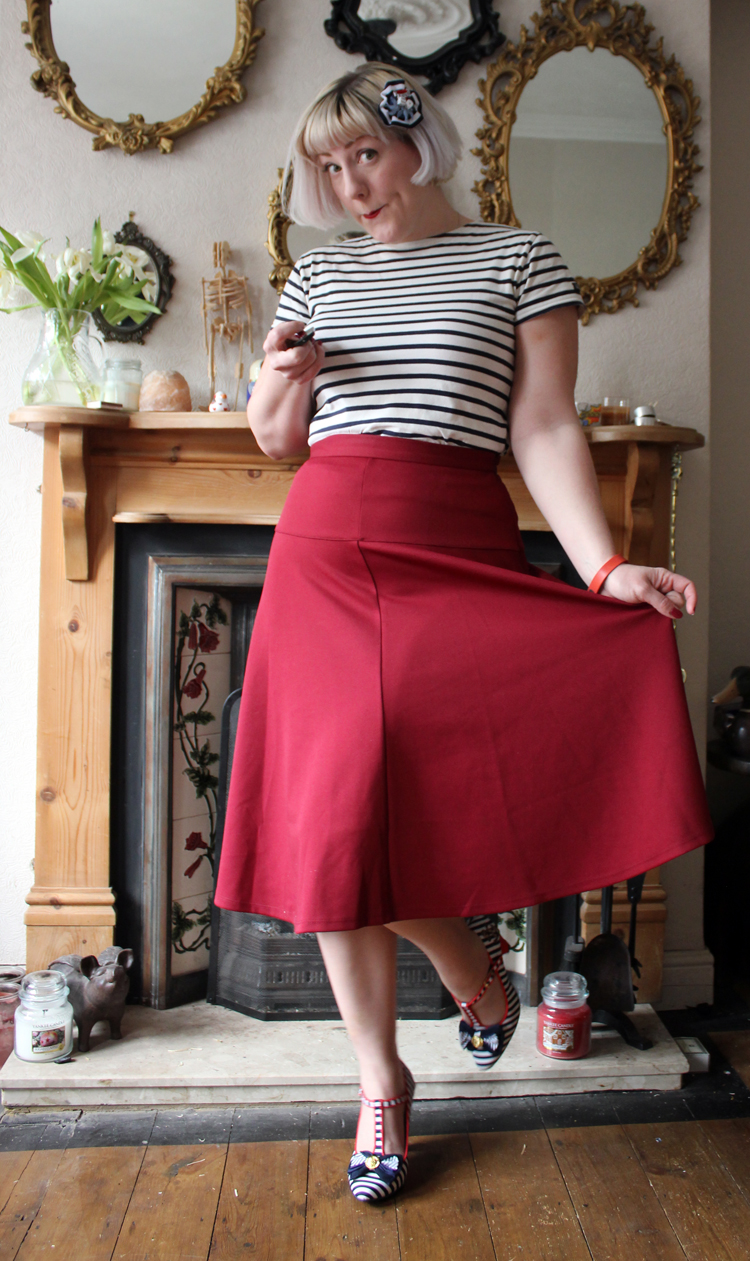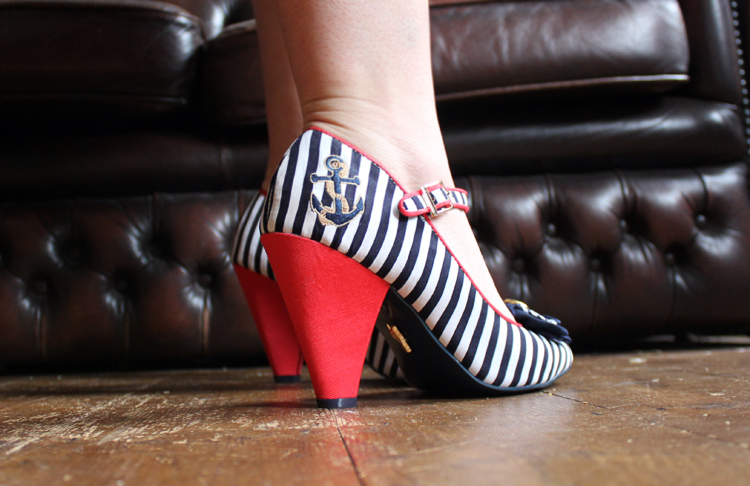 At the moment I have yet another cold, but this one, thankfully, seems to be of the fairly short lived variety and has confined itself to just giving me a really snotty nose, rather than infecting my chest, sinuses and giving my aches and pains for 6 weeks like the one that was going around at Christmas. Suffice to say that there is an awful lot of make up stopping my nose from joining in and matching my skirt.
I am off to drink Lemsip and rub vaseline on my nose like the glamour puss I undoubtedly am!