Yeah, I know, it's not over yet.
But if I instagram anything interesting tonight or tomorrow (and I might as I have *plans* tonight) then you can see it in live action if you follow me on Instagram!
I quite enjoy these little instagram reflections. Instagram gets a bad rep for creating the impression that everyone else is living in a light-soaked, white-washed, valencia filtered world, and making the rest of us feel bad, but it's also a positive little visual diary. Like a static version of your Big Brother best bits, and when you get to the end of a month that might sometimes have felt busy and stressful it can be strangely calming to look back at the month just gone and focus only on those positive and beautiful moments you shared.
Whilst my overwhelming memory of February is that it was COLD, it was also the month that spring starts to sneak in and you get hope of warmer days to come. Spring flowers appeared in my house, and peeking their heads through on grass verges.
As ever, there was food and drink. Because THAT'S WHAT INSTAGRAM IS FOR. There was breakfast at Chiquitos, a day out at the Winter Beer Festival in Derby, pancake day, when I ate a stilton and spinach pancake, thus proving that the filling suggestion I made to Dominos when they asked me wasn't that "weird and wonderful" at all, a surprise Valentines parcel from Vitacoco, which made me very happy as I love that stuff and trying some Hurricane Mix Cocktail at Betsy Hatters house, which has the best packing ever. I am such a mug for packaging!
In February I also indulged in a variety of games of varying sorts. There was Roller Derby, because there is always Roller Derby, and I started February with a 6 hour Boot Camp in Manchester, finishing with a very enjoyable mixed scrim. I also partook of some less wholesome and healthy activities. A night out at Bo Nanafana saw me gambling with pretend money, I was doing pretty well and would have gone home feeling flush if the money was real. As it was I instead put my very last chip on number 13, only for number 14 to come up, doh! We also played the Firefly board game. Yes, Joss Whedon fans, there is a Firefly boardgame, and it has fabulous artwork on the cards, and is pretty darn fun to play as well.
I got some new stuff. That dress that I bought for Valentines that needed a bit of changing room advice from Instagram, a super bright pair of new Brooks Ravenna 6 running shoes and some limited edition vintagey vaseline (did I mention I'm a sucker for packaging)
There were photos of ME, because that's the OTHER thing Instagram is for. Well, not just photos of me, selfies and food, that's what Intagram is for.
We found a village called Wall, but we didn't cross over into Faerie (Stardust, read it
or see it
if you haven't already, both book and film are marvellous and magical) a variety of fur collars to keep out the chill and that red ASOS skirt , joining the black version to become one of those things I have no idea how I ever lived without in my wardrobe. There was also a last minute attempt at dressing like a trashy vegas bride for the shot gun wedding themed Bo Nanafana, you can't quite see how awesome that Bad Kitty hair flower is in that photo, but it has flamigos in it. It rocks.
Lastly, and brace yourselves here, I took part in a Throw Back Thursday. I do this very rarely, but this week an old photo popped up in my Facebook feed, and I just couldn't get over how amazingly 90s it was. I really loved that cardigan.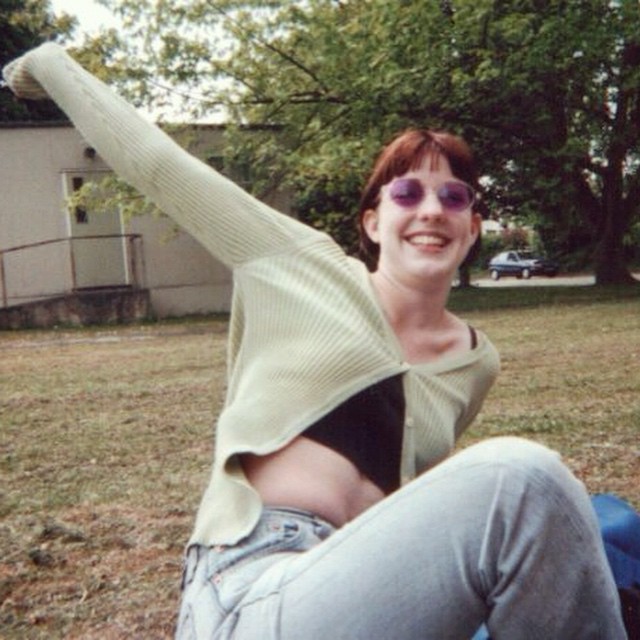 Now, at the risk of being really cheesy, I'm ready to say farewell to February and march into March. Yeah, I know, I'm hilarious.
Have a great weekend folks!