I hope you're all enjoying your Easter Weekend? I've had my Mum & Dad up to visit for part of it, and on Good Friday my Mum decided we ought to eat fish, because, you know, tradition.
I REALLY hate cooking fish normally, and I'm not a huge fish eater as I hate the bones, but fortunately The Saucy Fish Co had just asked me to take part in their Amazing Together campaign. That meant that instead of popping over the fish and chip shop I was able to come up with a much healthier (and actually tastier!) alternative with the ingredients they sent me!
I've said before that I don't eat as much fish as I know I should. It's low fat and full of protein, but I really hate fish bones and I'm rubbish at preparing it, so pretty much the only fish I eat is the stuff from the Saucy Fish Co! I have yet to find a bone in ANY of the fish I have tried from them and the fact it comes with a sauce that goes perfectly with it and full cooking instructions means I can prepare it easily.
On Friday I chose one of their bake in the bag options, which meant I didn't even have to touch raw fish, whoop!
It's a simple recipe, but for those of you fancy giving it a try, here's my healthy fish and chip alternative! The nutrition counts come from putting the recipe into My Fitness Pal.
If you wanted to reduce the fat content, you could try using a spray like Fry light to coat the wedges, but I love Olive Oil, and it's a healthier fat to use than something like butter.
Smoked Haddock with a Vintage Cheddar & Chive Sauce with Salt & Pepper wedges and garlic and mint beans
Calories 553 | Fat 31g | Protein 25g | Carbs 42g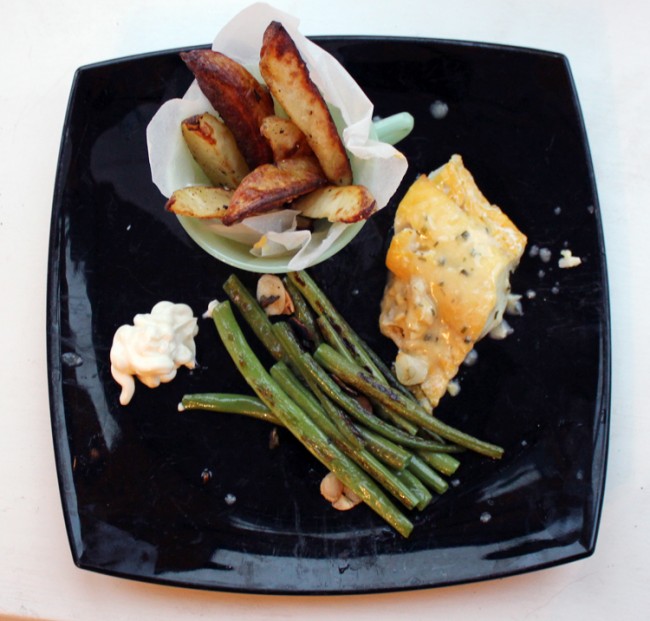 Ingredients Serves 2
1 packet of The Saucy Fish Co Foil Bake Bag Smoked Haddock
400g of Potatoes
150g Dwarf Beans
1 Garlic Clove
Fresh mint
Olive Oil
Salt and Pepper
Cut the potatoes into wedges and parboil them for about 8 minutes. You can do this in advance and then drain them and leave them to cool.
When you are ready to cook dinner toss the potato wedges in a couple of table spoons of Olive Oil and lots of salt and pepper.
Spread the potato wedges on a baking tray and place on the top shelf of an oven pre heated to 200°c for 15 minutes.
After 15 minutes place the unopened foil bags of the smoked haddock on a baking tray and place on the middle shelf for a further 15 minutes.
While this is cooking top and tail the beans and boil for approximately 7 minutes.
Slice the garlic clove and then saute the beans and garlic gently for 3-4 minutes in a little olive oil.
At the last minute throw in the mint and stir for a few seconds.
Serve and Enjoy!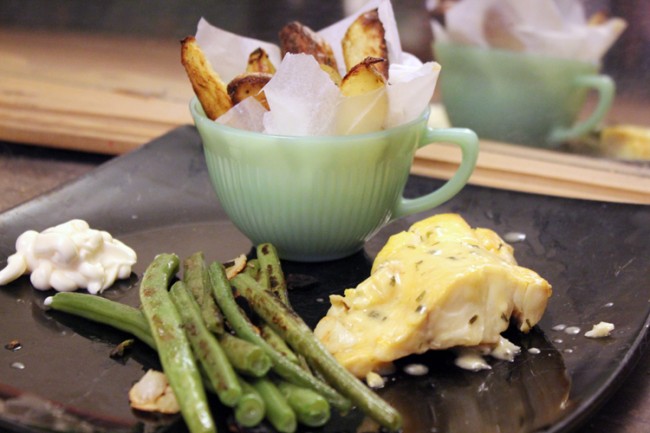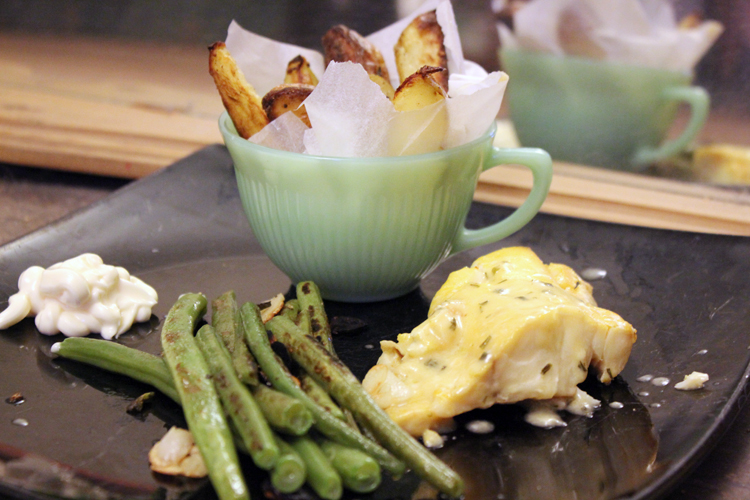 This is a sponsored post with The Saucy Fish Co. Recipe and opinions are my own!
Related