I don't wear trousers very often.
I can tell you right now, for instance, that the last time (before these pictures) that I wore trousers was on the 28th March when I wore a pair of Heyday! swing trousers to go and watch the Rugby. Mostly because I knew other people would be more comfortable if I wore trousers.
There are valid reasons I don't wear trousers. I am an "odd" shape. My waist and hip measurement have about a 12″ difference, depending on how much I've eaten, and that means that things are often tight on the hips and loose on the waist or vice versa. Skirts can be a bit more forgiving, I don't know why, maybe it's because trousers have that in built "legs go here" option that means there's not as much leeway in the fit, but either way I have, by default, become a dedicated skirts kind of a girl.
Then the awesome Collectif got in touch and offered to send me a little parcel of goodies, and I saw the Kristina Denim Capris on their website and after much sizing discussion (I had to go up a size from my regular) a pair was winging it's way to me!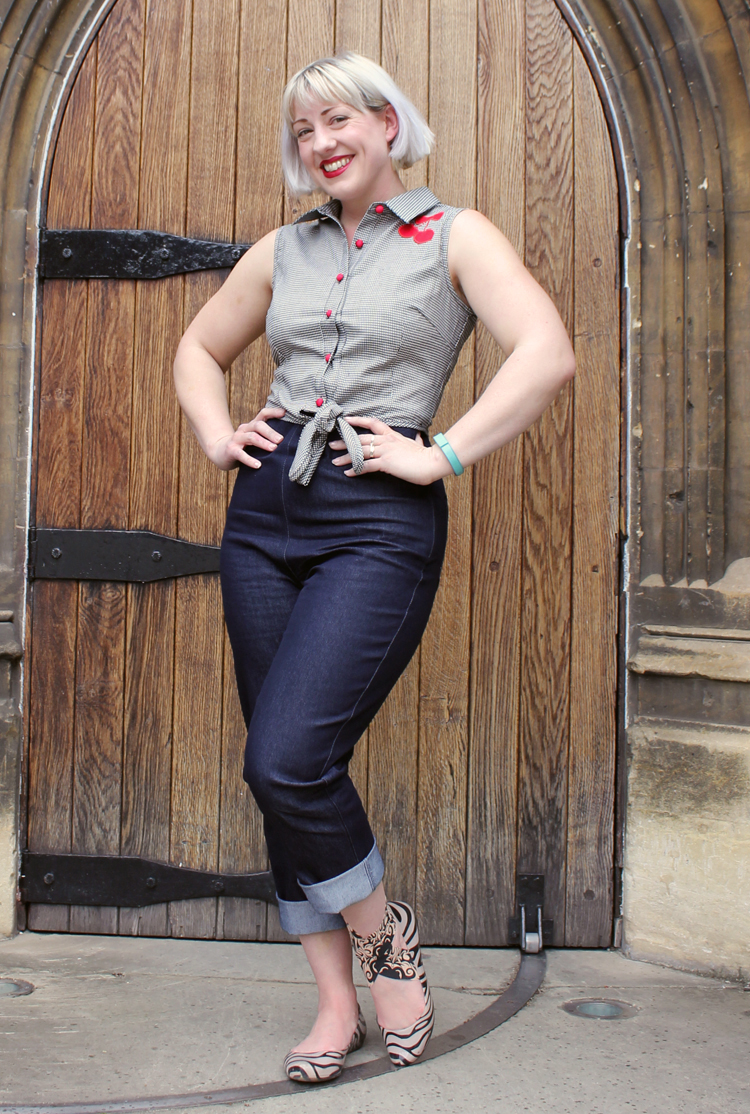 I have wanted a pair of denim capris for years. By years I mean since I watched Grease when I was about 9. I really wanted to look all cute and cool and casual and a little bit Rock n Roll.
I felt pretty cool heading into town for a meeting. When I came downstairs Mr Chick said "Oooh, you look Funky" which is high praise indeed.
I was already one cocktail down at this point, and it wasn't even 5pm. It's not my fault my meetings always seem to include cocktails! You can tell I'm one cocktail down by the fact that I was perfectly happy attempting cliché pin-up poses in a busy square.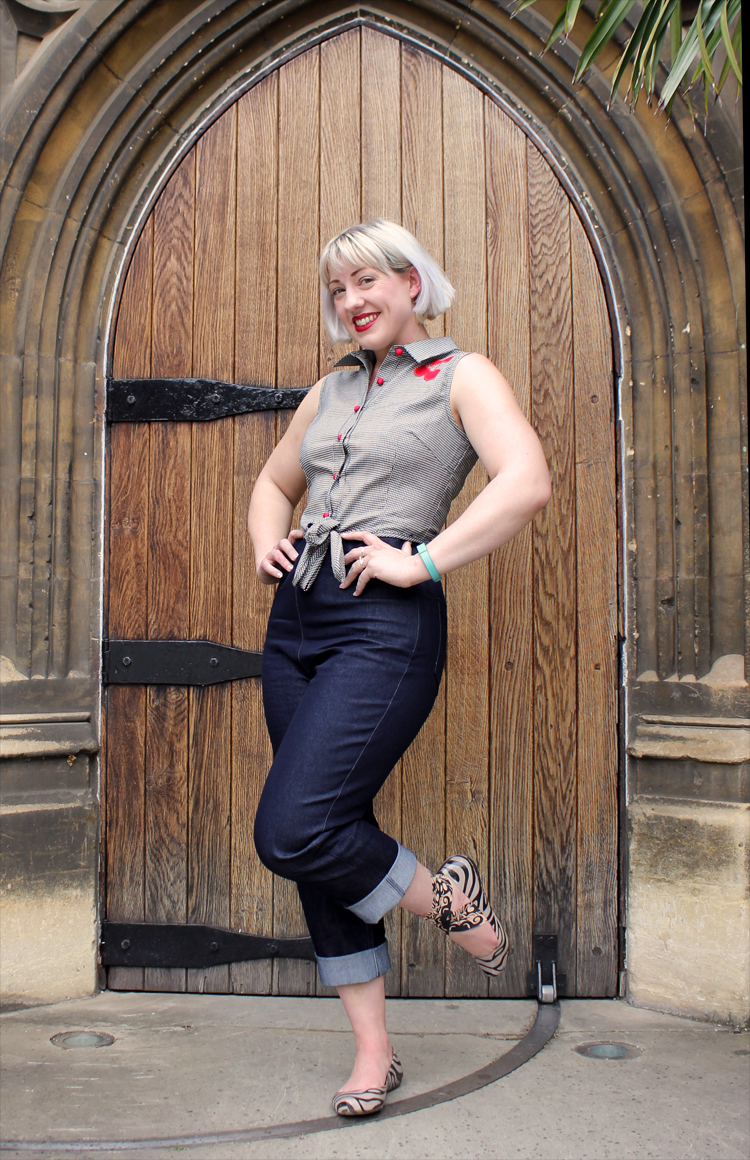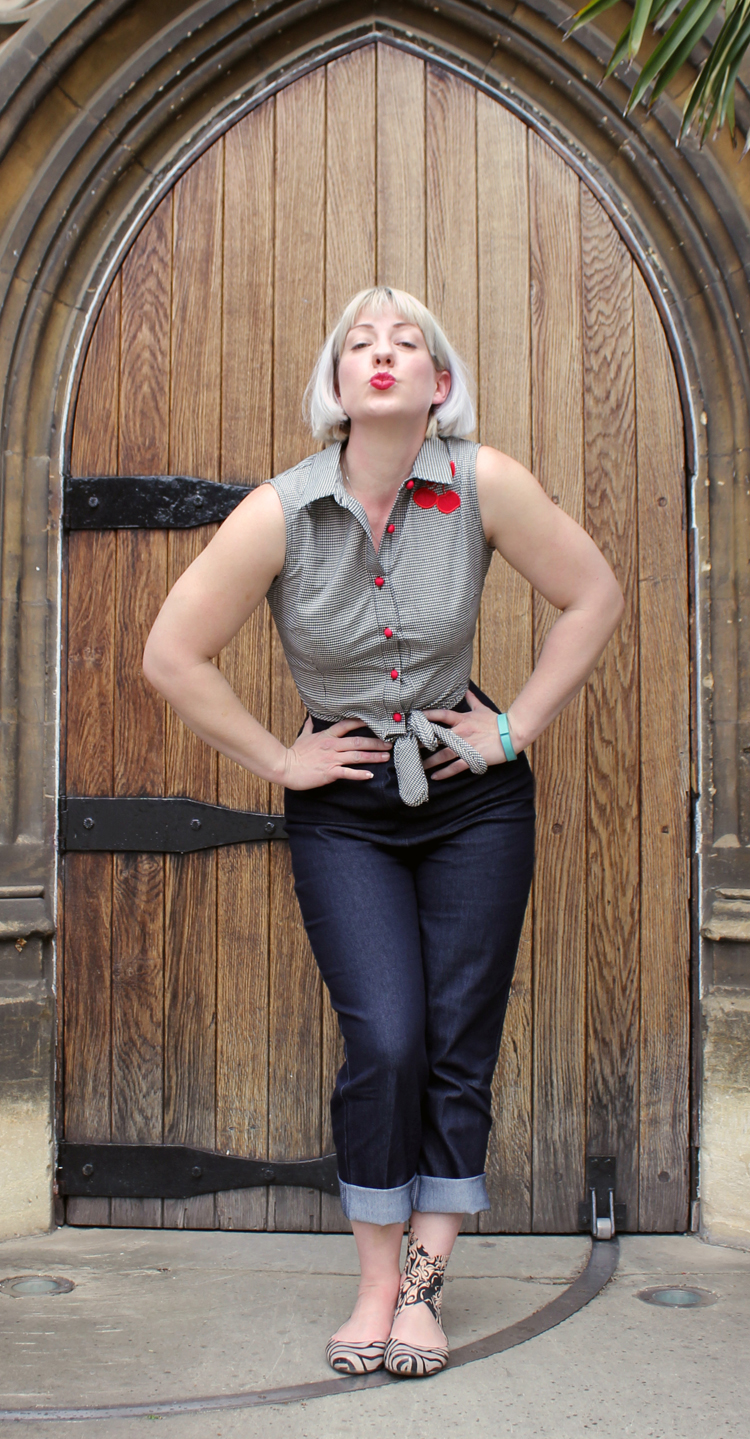 ♣ Blouse & Capris c/o Collectif ♣ Shoes – Mel by Melissa ♣
Collectif are a brand that have really grown since I started blogging. I can remember many moons ago ordering a dress that on the model looked about mid calf, and when it turned up came above my knee, but I have been hugely impressed with the last few pieces I've had from them. The fabrics feel thick and good quality, they are well made, and the sizing and lengths have been spot on with just that right kind of quirky vintage edge.
With these particular Capris I have to roll them up a bit as otherwise they are not capris, they are just ankle swinging jeans on my tiny stumpy legs. They are also, as expected, a little bit loose on the waist, but as they are so high-waisted I can kind of tuck them under my top and it doesn't notice, if you have sewing skills they're probably not too difficult to take in a little as they have little darts at the waist.
The glorious weather we had through April is barely hanging on by the skin of its teeth right now and on Friday it was actually little nasty, blowy and a bit rainy, so I even teamed this outfit with a leather jacket, thus adding to the whole "extra in Grease" look that I was absolutely aiming for.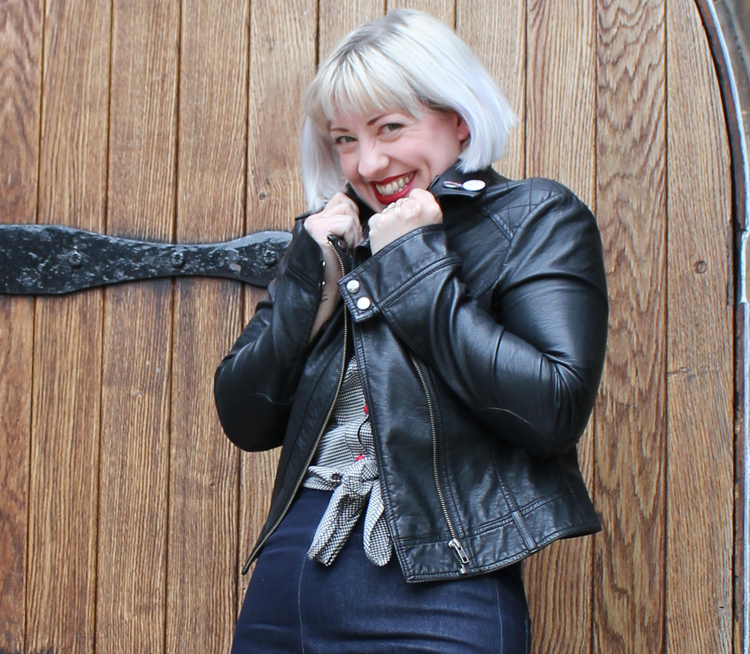 This photo is my attempt at pulling the collar of my jacket up around my ears like I was the Fonz or something. I am aware that I look cold, rather than, er, cool, so I promise never to do it again.
My Birthday falls in the middle of this week, so cross your fingers for glorious sunshine for me!
Related