Earlier this week I received a little parcel from Wade & Belle.
Wade & Belle make a brand called "Not Too Tights" and I was intrigued by them as they promise to eliminate that "muffin top" you get on the waistband of tights, and be more comfortable to wear.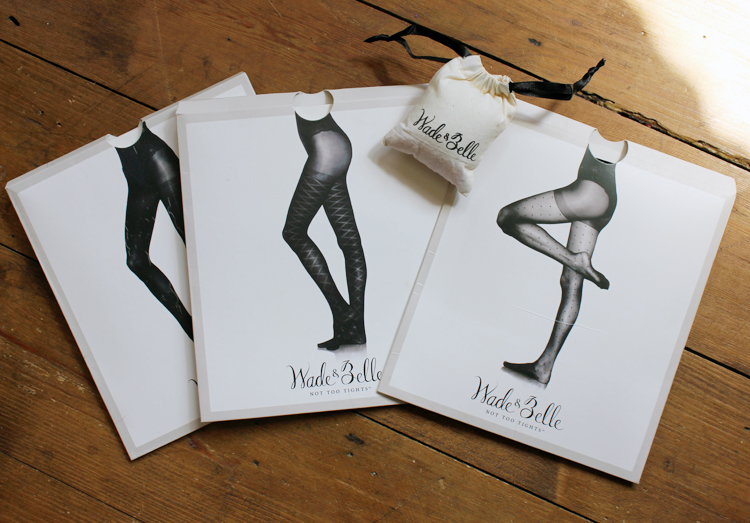 I largely gave up on tights years ago, finding them horribly uncomfortable to wear, and being incapable of wearing a pair more than once without laddering. I switched to stockings and a wide girdle belt, and found them much more comfortable in most circumstances, but they had 2 drawbacks. One of them was tight frocks. Anything slightly slinky fitting and the clips of a suspender belt show through, and the other was travel, sitting on metal garter clips in a car for 4 hours can get hugely uncomfortable. I persevered for ages with insisting I was only going to wear stockings, but gradually I was lured back to the world of tights to keep my legs warm in the winter when traveling, and also for the exciting array of patterns available!
So, how did Not too Tights live up to their promises? Well, to investigate their "muffin top" claims I put them on under my slinkiest frock. I felt, from looking in the mirror, that I did get a smoother line around my waist with the Not too Tights, and as I moved they were less likely to roll down and adjust themselves to make it worse. In photos, though, the difference was minimal I think and if you really bend over both pairs gave a bit of bulge, but to be honest, tummies just do that anyway!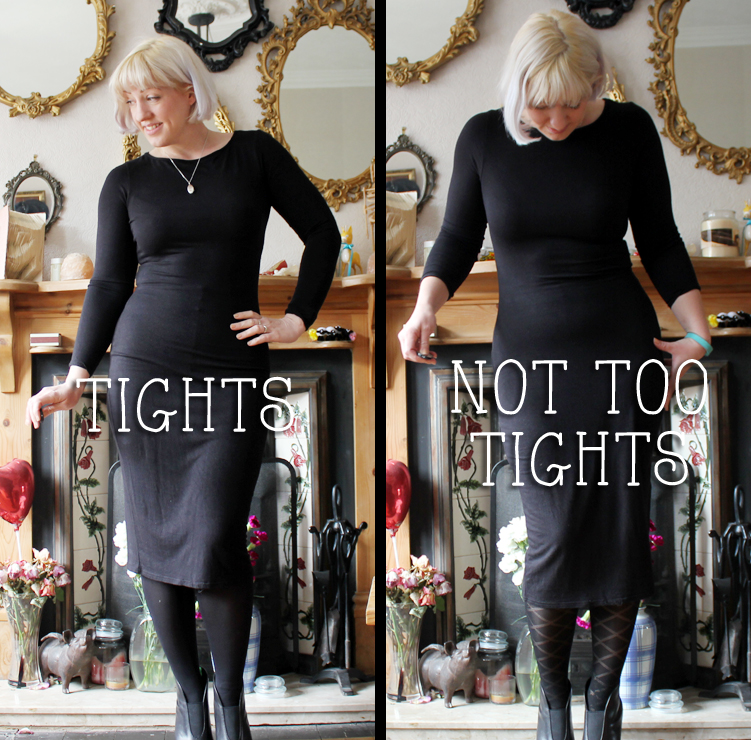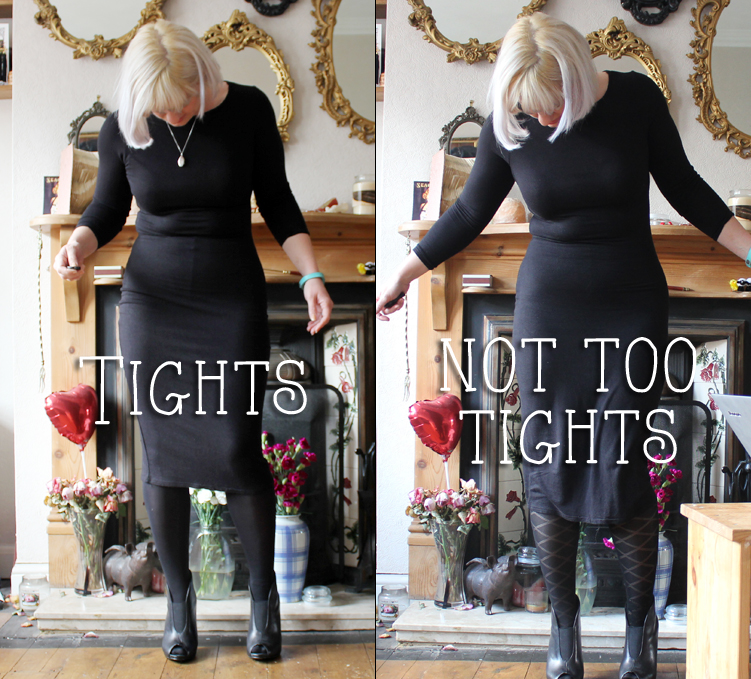 For me, the big bonus was in the comfort of the tights to wear. The waist band is wide and graduated, so when sitting in a car or at a desk for long periods you don't get that uncomfortable digging in feeling. They sometimes need a little adjustment, but not as much as regular tights.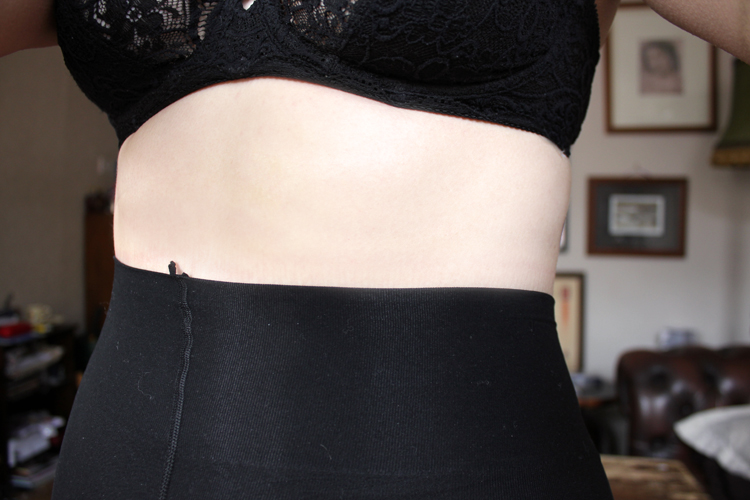 I did find the tights a little difficult to get on, not because of the length of the body, as happens a lot, but because the thighs seemed a little narrow. These only come in one size and claim to fit anywhere from 5 foot to 6 foot and 100lbs to 185lbs. I am 5'4″ and weight about 154lb and everywhere else the tights are perfect, but it just took a bit of wiggling to get them over my thighs. I have short but curvy legs, and heavy (and super strong thanks!) thighs, I suspect that someone taller and heavier than me, but of the willowy legged persuasion would probably find them easier. Once they were on and adjusted they didn't continue to feel uncomfortably tight though, it's just worth being aware of, if you're a curvier body type and any size above a 14 you might find the thighs a bit tight!
The tights seem good in lycra content, so there was no wrinkling at the ankles, which is one of my hates, and they felt nice and supportive, without being restrictive. I also washed them, just to check their washing machine sturdiness, and they came out unscathed!
At $19.99 + $7 shipping (about £17 in total) these work out on the pricier end of the tights world, but not in the crazy price zone, so they're worth a look if you're an opaque tights fan who just can't stand that restrictive waistband. Mine also arrived with a cute lavender bag, but I can't promise that comes as standard!
Currently there are 3 styles, plain, polka dot and the diamond I am wearing here, but I believe more are planned, and I'd love to see a wider range of colours available as brightly coloured tights in autumn and winter is one of the things that tempted me back to tights in the first place!
Check out Wade & Belle for more details!